Shark Attack Survivor and 'Soul Surfer' Bethany Hamilton Welcomes Baby Tobias, Named After 'The Goodness of God'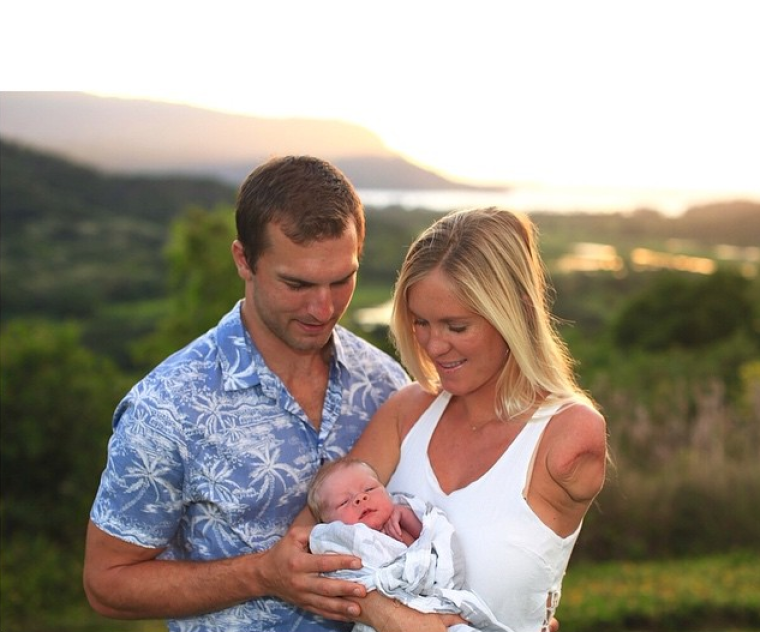 Christian surfer and shark attack survivor Bethany Hamilton announced Monday that she and her husband, Adam Dirks, were "blessed" with their first child, Tobias, named after "the goodness of God."
"Blessed to welcome our son, Tobias, into the world," Hamilton shared on Instagram. "Born June 1, 7.9 pounds and 21 inches long. He is named after his great-grandpa, Tobias, meaning 'The goodness of God.' Adam and I [are] so in love with our lil' guy and are stoked to share life with him! #stokedmomma Photo: @TimmyHamilton."
Twelve years ago, the new mother lost her left arm after a shark attack off the island of Kauai. The stoic Hamilton returned to surfing just three weeks later. The 25-year-old shared her story in the book Soul Surfer: A True Story of Faith, Family and Fighting to Get Back on the Board, which inspired the 2011 film "Soul Surfer."
The brand new parents, who were married in August 2013, first announced that they were expecting a baby boy in February.
"We have a little surprise for you. … baby on board," said Hamilton during a video posted on her website.
Hamilton also openly shared her preparation for motherhood with her more than 200,000 followers, including a quote from the Bible just before baby Tobias was born.
"Wife first, mom second (tho baby boy is not out yet) and the rest follows. … I love all my roles," the surfer posted. "With each role, I am thankful to have the Word of God to secure me and guide me to love those around me in this life. Isaiah 40:8."
Pro-life advocate Liberty Pike of Oregon Right to Life released a statement saying, "Bethany rose to fame after she was injured in a shark attack in Hawaii in 2003. She lost her left arm in the incident. That didn't stop Bethany from continuing to surf. She has traveled the world sharing her testimony of faith in the face of hardship.
 "Bethany's story, and that of Nick Vujicic (the man born without arms or legs), is a powerful reminder that people are greater than their disabilities, that they can live wonderful, fulfilling lives," Pike added, according to LifeNews.com. "It is a tragedy that babies, diagnosed with disabilities in the womb, are being aborted at overwhelming rates because their parents fear their lives will be 'too hard.' Congratulations, Bethany and Adam! Enjoy your little man."