Sheryl Sandberg, Marcus Lemonis Talk Faith, Business at Willow Creek Leadership Summit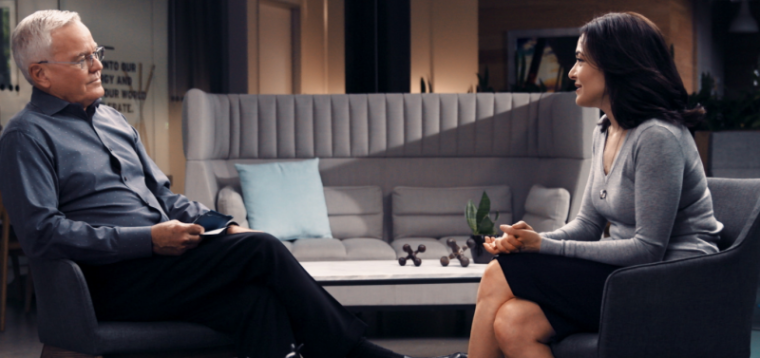 RICHMOND, Va. — Facebook Chief Operating Officer Sheryl Sandberg and businessman Marcus Lemonis of the CNBC reality TV show "The Profit" discussed faith and business at Willow Creek Community Church's annual Global Leadership Summit.
Sandberg was interviewed by Willow Creek Community Church founder and outgoing lead pastor Bill Hybels on Thursday about multiple topics. During her remarks, Sandberg talked about the importance of having more women in leadership roles and the need to cultivate this interest early on in life.
Sandburg talked about the "Lean In" book and movement, stating that she believed there were numerous benefits to having more women in leadership both in business and politics.
Hybels mentioned that when he started Willow Creek decades ago, he had women in leadership roles from the onset, such as elder and teacher positions.
On the topic of resilience, Sandberg talked about the trauma she experienced over the sudden death of her husband and how she tried many avenues including faith to cope with her loss.
"I turn to everyone and everything. Sometimes it worked, sometimes it didn't," said Sandberg, who has a Jewish background.
"It felt like the grief would never end. I turned to my friends, I turned to my friend Adam, I turned to other people's experiences. I looked for God for comfort, I looked to tradition. And sometimes it worked and sometimes it just didn't."
Sandberg's appearance at the summit comes months after the release of her book, which she coauthored with Wharton Professor Adam Grant, titled Option B: Facing Adversity, Building Resilience, and Finding Joy.
"Option B illuminates how to help others in crisis, develop compassion for ourselves, raise strong children, and create resilient families, communities, and workplaces," noted the book's description on Amazon.
After Sandberg, Lemonis spoke to the summit attendees on the main stage at Willow Creek in Illinois, explaining at the start of his remarks that he was not going to speak about making money.
"The real message that I have is something different. It's not about spreadsheets, or how to hire the right people. It's really how to understand yourself better," explained Lemonis.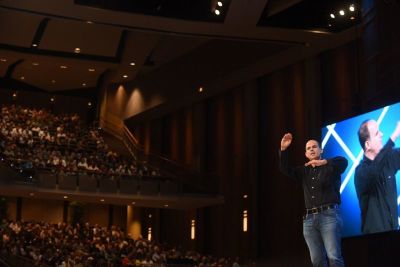 Lemonis talked about his upbringing, being adopted as a baby. He talked about his issues growing up, including being molested by a cousin, suffering from an eating disorder, and attempting suicide.
Despite being very successful in business and as the host of a reality TV show, Lemonis admitted to always being antisocial and awkward in public settings.
He cautioned about judging coworkers or employees without knowing their story and the things they have been through. He also mentioned the need for finding a purpose beyond personal material wealth.
Through his challenges, Lemonis noted that faith was a part of his upbringing, explaining that while attending Catholic school he often spent time alone at chapel.
"I used to go to the chapel that my grandfather built at my all Catholic high school, it was all boys, and I used to do a lot of retreats," said Lemonis, noting that he also went to a Catholic college and was interested in pursuing his faith.
"It was a place for me to not feel alone. It was a place for me to connect with myself. It was a place for me to have communication with somebody that didn't judge me."
Lemonis went on to explain that as an adult, his faith and his business practices intersect when it comes to being tolerant of others, stating at one point that "I am a faith-based person."
"For me, where my faith and business intersects is this idea of tolerance. Not the idea of tolerating laziness or people fibbing about things, but the idea that we tolerate differences," explained Lemonis.
"The best leaders are ones that are colorblind, that are race blind, and that can even be aptitude blind."
The two-day Global Leadership Summit kicked off on Thursday and was broadcast at approximately 600 sites across the United States, including West End Assembly of God in Richmond.