Transformer 3, 'Dark of the Moon' Starring Shia LaBeouf Reviews
"Transformers: Dark of the Moon," an anticipated blockbuster for this summer, made its debut at midnight in New York City. Shia LaBeouf stars once again as Sam Witwicky in the franchise's third movie installment posing to give viewers a good summer dose of robotic drama.
LaBeouf, in an interview with AZFamily.com, made his thoughts on the movie known by saying, "I think it is the best movie we made so far, the best movie Michael Bay has ever released."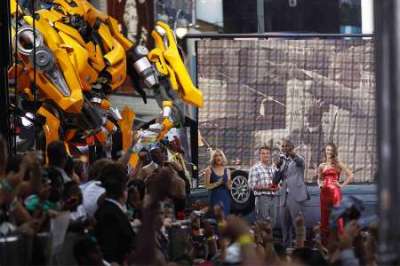 The actor, known for his roles in flicks such as 'Wall Street: Money Never Sleeps" and the latest Indiana Jones movie, confessed in the interview that the previous Transformers 2 movie was not without mistakes and added that it lacked heart. But all the mistakes they made in the movie was necessary for the movie makers to learn and produce Transformers 3. he said.
So far, reviews for the movie have been pouring in. Does it meet the hype?
Check out what the latest reviews have been inclining towards with the following statements:
Just as Plugged In reviewer Paul Asay mused after viewing Revenge of the Fallen in 2009, it dawned on me as I sat through this installment's unceasing explosions (not to mention Bay's shameless objectification of Carly, played plastically by newcomer and former Victoria's Secret model Rosie Huntington-Whiteley) that this is what Hollywood believes people want to watch. And given the billion-and-a-half dollar box office tally of the first two films, this probably won't be the last Transformers film to assault our senses and sensibilities. As Goodykoontz concluded, "Bay's hammering technique works, in a commercial sense. Executive producer Steven Spielberg is the richer for it." Unfortunately, audiences won't be. – pluggedin.com
In food terms, "Dark of the Moon" is like going to TGI Friday's and ordering everything on the menu and then going to Krispy Kreme and doing it again. It's not worth doing, it'll definitely make you sick and a lot of it will taste bad, but as a performance-art act of juvenile Id-fulfillment, it's magnificent. - Andrew O'Hehir from Salon.com
B+. Amazing action but fell short plot-wise in a lack of a decent villain. 3-D effects cool at times, but not effectively utilized as in Green Lantern or Kung Fu Panda 2. - EOnline.com
While the first film found some humanity in the connection between [lead character] Sam and the robots - especially his car, Bumblebee - this one brushes emotion aside like Optimus Prime dismissing rush-hour traffic. All that matters is the long, slow slog to the Chicago-set, theater-rattling finale, which seems to last about four hours. - Elizabeth Weitzman from New York Daily News
B. But this time we get a story that takes itself seriously. We get a narrative that makes a token amount of sense and shows something almost resembling discipline. And when the action comes, it does deliver the goods. At long last, Michael Bay gives us a healthy helping of robot-on-robot smackdowns. The problems with the previous two films are still there, but they are that much easier to forgive because we finally get what we actually came for in a Transformers movie. - Scott Mendelson from HuffPost
The movie topped $13.5 million in ticket sales in its midnight debut on June 28.