Simon Cowell Hits Golden Buzzer for Worship Pastor on 'America's Got Talent' (Video)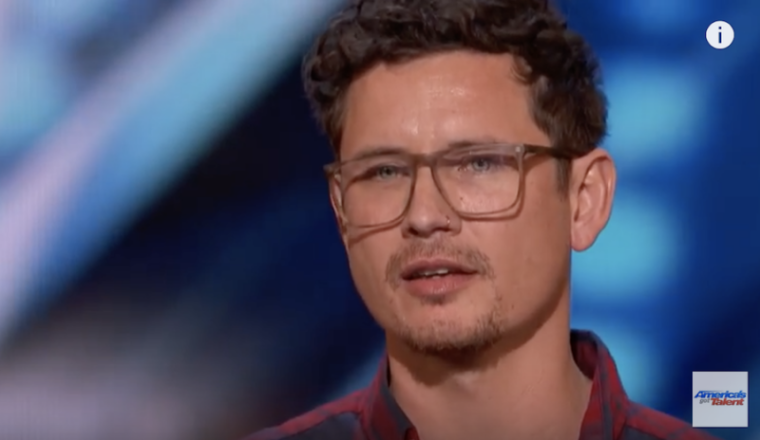 Former United Pursuit member-turned-worship pastor at Influence Church, Michael Ketterer, was awarded the golden buzzer on "America's Got Talent" this week after his touching performance brought Simon Cowell and the judges to his feet.
Upon hitting the stage, Ketterer said he was there with his wife and six children, five of whom are foster children.
"My family is the reason I'm here," Ketterer told the judges before belting out his number. "One of the things that happens, especially because my children came out of foster care, when you're surviving, you can't dream. And that has been one of the most rewarding things — providing them with a home and a safe environment where they are free to dream."
"I'm here because I want to show them that if their dad can live out their dreams then nothing is impossible for them," he added.
When asked what kind of work he does, the worship pastor revealed that he is also a pediatric mental health nurse in Orange County, California.
Ketterer then sang his rendition of the Bee Gees' song "To Love Somebody."
After he received a standing ovation, Cowell told Ketterer he didn't expect to blow him away.
"Well, Michael, you know what, when we find singers on these shows, is it about being technical or is it about being relevant? And sometimes, for me, it's just about being real and a surprise," said Cowell. "I'm being honest with you because you were so nervous. I was concerned for you. But I think sometimes actions speak louder than words."
The no-nonsense judge then extended his hand and hit the gold buzzer. Everyone erupted in praise while Ketterer is shown embracing his family. Americans seem to love the worshiper just as much, because the YouTube video of his "America's Got Talent" performance is No. 5 on the website's list of trending videos, and has garnered more than 2 million views so far.
After the show, Ketterer took to Twitter to share how he feels about the win.
"I'm so thankful for all of the support and love that I'm receiving from my family, friends, and people that I've never met before! My family and I are undone and are so thankful to God for this amazing opportunity. Thank you @SimonCowell for hitting that button!" he shared with an emotional emoji symbol.
According to his church's website, Ketterer and three other artists from the ministry (Melody Noel, Whitney Medina and Matt Gilman) make up the group Influence Music, a record label and artist collective under Influence Church. The group released its debut album, Touching Heaven, in May.
Before moving to California in 2014, Ketterer lived in Tennessee and was a part of the Christian group United Pursuit.