Six Brothers Charged With Allegedly Sexually Abusing Sister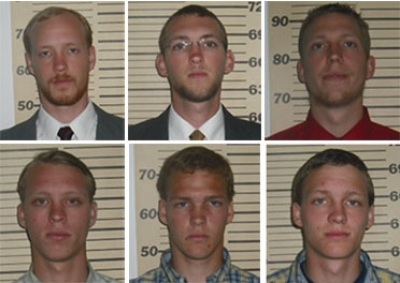 Six brothers from a North Carolina family have been accused of sexually abusing a now 16-year-old girl.
Eric, 27, Jon, 25, Matthew, 23, Nathaniel, 21, Benjamin, 19, and Aaron Jackson, 18, allegedly abused the teenager for over 10 years, starting when she was 4. While parents John Jackson, 65, and Nita Jackson, 54, were reportedly aware of the incidents and at one point witnessed the acts, they did not intervene, stated WVEC.
According to the blog Spiritual Sounding Board, two of the brothers attended Hope Baptist Church, which is headed by Scott Brown, who "has had very close ties with the now defunct Vision Forum Ministries and recently fallen Christian patriarchal leader, Doug Phillips."
The site also claims that the victim is the brothers' younger sister.
"It's disgusting that you would think, that parents knew that something like this was going on and just let it go," Sheriff Eric Tilley told 13News Now. "That's disgusting."
Authorities first heard of the incident after one of the brothers repented of it to his pastor and the church leader convinced him to go to authorities in 2012. Two of his brothers corroborated his claims and the victim earlier this year also claimed they were true.
"Said, you know, that's not a normal situation. That's not the way a normal family lives, this is absolutely wrong and to do the right thing, you need to go and talk with the authorities," Tilley explained.
"When he came in and told us that, our initial belief was that we probably wouldn't get far with this case. We probably knew we were gonna get some resistance because this family is, like I said, they're close-knit. They stay to themselves, you know, they didn't go to school, so they're not really out socially," Tilley said.
Curtis Trueblood, who lives several miles away from the Jacksons, described the family as a "secretive bunch."
Another neighbor, Bette Butler, whose son grew up with the Jacksons, said she "never suspected anything."
"They first moved here, we did have them to dinner a couple times. They seemed like really normal people, normal children," Butler told WVEC. "There wasn't a lot of interaction between the Jacksons and people in the area much. I mean, they pretty much kept to themselves."
According to WVEC, "although the brothers supposedly were home-schooled, their level of education seemed low. The oldest, Eric, had difficulty writing his name when he spoke to investigators."
The family, the majority of which moved to Colorado in 2013, is scheduled to appear in court on May 19. The brothers are currently in prison in North Carolina, each under secured bonds of up-to $150,000, while the parents paid $15,000 bond and returned to Colorado.
The family has 11 children. The victim reached out to Child Protective Services after North Carolina authorities traveled to Colorado to learn more about the allegations.