Small Iowa Church's Sign Declaring White Supremacy a Sin Goes Viral as Trump Defends Alt-Right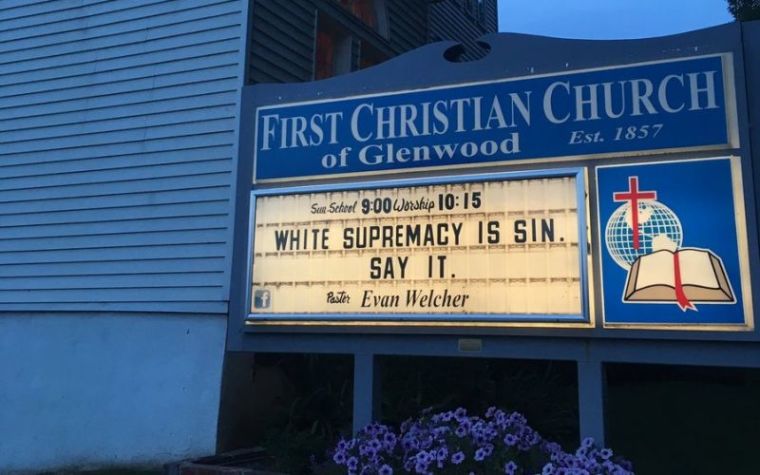 A small Iowa church's roadside sign condemning white supremacy as a sin is now going viral as President Donald Trump on Tuesday seemed to do an about face on earlier comments condemning the alt-right movement Tuesday.
A small Iowa church's roadside sign condemning white supremacy as a sin is now going viral as President Donald Trump did a controversial about face on earlier comments condemning the alt-right movement Tuesday.
The First Christian Church of Glenwood, put up the message late Saturday after James Alex Fields Jr., 20, an alleged Nazi sympathizer, reportedly plowed his car into a crowd of activists in Charlottesville, Virginia, killing one person and injuring 19 others.
"White supremacy is sin. Say it," the message said. The church tweeted a photo of the sign and since then it has racked up more than 4,000 retweets and 11,000 likes as of Wednesday morning.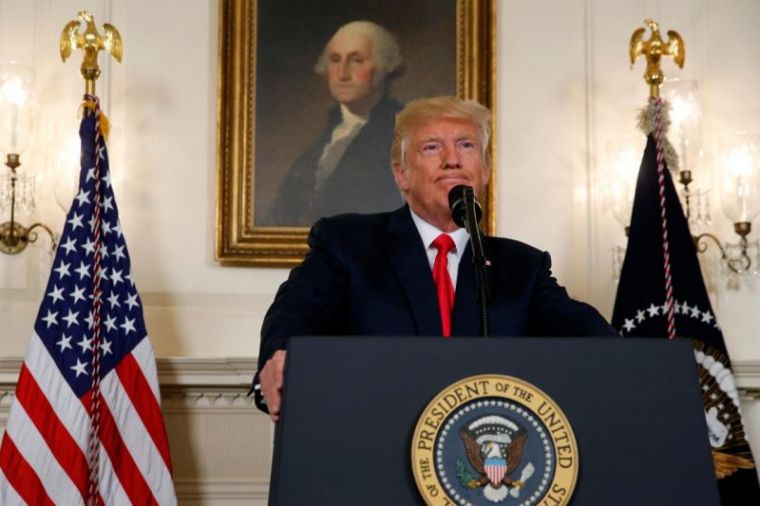 "I've tried to learn from my African-American sisters and brothers in Christ about racism and one of the overwhelming frustrations I've heard from them is they do not believe their white sisters and brothers in Christ care about their plight," pastor of the church for 10 years, Evan Welcher, 34, told The Des Moines Register. He said he put up the sign "to show solidarity with the people the white supremacists are publicly denouncing."
"I wanted people to know that we hear them, that we care, and that we are trying to teach people to love like Christ loves," Welcher, whose church is predominantly white and is located in a county that voted predominantly for Trump in 2016.
Anger among white nationalist socialist groups was first triggered when the Charlottesville City Council voted in February to remove a statue of Confederate Gen. Robert E. Lee from what was then called Robert E. Lee Park. City officials renamed the Robert E. Lee Park, Emancipation Park in June.
On Friday, white nationalist socialists marched through the University of Virginia campus in Charlottesville, led by Richard Spencer, a graduate of the school, holding tiki torches ahead of the so-called "Unite the Right" rally — organized by Jason Kessler, a man who used to be an Obama supporter and an Occupy Wall Street activist — to demand protection for the statue of Lee. They chanted "white lives matter," "you will not replace us," as well as the Nazi-related phrase "blood and soil."
They gathered again on Saturday morning for a rally set to start at noon but violence broke out between Antifa counter-protesters after police were given an order to stand down, according to members of the ACLU who were monitoring both protests. At noon, Virginia Gov. Terry McAuliffe declared a state of emergency.
Late Saturday, instead of naming white supremacists, Trump blamed the violence on "many sides" in his initial comments on the unrest.
"We condemn in the strongest possible terms this egregious display of hatred, bigotry and violence on many sides ― on many sides," Trump said. "It's been going on for a long time in our country, not Donald Trump, not Barack Obama. It's been going on for a long, long time."
After being criticized for not calling out white supremacists in his initial comments,Trump conceded on Monday that: "Racism is evil, and those who cause violence in its name are criminals and thugs, including the KKK, neo-Nazis, white supremacists and other hate groups that are repugnant to everything we hold dear as Americans."
On Tuesday, however, Trump departed from his prepared speech to again condemn all sides, doubling down on his initial comments.
"I think there is blame on both sides," the president told reporters at Trump Tower in Manhattan. "You had a group on one side that was bad. You had a group on the other side that was also very violent. Nobody wants to say that. I'll say it right now."
He also defended the people protesting the removal of Robert E. Lee's statue, saying that not all of them were white supremacists.
"I've condemned neo-Nazis. I've condemned many different groups," he said. "Not all of those people were neo-Nazis, believe me. Not all of those people were white supremacists by any stretch.
"Many of those people were there to protest the taking down of the statue of Robert E. Lee," Trump said. "So this week, it is Robert E. Lee. I noticed that Stonewall Jackson is coming down. I wonder, is it George Washington next week? And is it Thomas Jefferson the week after? You know, you really do have to ask yourself, where does it stop?"
He further noted that "very, very violent" "alt-left" groups had confronted the white nationalist socialist groups that had gathered in Charlottesville.
Trump's comments on Tuesday drew bipartisan rebuke from many who felt he had missed the point on why he needs to condemn the alt-right.
Fox News commentator Charles Krauthammer called his comments a "moral disgrace."
"What Trump did today was a moral disgrace. What he did was to revert back to where he was on Saturday and made it very clear that what he read on Monday was a hostage tape. Clearly reading of a prompter....That wasn't Trump speaking that was the aide speaking," Krauthammer said.
"The reason it's a moral disgrace is this — this generation, for the last 50, 60 years, all the modern presidents ... understood there was something unique about the history of slavery and racism in this country that we had to cure this original sin.
"It was not cured by the Civil War as Lincoln had hoped because it was followed by 100 years of state-sponsored oppression. It began to be cured with civil rights, equality of rights and this generation, the last 50 or so years has done a splendid job in redeeming itself. What Trump is missing here is the uniqueness of white supremacy, KKK and Nazism," he added. "Yes, there were bad guys on both sides. That's not the point, this was instigated, instituted, the riot began over a Nazi rally and the only killing here occurred by one of the pro-Nazi, pro-KKK people."