Upset Father Writes Letter to White Nationalist 'Prodigal' Son, Prays He Denounces 'Hateful' Beliefs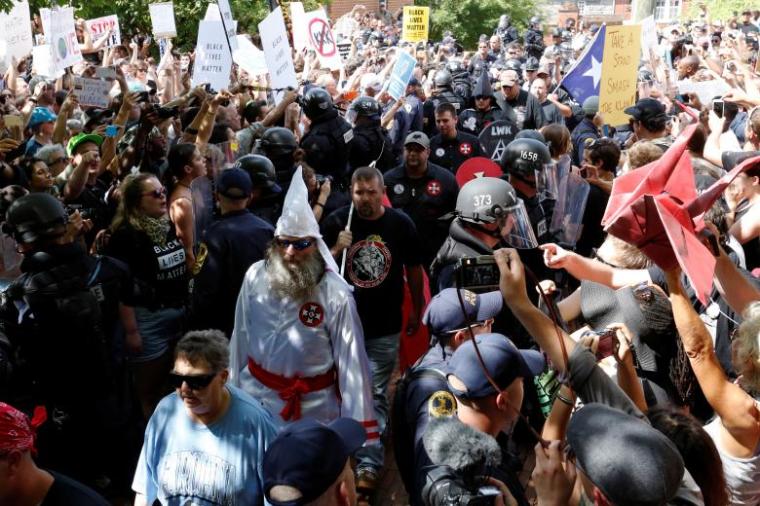 An upset father has written an open letter to his "prodigal" son, who attended the white nationalist rally in Charlottesville, Virginia, on Saturday, urging him to renounce his "hateful" beliefs.
"I, along with all of his siblings and his entire family, wish to loudly repudiate my son's vile, hateful and racist rhetoric and actions. We do not know specifically where he learned these beliefs. He did not learn them at home," Pearce Tefft wrote on Monday in a letter posted on Inforum, referring to his youngest son, Peter Tefft.
"I have shared my home and hearth with friends and acquaintances of every race, gender and creed. I have taught all of my children that all men and women are created equal. That we must love each other all the same."
Tefft pointed out that his son was featured in several local news stories backing white nationalist views, and said that Peter traveled to the Charlottesville rally.
The rally in question saw violent clashes between white supremacists in support of a statue of American Civil War General Robert E. Lee and counter-protesters. One person was killed and close to 20 were injured on Saturday when a Neo-Nazi sympathizer crashed an automobile into the counter-protesters.
President Donald Trump's evangelical advisory board strongly condemned the "Unite the Right" protest in response.
Ronnie Floyd, senior pastor of Cross Church in Arkansas and former Southern Baptist Convention president, insisted that the alt right rally did not "represent in any form or way the Christian faith or the values followers of Jesus stand for."
In his letter, Tefft said that his family can afford to be silent no longer over the direction in life that Peter has taken.
"Peter Tefft, my son, is not welcome at our family gatherings any longer. I pray my prodigal son will renounce his hateful beliefs and return home. Then and only then will I lay out the feast," the father wrote.
"His hateful opinions are bringing hateful rhetoric to his siblings, cousins, nieces and nephews as well as his parents. Why must we be guilty by association? Again, none of his beliefs were learned at home. We do not, never have, and never will, accept his twisted worldview."
Tefft concluded: "Please son, renounce the hate, accept and love all."
Peter Tefft spoke with Inforum in another article in February, where he distanced himself from the labels "Nazi" and "white supremacist."
"I'm a white Christian and 100 percent pro-white. 'White Supremacist' is a word used to intimidate Christians and to stifle discord when all of us should be communicating," he explained at the time.
"I'm interested solely in legal political action to further pro-white interests. We as white people have a right to exist, our own identity, and a right to campaign politically and legally for our own interests," he added.