Snake-Handling Christians to Star in 'Snake Salvation' Reality Show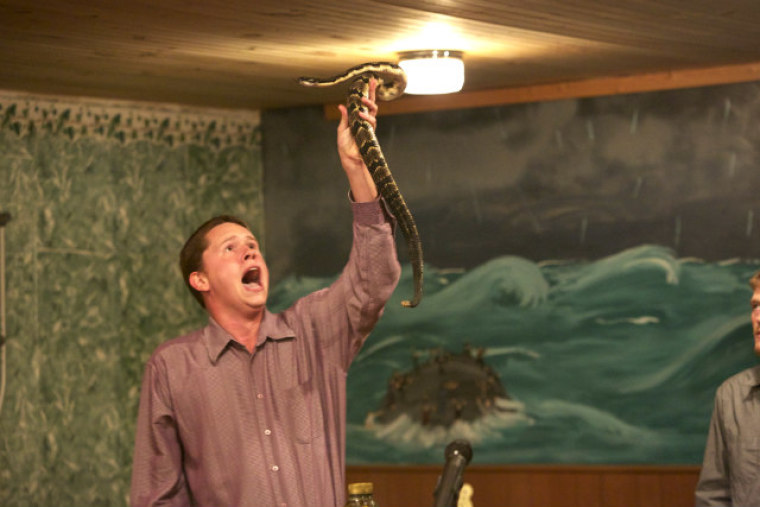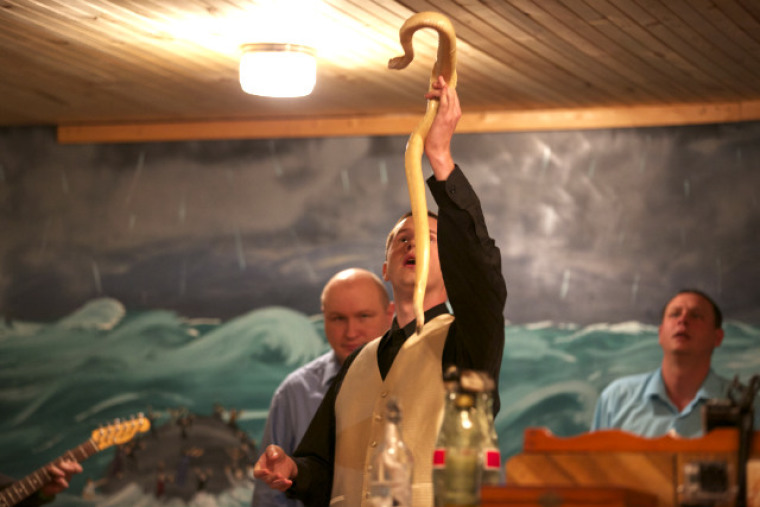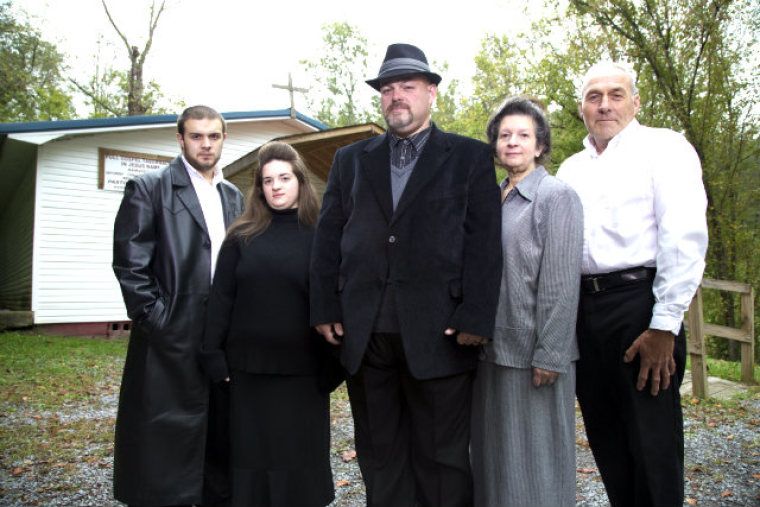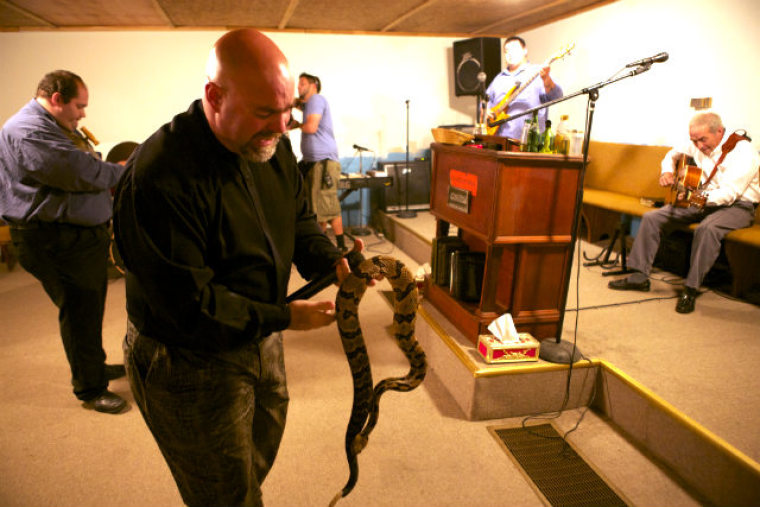 View Photos
With TV shows like "Pastors' Wives," "Preachers' Daughters" and "Preachers of L.A.," paving the way, viewers might not be too surprised to hear that next on the platter of religion-themed reality-based offerings is a program titled "Snake Salvation" about — you guessed it — Christians who worship using venomous snakes. But this program is unlikely to feature any glamour or glitz, as its stars are far from the comforts of suburbia and the fast pace of city life.
The new program, scheduled to air in September on the National Geographic Channel, takes a look at the lives and deadly worship practices of Pentecostal Pastors Andrew Hamblin of Tabernacle Church of God in LaFollette, Tenn., and Jamie Coots of Full Gospel Tabernacle in Jesus Name church of Middlesboro, Ky. Coots is reportedly a mentor to Hamblin, 22.
As described by the National Geographic Channel:
"Jamie Coots and Andrew Hamblin struggle to keep an over-100-year-old tradition alive: the practice of handling deadly snakes in church. Jamie and Andrew believe in a Bible passage that suggests a poisonous snakebite will not harm them as long as they are anointed by God's power. If they don't practice the ritual of snake handling, they believe they are destined for hell. Hunting the surrounding mountains for deadly serpents and maintaining their church's snake collection is a way of life for both men. The pastors must frequently battle the law, a disapproving society, and even at times their own families to keep their way of life alive."
The Bible passage that Coots, Hamblin and other Christians of the Signs Following Holiness communities take their cue from is found in the King James Version of Mark 16:17-18. Snake handlers believe the New Testament passage includes a command or prophecy from Jesus that his followers "shall take up serpents" without fear of harm. Those who practice this form of worship insist believers must be under God's anointing, or led by the Holy Spirit, if they choose to handle snakes during services.
"My job as pastor is to kindly keep myself and my flock in line, and to do what we feel is right according to the word of God," Coots explained in a press release. "To me it's as much a commandment from God when He said 'they shall take up serpents,' as it was when he said 'thou shall not commit adultery.'"
Coots and his snake-handling church was the focus of a Nat Geo Wild program in 2012:
As for Hamblin, who is struggling to financially support his wife and their five children, he hopes to attract younger Christians to his church who are curious about the more than 100-year-old tradition.
"I've got something in my soul greater than anything," the 22-year-old shared. "If I lost my wife to it, if I lost my children, God in heaven forbid I ever do, when my children get old enough to handle them … it would take all I had in me, because I love my wife. I love my kids. But it'd still be the word of God and I'd still have to do it."
Hamblin was featured on CNN last year after the death of a snake-handling pastor:
Although critics have insisted that nowhere in the Bible are Christians commanded or encouraged to handle poisonous snakes and that Mark 16:17-18 is to be interpreted spiritually, the dangerous practice has grown since its start in the late 1900s. It is more common in Appalachian states like Alabama, West Virginia and South Carolina, but is also practiced illegally elsewhere.
Ralph Hood, considered the foremost expert on snake-handling Christians, told The Christian Post Thursday that "Snake Salvation" was unique but not widely supported by members of the signs community.
"The issue is complex, in that many churches refuse to allow cameras, video, etc.," said Hood. "However, with the emergence of reality shows there is temptation to allow cameras in service(s). As for handlers, the money is good."
The University of Tennessee at Chattanooga Psychology of Religion professor, who has studied snake handlers for over 25 years, added that some Christians view the involvement of money as "selling the gospel."
"However, those that do such as Jamie Coots and Andrew Hamblin can also see this as a means of spreading the gospel to more persons and of correcting misconceptions about handlers," said Hood.
Matthew Testa, executive producer for "Snake Salvation," pointed to the legal aspect of the practice of handling poisonous snakes.
"Jamie and Andrew take huge risks in practicing their faith, not just in terms of the danger posed by the venomous serpents they handle, but also from law enforcement," said Testa. "But they firmly believe they are commanded by the Bible to take up serpents as a sign to non-believers, and feel strongly they are exercising their religious freedom as guaranteed by the Constitution. They often say, 'God's law trumps the law of man.' "
The Christian Post, prompted by the death of a snake-handling minister from West Virginia, took an in-depth look last year at the worship tradition, which sometimes includes participants ingesting poison. The report, titled "Snake-Handling Christians: Faith, Prophecy and Obedience," cited experts who suggested that there were as many as 1,000 serpent-handling Christians from about 125 churches scattered throughout Appalachia.
Hood, the Tennessee professor who has studied the signs community extensively, said at the time that the tradition's growth is not always consistent.
"But it's clear that the serpent-handling tradition is now coming back again – it tends to wax and wane," he said. "But we have a lot of younger handlers now beginning to attract a following. My guess is that the tradition is on a pattern of growth once again."
"Snake Salvation" premieres Tuesday September 10, at 9 p.m. ET on the National Geographic Channel. Other religion-based reality shows developed by the network include "Polygamy USA," "Amish: Out of Order" and "American Colony: Meet the Hutterites."