'Snake Salvation' Exclusive: Serpent Handling Will Continue Until Christ Returns, Says Ky. Pastor (Part 4)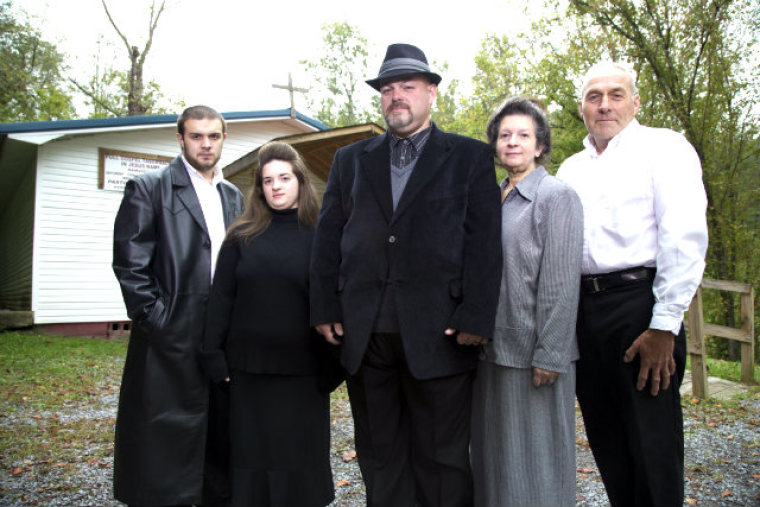 Editors' Note: The Christian Post recently spoke with Pastors Jamie Coots and Andrew Hamblin, stars of the National Geographic reality show "Snake Salvation" to learn more about their controversial practice of worshipping God with snakes. The extensive interviews with both men, which include questions directly from CP's readers, are featured in four parts. Read part one, part two and part three.
***
National Geographic's "Snake Salvation" has inspired among viewers, including readers of The Christian Post, fascination, repulsion and confusion over the sect of Pentecostal Christians who say they are led by the Holy Spirit to handle poisonous snakes while worshipping God.
"Snake Salvation" focuses on the lives and ministries of Pastor Andrew Hamblin of Tabernacle Church of God in LaFollette, Tenn., and Pastor Jamie Coots of Full Gospel Tabernacle in Jesus Name church of Middlesboro, Ky. Coots, in his 40s, serves as a mentor of sorts for Hamblin and was the inspiration behind the 23-year-old starting his own snake-handling congregation.
In Mark 16:9-20, the KJV Bible passage that undergirds much of their worship practices, Jesus tells his disciples in verses 15-18: "Go ye into all the world, and preach the gospel to every creature. He that believeth and is baptized shall be saved; but he that believeth not shall be damned. And these signs shall follow them that believe; In my name shall they cast out devils; they shall speak with new tongues; They shall take up serpents; and if they drink any deadly thing, it shall not hurt them; they shall lay hands on the sick, and they shall recover."
In the following transcript of CP's interview with Pastor Coots, the Kentucky preacher explains why he seeks medical attention for his asthma, but avoids doctors when it comes to a snake bite. The Christian minister also shares his view on the future of serpent handling, a 100-year-old practice found in many Appalachian states.
CP: Some people say that by endangering yourself by handling venomous snakes, you are tempting God or "putting God to the test," which the Bible says Christians are not supposed to do. What's your response to that?
Coots: I don't see how God can be tempted with His Word when He tells us to do it. I feel as long as we wait on the anointing to do it, we're not tempting God. Now, yes, if we thought we should just do it on our own, then we would be tempting God the same as the seven sons of Sceva (Acts 19:11-17) when they went and told those ones that were demon possessed that 'We adjure you to come out in the name of Jesus Christ which Paul preaches.' They said, 'Jesus we know and Paul we know, but who are you?' And they beat them, ripped off their clothes and sent them out naked. To me it's showing us that we can't do anything without God leading us to do it.
CP: Talk briefly about "the anointing," presumably the Holy Spirit or the presence of God. How is that involved in handling serpents?
Coots: You feel the anointing...and of course the anointing does all of it. It's only one anointing, but when you feel that anointing God speaks to you and tells you what to do, whether it be taking up serpents, laying hands on the sick, drinking a deadly thing, casting out devils or speaking in new tongues. It's all of those Bible signs … working by the same Spirit, by the anointing. You have to wait for the direction of God to tell you what to do and when to do it. You may have a box of snakes there and the anointing move on you and you think, 'Okay, God's anointing me to pick up serpents.' But then God may tell you to go pray for somebody, and you may not get to take up serpents. God, when He does move, it is for the edification of the Body, and whatever He sees fit to do to edify the Body is up to Him, what He wants done.
CP: How does handling poisonous snakes while worshipping God help your faith or relationship with God?
Coots: It's not necessarily about our relationship with God. It's a sign to show that God has power over something that He created that could cause death. It doesn't build our faith. To me, your faith doesn't even come into play unless you get bit. As you get bitten, then your faith comes into play, cause either you're going to trust God or you're going to a doctor and trust man.
CP: Is serpent handling a form of evangelism, a sign to draw unbelievers to God?
Coots: I won't say that it draws them to God. If that's what God wants to use to show somebody His power, to me taking up a serpent is no different that raising someone from the dead. It's still showing a manifestation of the power of God.
CP: You refuse to get medical help if bitten by a snake, but you go to the doctor for other health reasons. Some people might say that doesn't make sense.
Coots: Well, I have asthma and I go for that, and if anything else were to go wrong, I'd go for that. The reason I don't go for a serpent bite, is I have seen people who did go with serpent bites, and nurses and doctors don't act very professional. I mean, I had a nurse tell me once when I was in the hospital with asthma...she asked me how had the asthma developed, and I told her I didn't really know. She said, 'Have you always had bad lungs?' I said, 'Yes.' She said, 'Has your body ever been in a very weakened state.' I said, 'Yes ma'am when I was bitten by a rattlesnake.' She said, 'Well how were you bitten?' I told her in church, and her whole complexion, her attitude just changed. She said, 'Well then that should be a sign to you not to do it anymore.' I feel if they're professionals, they have no business getting smart with someone over that. I've even known of others that when they were treating them they would get their arm and then move it real hard and fast. I don't see any reason for going if they're not going to be professional.
CP: Do you know that some scholars say there is evidence that Mark 16:9-20 was not originally included in the gospel account, which means your faith, practice or tradition is based on something God might not have originally intended to be included in the Bible. What's your response to that?
Coots: [By] the power of God I felt to do it. If God didn't direct us to do it, I'd still stay with what I felt rather than what a man says that they know about the Bible. … We know that Jesus healed the sick, he cleansed the lepers, he raised the dead, he cast out devils. The Bible doesn't specifically say that Jesus took up serpents but it said that he did do signs and wonders. … If those verses weren't there and we don't' have to do any of it, then we shouldn't be praying for the sick, we shouldn't be worried about casting out devils, we shouldn't do any of it. So why do they still believe it's okay to do the other three, and not the other two if they don't believe none of them were there?
CP: What are your thoughts on the snake-handling tradition, do you think it will keep going strong, or eventually, maybe in a few decades, die out?
Coots: I don't know that it will grow because of this ("Snake Salvation"). I mean, I would hope that people would see that there's something to it, the power of God. I don't know that it will grow great in numbers, but I still believe that some will be doing it when God comes back to get His people, because we feel that it's something God told us to do. Someone somewhere will be doing it when God comes back.
Watch a clip below from "Snake Salvation" episode "Drink of Death," in which a member of Pastor Coots' church drinks a "deadly thing," the poisonous substance strychnine often used as a pesticide.