'SNL' Mocks 'God's Not Dead 2' With 'God Is a Boob Man' Parody Trailer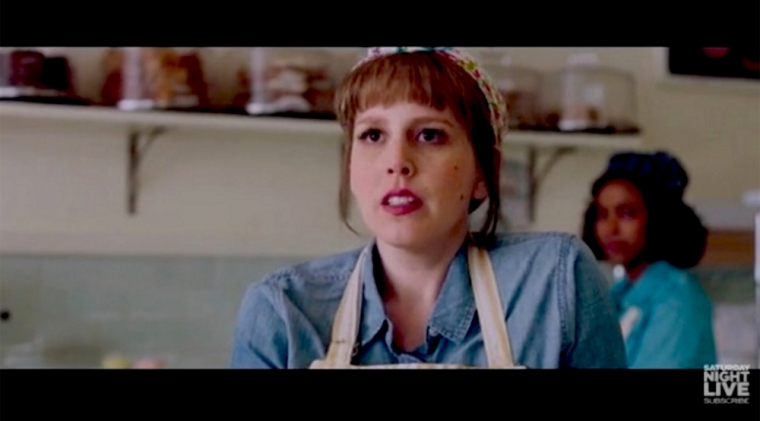 NBC's "Saturday Night Live" featured a parody trailer titled, "God is a Boob Man," mocking the Christian film "God's Not Dead 2" and alluding to cases related to religious freedom and gay marriage.
Billed as a production from the makers of films like "God On The Run and Angel in Denim: The Kim Davis Story," the spoof which aired Saturady featured a small-town baker who refuses to make a cake for a homosexual male couple's wedding, which results in a lawsuit about God's sexuality. (See below.)
"They say we're bigots, but Christians are the most oppressed group in this country," Beth (Vanessa Bayer) explains in the "trailer." "But I'm going to prove once and for all that God is straight."
In the parody, the baker's co-worker is shown as saying, "What are you thinking? Gays are the most powerful force in America." The gay couple is represented by a Jewish ACLU attorney.
When Beth fails to prove it in the court, she seeks the help of a governor to guard her religious freedom. She is shown telling the governor, "I want to deny basic goods and services to gay people."
SNL has had Christian themes before, some of which have been criticized as offensive. A 2011 skit showed Jesus meeting Tim Tebow and telling him to tone down his faith. In 2013, a mock trailer for a fake Quentin Tarantino film depicted Jesus gunning down his enemies. And a 2014 skit about Christmas Mass had fun with churchgoer types, like the sweaty-palmed greeter.
"God's Not Dead 2" is a sequel to the 2014 production "God's Not Dead" and follows a junior high teacher as she attempts to express her Christian faith that results in her facing a lawsuit from a civil liberties group in the process.
Earlier, atheist blogger Hemant Mehta, suggested that the film relies on "fake Christian persecution" for its storyline.
David A.R. White, the producer of the recently released Christian film, sought to defend the movie's plot. "It's an interesting thing, because, if it wasn't real, why do they get so offended by it?" White told The Blaze earlier. "I don't think it would annoy people if it wasn't true … At the end of 'God's Not Dead 1′ and even part two, we throw up about 50 different court cases that are dealing with similar issues right now."
Davis, the county clerk for Rowan County in Kentucky, last year defied a U.S. federal court order requiring that she issue marriage licenses for same-sex marriage, saying she was acting "under God's authority," following the U.S. Supreme Court decision legalizing gam marriage across the nation. She spent five days in jail for "contempt of court."
Several Christian bakers and owners of other businesses have also faced prosecution and threats, for example, for refusing to bake cakes for gay marriage ceremonies.
Recently, Edie and David Delorme, the Christian owners of Kern's Bake Shop in Longview, Texas, said they received threats against their business and family after they declined to bake a cake for a same-sex wedding. They said baking a cake would have conflicted with their deeply-held religious belief that same-sex marriage violates God's definition of marriage.
The "God's Not Dead 2" actress Melissa Joan Hart earlier said that one of the reasons American Christians are interested in the film is because they feel their faith is being trampled on. "For the longest time, while I played a witch on television [on 'Sabrina, The Teenage Witch'], the Christian community attacked me for popularizing the magic aspects on that secular TV show," Hart said in an interview, according to Chicago Sun Times. "Now it's the opposite. I'm getting grief for playing the good Christian woman who is being persecuted by the outside world!"