'So You Think You Can Dance' Uses Christian Rap Song From Tedashii, Lecrae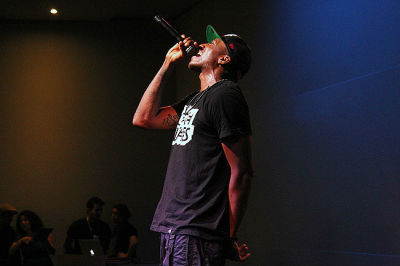 Latin dancing star Paul Karmiryan hip hopped out of his comfort zone on "So You Think You Can Dance" Tuesday night, rocking out to Christian rapper Tedashii's "Dum Dum," a song featuring Lecrae and the line "Life in Christ got me finished like I crossed the line."
Tedashii gave his life to Christ in college, roomed with Lecrae, and decided to use his freestyle rap talent to glorify God. "I wanted to do college ministry…being a part of Christian Hip hop was never the plan," he said. Gearing up to release his third album this Spring, he serves at The Village Church in Denton, Texas, and is raising his son with his wife.
"Everything happens in life for a reason, and I thank God that I met him," Karmiryan's dance coach, Gregory, said. He and Karmiryan look so alike, their own mothers said they look like twins. The ballroom star first started dancing at the age of 9, focusing in on ballroom training at 17. He is currently studying psychology at California State University in Northridge.
Hip hop proved a real challenge for the Latin dancer, but Comfort Fedoke, former street dancer and graduate of the Booker T. Washington School of the Performing Arts in Dallas, Texas, taught him how to loosen up and groove.
In Fedoke's '90s-style spray-paint, trash-can choreography, the two rocked out to the song's first verse, which includes a quick reference to the Holy Spirit. "No gimmicks/Spirit in my lyrics./Know when people hear it/they gon' love/or they gon' fear it."
"Dum Dum" also mentions how the secular culture views Christians as mentally disconnected and dumb. "But some others say we preachin', some close-minded teachin'/Like we ain't heard of Marx life, and Niche, Believe me," it runs, quick to add "Eh, They Don't know about us."
Fedoke, known for appearances in "Glee" (2011), "Footloose" (2011), and the upcoming film "East Side Story" (2013), posted on Twitter, "Anywhere GOD takes me," as her location. She also retweeted a tweet thanking her for her choice of Christian rap – "@ComfortFedoke you are my hero for repping Jesus on the show last night! Thanks for your stance for Him!!!"
It wasn't the Christian theme, however, but Karmiryan's surprise success with hip hop that impressed the judges. "Not in a million years did I ever think I would see you doing this…it's so impressive!" Guest judge actress Jenna Elfman told Karmiryan. "I don't know how easy it was to choreograph Paul…he's accustomed to standing straight up, on the balls of his feet – you wanted him to get down and dirty, and he did," said Nigel Lythgoe, the only constant judge for all ten seasons of "So You Think You Can Dance."
"Paul, Comfort must have made you feel uncomfortable at times, but you didn't look it at all," Lythgoe joked, causing great laughter from the audience. Mary Murphy, another judge, called him "one of the most versatile dancers on this show," to massive applause.
With over 3.5 million viewers, Tuesday's "So You Think You Can Dance" was the most watched television show in the U.S. that night.
In a tweet with 246 retweets and 506 favorites, Lecrae thanked Fedoke and the show for using his music and spelling his name right – "Thanks to @DANCEonFOX and @ComfortFedoke for not only using our music, but spelling me & @Tedashii name right!"