Son of Pastor Killed Minutes Before Father's Day Focuses on Forgiveness Ahead of Memorial Service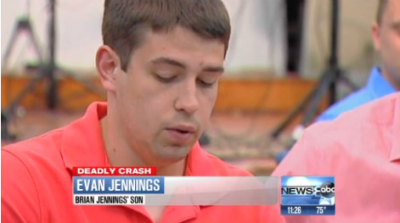 Despite his crushing loss, the teenage son of a popular Texas youth pastor Brian Jennings, who was killed just minutes before Father's Day while trying to help a stranded motorist, has decided to heed the lesson on forgiveness his dad had planned to teach on Sunday.
"What I've felt since that night is sadness, anger and confusion," 19-year-old Evan Jennings told reporters on the eve of his father's memorial service on Tuesday.
In the hours shortly after his father died, the teen who had celebrated his high school graduation with his father and other members of his family on Saturday night, shortly before the deadly crash that claimed the lives of three others, splashed his grief on Twitter in a series of tweets.
"My dad was murdered by a drunk who abandoned his friends at the wreck and ran my dad over all to avoid getting caught," the grieving teen tweeted on Father's Day. "He tried to help those people and was killed for it."
Moments after the emotionally charged thread of tweets, however, almost like divine intervention, Evan followed up his hurt with a calming touch: "Going through my dad's notes on his iPad and find a page full of verses on forgiveness. I pray that I do not become bitter and become the man of God he desired for me. If anyone wants to come over, we can use the support."
It appears that he may be getting a lot of that support now, because on Tuesday, the teen continued on the theme of forgiveness at a press conference at the Alsbury Baptist Church in Burleson, Texas, where his father worked for nearly six years.
"Though his death was a result of the actions and decisions of others, we serve a God of forgiveness and love, and that's where our hearts are," he told reporters.
In remembering his father, he said: "He was my… best friend, my mentor… an example of the man I want to become."
Early Wednesday morning, he also apologized for his initial tweet on the accident: "I would like to apologize on my first post on the accident Saturday night, it was inaccurate and I was confused and angry at the time."
An ABC report noted that the Texas Alcoholic Beverage Commission is looking into whether or not alcohol played a role in the horrific accident. Terry Grisham, executive administrator of the Tarrant County Sheriff's Office, had suggested in an earlier report that the crash was more than just an accident.
"We have unfortunately found some evidence at the scene that alcohol may have played a role in this accident however we are not sure who was in what car," said Grisham
Although the accident is currently being investigated as a case of vehicular manslaughter, no one has yet been charged, according to ABC.
The 16-year-old driver of the pickup truck, Ethan Couch, acquired the services of a lawyer who commented on the tragedy in a statement to ABC.
"It's a tragic situation for everyone involved," said Scott Brown, Couch's attorney in the statement. "My client and his family's heart go out to the other individuals and their families."
The memorial service for Pastor Brian Jennings will be held today, Wednesday, June 19 at Venue 510 in Burleson, Texas, starting at 3:00 p.m. according to a memorial page on facebook.
Focuses on Forgiveness Ahead of Memorial Service