Sotloff Beheading: Obama Says US Will Not Be Intimidated, Sets Objective to 'Destroy' ISIS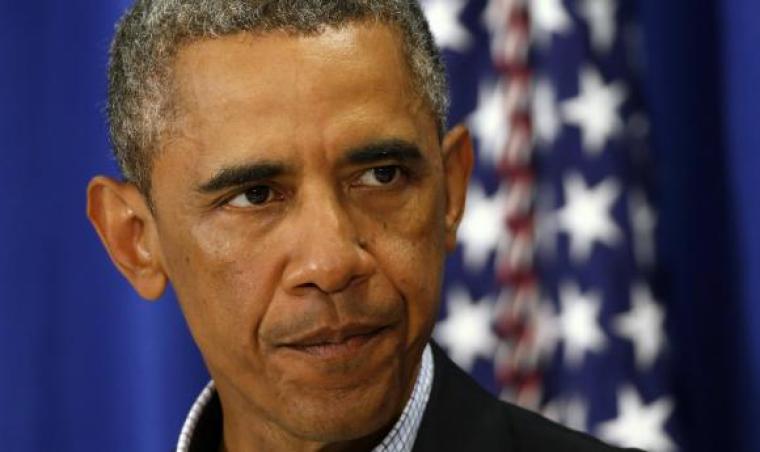 President Barack Obama vowed that the United States will not be intimidated by terror group ISIS, despite the release of a video showing the beheading of American journalist Steven Sotloff, and stated that the objective is to "degrade and destroy" the Islamic militants.
"Those who make the mistake of harming Americans will learn that we will not forget ... that our reach is long and that justice will be served," Obama said on Wednesday, according to CNN.
The president also clarified previous comments where he suggested that his administration has no strategy on ISIS, noting that he was referring to military strategy in Syria.
"Our objective is clear. That is to degrade and destroy (ISIS) so it's no longer a threat," Obama stated. "We can accomplish that. It's going to take some time, it's going to take some effort."
The Islamic State, as the terror group is also known, posted a video on Tuesday showing Sotloff's murder. The video came only two weeks after the militants released footage of the beheading of another American journalist, James Foley, who had been captured in Syria.
Sotloff's executioner in the video, dressed in black and speaking with a British accent, says:
"I'm back, Obama, and I'm back because of your arrogant foreign policy toward the Islamic State. Just as your missiles continue to strike our people, our knife will continue to strike the necks of your people."
ISIS, which is waging war on the governments of Iraq and Syria, has threatened the U.S. to stay out of the region, and said that the beheadings are in retaliation to airstrikes launched against targets in Iraq.
State Department spokeswoman Jen Psaki condemned the footage when it was released on Tuesday.
"The intelligence community will work as quickly as possible to determine its authenticity. If the video is genuine, we are sickened by this brutal act taking the life of another innocent American citizen. Our hearts go out to the Sotloff family," Psaki stated.
US National Security Council spokesperson Caitlin Hayden later affirmed that intelligence agents have analyzed the video and "reached the judgment that it is authentic."
British Prime Minister David Cameron spoke out on the beheadings of the two American journalists, BBC News reported, calling them "utterly abhorrent and barbaric."
"We will not waver in our aim of defeating terrorism," Cameron said.
Foreign Secretary Philip Hammond added: "We are doing everything we can to reassure the family of the British hostage who was shown in the video," referring to a British hostage who has also been threatened by the militants.
BBC security correspondent Frank Gardner suggested that the American airstrikes against ISIS have caused real damage to the group's plans to capture Kurdistan.
"Unable to hit back militarily against America's jets, Islamic State has responded with a form of information warfare that it knows will horrify most people in the West," Gardner said.
"Secondly, by threatening to murder a British hostage, IS shows it makes little or no distinction between the U.S. and Britain as its enemy. This is despite Britain so far restricting itself to dropping aid to refugees and flying in supplies to the Kurdish military, leaving airstrikes to the Americans."