Controversial 'Snake Pastor': Only Spiritual People Can Eat Live Snakes and Not Die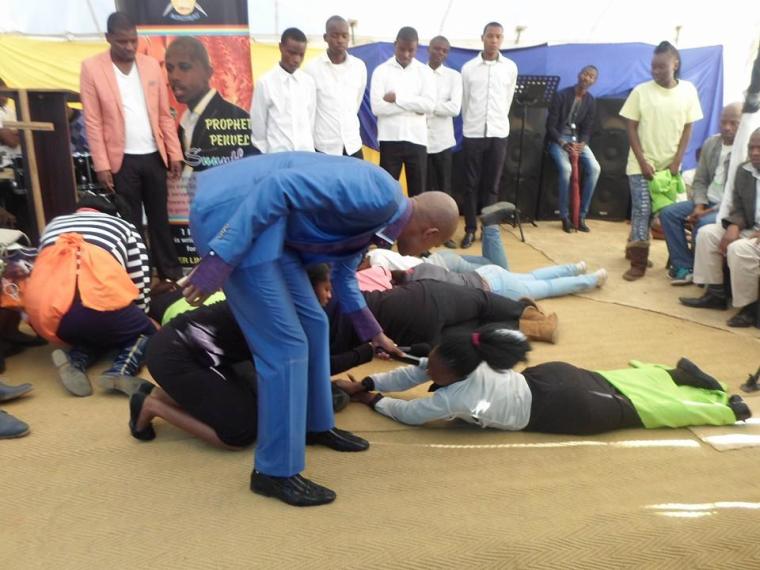 A controversial snake pastor in South Africa has been praised by the country's Cultural, Religious, and Linguistic Rights Commission for his vast knowledge of the Bible.
Pastor Penuel Mnguni of End Times Disciples Ministries in Soshanguve was recently forced to defend his religious practices to the committee after facing accusations of abusing and commercializing the Christian faith.
Authorities called Mnguni to defend himself after photographs showed the controversial pastor feeding live snakes and rats to churchgoers. Witnesses say Mnguni forced the congregants to eat the animals to prove their devotion to their faith. The religious leader also faced accusations of stepping on congregants' backs.
According to the Daily Sun, Mnguni's meeting with the commission Wednesday resulted in praise from the commission's chairperson, Thoko Mkhwanazi-Xaluva, for his so-called extensive biblical knowledge.
Mnguni has previously used Romans 14 to defend his practices. The Bible passage states in part that "One person's faith allows them to eat anything, but another, whose faith is weak, eats only vegetables."
Despite the praise, the commission, which has been investigating dozens of Christian pastors in South Africa, also determined the Mnguni's practices to be "unconstitutional and undignified."
The pastor defended his unorthodox preaching style at the hearing, arguing that he fed snakes to members of the church to show God's faith in him as a religious leader.
"A normal person cannot eat snakes — you must be spiritual. To show that God was with me, no one has died," the pastor said.
Mnguni also defended his trampling on congregants' backs, arguing that his preaching talent put churchgoers in a spiritual hypnosis, preventing them from feeling pain.
As The Christian Post previously reported, the self-styled prophet, also know as the "snake pastor," fled his home in Soshanguve in November after learning that the commission had summoned him to a hearing.
The pastor has also received criticism from the country's SPCA, an animal rights group, for his cruelty in feeding live animals to humans.
When appearing at the meeting on Wednesday, Mnguni denied he had been summoned, although officials claimed they searched for the pastor for months, suggesting he had been in hiding.
"I came to CRL Commission. I was not running from it. They were not looking for me," he said. "They did not know where I am and what I can say is I came for myself here."
"So I never received any summons from them and what is happening now ... I'm going to start again the ministry as I'm talking now," the pastor added.
The CRL has also made an effort to crack down on other Christian pastors who they suspect of abusing their preaching power.
Officials have also asked to speak to Lesego Daniel of Rabboni Centre Ministries in Pretoria, accusing the pastor of forcing his followers eat grass and drink gasoline to show their dedication to God.
Mkhwanazi-Xaluva previously told News24 that Daniel and Mnguni are two of 40 pastors being investigated for their religious practices, implying that these religious leaders have wrongfully taken money from their congregants.
"These people take money from people. What are they doing with that money? We want to know. We will not back down," she told News24 in November.