South Carolina Church Backs Kavanaugh, Announces Support on Church Billboard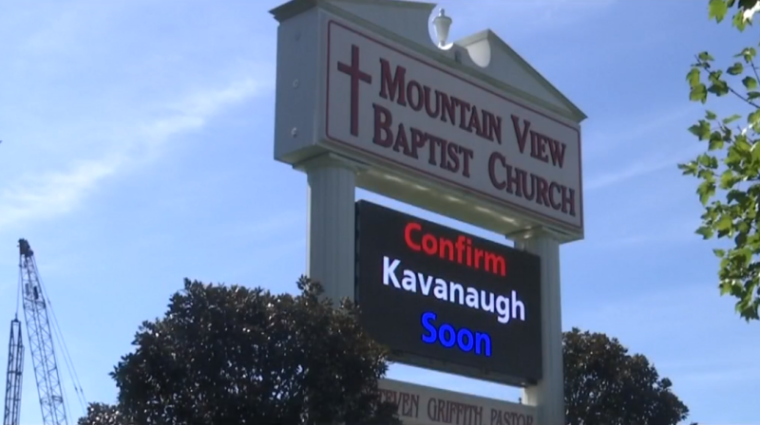 A South Carolina church publicly threw their support behind President Donald Trump's embattled Supreme Court nominee, Brett Kavanaugh, and promoted its support using the church's billboard. 
Pastor Steven Griffith of Mountain View Baptist Church in Spartanburg County told 7News that he got full support from his congregation to use the church's digital sign to let the world know they stand with Kavanaugh.
"We just wanted to support him, because we feel like, number one, he's innocent," Griffith said.
The Supreme Court nominee's confirmation process has been marred by controversial allegations of sexual misconduct while he was a teenager. Kavanaugh has repeatedly denied sexual assault allegations from psychology professor, Christine Blasey Ford, as well as the allegations of at least three other accusers. An FBI investigation into Ford's allegations was recently completed and is currently being reviewed by the Senate.
"We feel like he's being accused unjustly," the pastor said, noting that he has weighed the testimonies of both Kavanaugh and Ford. "I want to quote Rachel Mitchell, who is the Sex Crimes Prosecutor who questioned Dr. [Christine Blasey] Ford. She would not bring criminal charges against Brett Kavanaugh."
When asked if he feels churches should take political positions he replied: "Absolutely! I believe they should."
Mountain View Baptist Church's support for Kavanaugh comes as the National Council of Churches, a theologically and politically liberal coalition of mainline Protestant churches, said the judge had "disqualified himself from this lifetime appointment and must step aside immediately."
"During his appearance before the Senate Judiciary Committee, Judge Kavanaugh exhibited extreme partisan bias and disrespect towards certain members of the committee and thereby demonstrated that he possesses neither the temperament nor the character essential for a member of the highest court in our nation," the council said among several reasons Kavanaugh should withdraw. "We are deeply disturbed by the multiple allegations of sexual assault and call for a full and unhindered investigation of these accusations."
They also raised concern about Kavanaugh's "troubling" judicial and political record on matters such as voting rights, racial and gender justice, healthcare as well as the rights of people with disabilities. The NCC also opposed his judicial philosophy that the Constitution supports religious freedom for priests opposed to birth control. 
"This leads us to believe that he cannot be an impartial justice in case that are sure to come before him at the Court," the church umbrella group said.
The Institute on Religion and Democracy's Jeffrey Walton noted that the NCC had already signaled it would oppose Kavanaugh before the sexual misconduct allegations. 
The White House has said that it is "fully confident" the Senate will confirm Kavanaugh.
"The president, the White House are firmly behind Brett Kavanaugh," White House spokesman Raj Shah said Thursday morning on CNN. "We believe that all the Senate's questions have been addressed through this supplemental FBI investigation."
Shah further noted that the FBI reached out to 10 witnesses and nine of them were interviewed. No one, he said, corroborated Ford's story.