South Carolina Church Once Destroyed by KKK Burned Again Amid Rise in Black Church Fires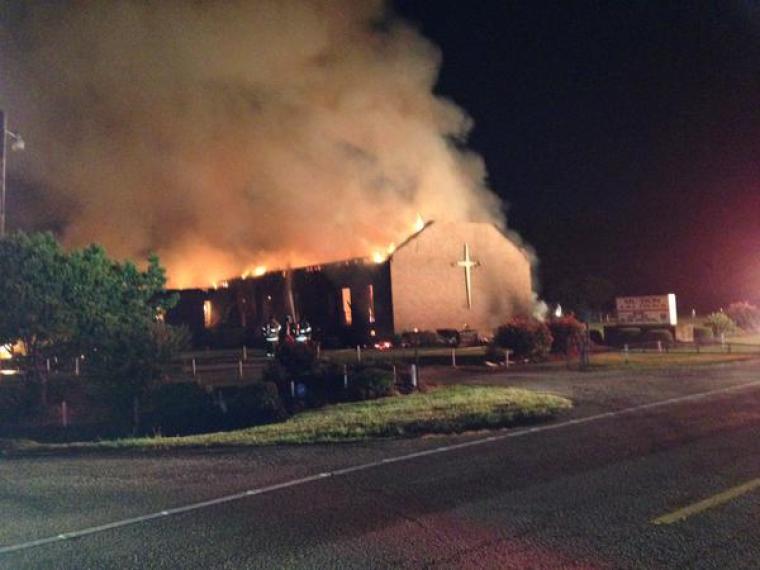 A fire that broke out in South Carolina on Tuesday at a historic black church once destroyed by the Klu Klux Klan, was not intentionally lit, according to a report.
Twenty years after two members of the KKK torched Greeleyville's Mount Zion African Methodist Episcopal Church, the community again watched it burn in flames on Tuesday evening although federal law enforcement officials reportedly said that a preliminary investigation has ruled out arson. Investigators are trying to determine whether lightning may have caused the fire.
"You feel sorry, it's devastating to put the church and the community back through the same thing. Even though it was 20 years ago, it seems like it was just yesterday," Mayor Jesse Parker of Greeleyville told CNN. "We stood out here last night, the church folks, the pastor and we had a prayer vigil as the church burned … This is a Christian community, our churches are cornerstones of our community so I'm quite sure the church will rebuild."
The FBI is working with local police and five agents from the Bureau of Alcohol, Tobacco, Firearms and Explosives (ATF) to determine what exactly happened.
"I can tell you we're not going to leave any stone unturned," said Craig Chillcott, assistant special agent in charge of the Bureau of Alcohol, Tobacco, Firearms and Explosives office that oversees North and South Carolina. "The facts will ultimately determine what occurred. ... It's a bit premature to say how long it will take to make this determination."
The incident comes amid concerns about half a dozen black churches that have been burned in the South in the wake of the Charleston massacre. Over the past week, at least seven primarily black churches have caught fire and while some have been ruled accidents, others were acts of arson.
The list of black churches recently burned in the South follows below:
On June 22, five days after the Charleston massacre, the College Hill Seventh-day Adventist church in Knoxville, Tennessee, was set ablaze along with a church van parked outside.
On June 23, a fire deemed "suspicious" by investigators occurred at The God's Power Church of Christ in Macon, Georgia.
On June 24, an arson incident occurred at Briar Creek Road Baptist Church, a primarily black church in East Charlotte, North Carolina. Also that day, the Fruitland Presbyterian Church in Gibson County, Tennessee, was engulfed in flames though investigators say that lighting may have been the cause.
On June 26, flames engulfed the Glover Grove Missionary Baptist Church in Warrenville, South Carolina. Another fire occurred that day at The Greater Miracle Temple in Tallahassee, Florida.
On Saturday, there was also a blaze at The College Heights Baptist Church in Elyria, Ohio, which is still under investigation. Damage is estimated to be around $1 million, according to reports.