South Korea's 'anti-leaflet law' a sign of alarming 'democratic decay,' Chris Smith warns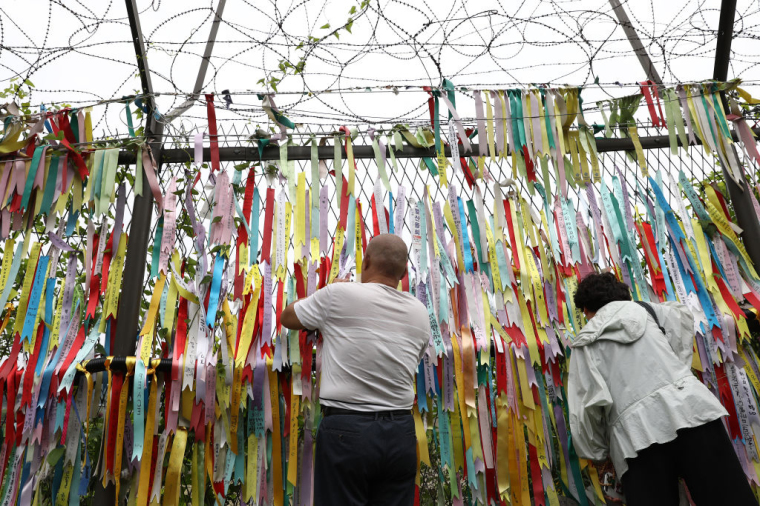 Prompted by South Korea's "anti-leaflet law" that many fear will hinder the ability to get information to people suffering under the regime of Kim Jong Un in North Korea, members of Congress on the Tom Lantos Human Rights Commission held a hearing to discuss the far-reaching implications of this new law.
In December, South Korea's National Assembly passed the Development of Inter-Korean Relations Act, best known as the anti-leaflet law, that not only bans South Korean nongovernmental organizations from sending leaflets into North Korea, it also bans sending USB drives containing information about the outside world, along with posters and money. It also prohibits loudspeaker broadcast announcements along the Military Demarcation Line that divides the two countries.
"The specific action that prompted this hearing ... was the passage ... of an anti-leaflet law [by South Korea's National Assembly] that requires certain materials be approved by the government before being sent into the North," said Rep. James McGovern, D-Mass., co-chair of the human rights commission, at the April 15 hearing. 
"Violators could face criminal or financial penalties. The law has been criticized inside and outside Korea for suppressing speech. … It is worth remembering that restrictions on freedom of expression are not new in South Korea," McGovern asserted. 
North Korea, a closed authoritarian state, is the most isolated country in the world and has been controlled by the Kim family since 1949. The hermit kingdom also ranks as the worst persecutor of Christians worldwide, according to Christian persecution watchdog group Open Doors USA's World Watch List.
It's been estimated that between 80,000 and 120,000 people are trapped in North Korean gulags, many of whom are imprisoned for their faith, according to an International Religious Freedom report.
Co-chair of the Human Rights Commission, Rep. Chris Smith, R-N.J., noted that South Korea's commitment to human rights "stands in stark contrast to the Kim family's brutal dictatorship to the North in the Democratic People's Republic of Korea. Nevertheless, surveying the state of political and civil rights in the Republic of Korea, I must say that I am alarmed by … 'South Korea's democratic decay.'
"Korea must resolve its commitment to civil and political rights, in particular, and human rights in general," Smith asserted. "It must do so not only for the sake of Korea, both South and North, but also for the entire world."
Olivia Enos, a researcher in the Asian Studies Center at The Heritage Foundation think-tank in Washington, D.C., noted in an op-ed for Forbes that even before the amended law was passed in December, the Moon administration (South Korean President Moon Jae-in) had carried out raids on organizations that planned to send leaflets into North Korea and filed criminal complaints against what authorities deemed as violators. At the time, the Ministry of Unification was already investigating some 289 nongovernmental organizations in South Korea, she added. 
Those found to be in violation of the amendment face "criminal penalties ... of up to three years in jail or a fine of just under $30,000 for engaging in prohibited activities," Enos explained, accusing South Korean leaders of having "capitulated" to "North Korea's demands by declaring that the leaflets were 'harmful to national security.'"
At the hearing, Smith emphasized that the response to the free speech crisis on the Korean Peninsula should be non-partisan and focus on human rights. 
The hearing featured the testimonies of the Hon. Inho Lee, former South Korean ambassador to Russia under President Kim Dae-jung, Suzanne Scholte, Seoul Peace Prize Laureate, and John Sifton, Asia advocacy director of Human Rights Watch, among other leading experts.
Rep. Young Kim, R-Cali., said the new speech-suppressing legislation is a concern to the Korean American community and South Korea must be pushed to "be better" in this matter.
"The Republic of Korea (South Korea), along with Japan and Taiwan, is a beacon of democracy in the Indo-Pacific and at its best, it is a shining example of what democratic representation and good governance can accomplish," Kim said.
"This is especially important given the recent advance in the region that have trended toward authoritarianism and illiberalism …," she continued. "However, like our own democratic system, there are still steps that South Korea must take to better preserve the rights of its people while rooting out corruption in its government infrastructure."
She said the legislation would "crack down" and impose strict fines on those who have sent information over the border into North Korea by way of balloons from "the outside world."
"The anti-leaflet law also utilizes … vague language regarding the restrictions on what can be sent, encompassing everything including propaganda papers, memory devices such as USB drives, and even money. …," Kim continued. "Can we in good conscience really pay the cost of curbing free speech liberties for the sake of a regime that has no intention of offering reciprocal concessions? We cannot reward bad behavior by silencing free speech and offering unwarranted concessions."
The committee hearing also explored rights in broader Korean relations. The legislators and advocates at the hearing encouraged the Biden administration and the South Korean government to work to improve the advancement of human rights on the Korean Peninsula.
McGovern said South Korean legislators should use international human rights law to determine what is acceptable when it comes to restricting freedom of expression.
Similarly, the witnesses at the hearing called on President Moon to stand up for human rights and freedom of expression.
"No one on this Earth has a greater moral and constitutional responsibility than the [P]resident of the Republic of Korea, Moon Jae-in, to uphold the rights of the Korean people whether born North or South of the DMZ," Scholte said in her written testimony. 
The Christian Post previously reported that in 2018, South Korea enacted a similar measure that banned sending balloons filled with Bibles or leaflets with the Gospel message into North Korea.