So. Baptist Author of 'Dignity Revolution' Says We Must Humanize 'Person on Other Side of Twitter'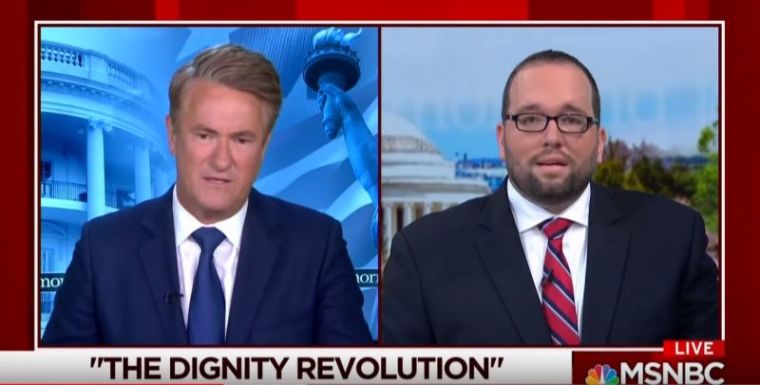 A Southern Baptist leader whose recent book calls on people to show more respect for each other across partisan lines, says he believes social media is fueling the incivility.
Dan Darling, pastor and vice president of communications at the SBC's Ethics & Religious Liberty Commission, was a guest on MSNBC's "Morning Joe" Monday. When co-host Joe Scarborough talked about his experiences of receiving hateful comments  from self-identified Christians on Twitter, Darling replied that social media can encourage uncivil rhetoric.
"Technology, like social media, which has helped elevate many voices and is so good in so many ways, has also removed a little bit of our humanity," said Darling.
"When we're disagreeing with each other, sometimes we don't see the humanity of the person on the other side of Twitter. We think we're arguing with avatars or principles."
Darling's interview on "Morning Joe" comes as the ERLC released a book titled The Dignity Revolution, which is about how Christians should engage others, especially on social issues and protection of the vulnerable.
"This book shows us how wonderful, liberating and empowering it is to be made in God's image and how this changes how we see ourselves and all other humans, and how we treat them and advocate for them," reads the book's Amazon description.
"Each one of us can be, and are called to be, part of this new movement a human dignity revolution that our societies need, and that we are uniquely placed as Christians to join."
Darling told Scarborough that with his book, he's attempting "to help Christians recover this biblical idea of human dignity."
"That every single person is created in the Image of God, even people who we most vociferously disagree with, that that person on the other [end] of the screen is not an avatar," continued Darling.
"They're not just their picture. They're not the sum total of their arguments. They are a person and we should recognize their humanity."
Darling credited his view on the need to recognize the dignity of every human being to his Christian upbringing as well as his pro-life position on the abortion debate.
"My moral imagination in large part was formed by the pro-life movement, which looks at the most vulnerable among us and says, 'these are not fetuses, these are not clumps of cells, these are human beings,'" Darling explained.
Darling is not the only Southern Baptist leader expressing concern over social media's influence on American civil discourse.
Beth Moore, notable author and Bible teacher who founded Living Proof Ministries, said in a series of posts on Twitter in July that she believed social media was "breeding abusers."
"It's producing freaks. Worse yet the worst claim to be Christians," tweeted Moore, who called for a "backlash of civility."
"Time for actual Jesus-follows (don't buy that the nonstop verbally abusive are Christians) to revolt with a clear demarcation of civility."