Southern Baptist 'deep state'? Cryptic Falwell Jr. tweet highlights SBC turmoil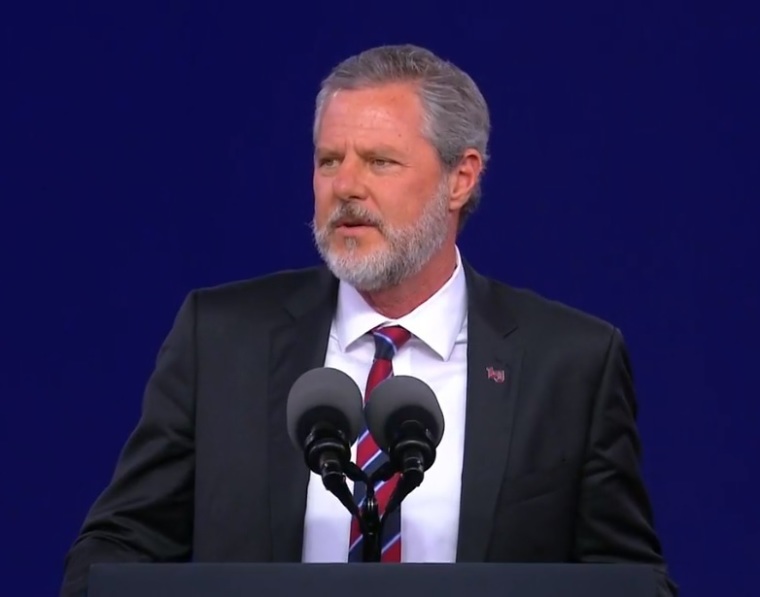 Southern Baptists are responding to the idea of a "deep state" within their denomination amid comments from Jerry Falwell Jr. and the recent removal of stained glass windows from an SBC seminary.
Crystallizing this notion was a Monday tweet from Liberty University President Falwell Jr. where he said that his friend Jerry Vines, who is both a former SBC president and former pastor of First Baptist Church in Jacksonville, Florida had told him that Adam Greenway, the new president of Southwestern Baptist Theological Seminary, is not a part of a "deep state regime" within SBC ranks. This "regime" is supposedly led by Russell Moore, the current president of the Ethics & Religious Liberty Convention, the SBC's policy arm.
Greenway was nominated to serve as the new president of Southwestern Baptist Theological Seminary in February.
Those who do believe that such an operation exists within the SBC say that Moore and like-minded Southern Baptists are leading denomination in a more progressive direction theologically, one that many parishioners do not support and say is a departure from their values.
Falwell's tweet came on the heels of his remarks at Liberty University's baccalaureate service Friday in which he praised Vines, the baccalaureate speaker, for his role in what is known as the "conservative resurgence" in previous decades, when theological conservatives wrested control of key denomination agencies and seminaries.
Vines was instrumental in returning the SBC to "to more accurately reflect the values of most Southern Baptist members," Falwell said.
Falwell added: "[U]nfortunately, a new generation has taken the Convention away from those values in many ways."
Falwell's church, Thomas Road Baptist Church in Lynchburg, gained a place in Southern Baptist life when it became a part of the Southern Baptist Conservatives of Virginia and gave to the mission causes of the state convention and the national convention before the 1998 SBC annual meeting in Salt Lake City, according to a bio of Jerry Falwell Sr. in Christian Index. Falwell and several of his members attended the 1998 Utah convention and voted as messengers. Before that, Falwell and Thomas Road were independent Baptist. 
In the lead-up to its annual meeting in Dallas last year, the denomination endured somewhat of a crisis as numerous reports emerged regarding SBC leaders mishandling instances of sexual misconduct in churches and affiliated institutions. Old audio footage resurfaced of an interview where former SWBTS president Paige Patterson offered what many saw as dangerous advice to a woman who was being abused by her husband. Patterson was eventually ousted from his post at SWBTS and the seminary ultimately removed stained glass windows of key SBC figures in the conservative resurgence from their premises.
The windows were reportedly paid for with donations and Falwell Jr. wanted two of them back — Falwell Sr. and Vines.
The Capstone Report, a conservative Southern Baptist site that believes the SBC is trending liberal and needs to be preserved, is vocally backing Falwell. CR writers insisted Monday that Falwell's deep state comment was said in jest but "it does have some truth in it." They argued that Southern Baptist Theological Seminary President Al Mohler's "disciples" now lead SBC entities and that a number of appointments have been made to key SBC entities that promote "Woke Theology."
According to Liberty University, "Falwell demanded that SWBTS return the money donated for the windows and sent a plane to Fort Worth, Texas, this week to retrieve them."
The Falwell Sr. and Vines stained glass windows will be displayed in the Jerry Falwell Museum on Liberty's campus.
Among the other windows, Paige Patterson and his wife Dorothy are depicted, as are California megachurch pastor and author Rick Warren, former SBC presidents W.A. Criswell, Adrian Rogers, Charles Stanley, Ed Young and Ronnie Floyd, who has been recently elected to serve as the new SBC executive committee president.
Meanwhile, Relevant magazine noted Tuesday the tense intra-denominational dynamics and events in recent years that have contributed to the ongoing divide within the SBC, particularly Moore's comments in opposition to then-candidate Donald Trump in the months leading up to the 2016 presidential election.
Since then "Moore has been relatively quiet on the Trump front following a private meeting with the SBC higher-ups, but apparently, that's not good enough for Falwell, who still sees him as part of the 'SBC deep state,'" the magazine explained.
"Given the conspiratorial verbiage, it's a little hard to take an accusation like this seriously — but it is nevertheless a pretty serious accusation."
Yet other Southern Baptists took to Twitter to joke about the idea of such a thing, believing it to be ridiculous.
"#SBCdeepstate people are on Liberty's campus too," Southern Baptist Pastor Alan Cross wrote in a lengthy tongue-in-cheek tweet thread response. "Anyone who follows Jesus, sacrifices their life, seeks God's Kingdom first, and refuses to bow the knee to the culture/state can join."
"Members of the SBC Deep State are loudly decrying and mocking its existence, which is *exactly* what you would expect them to do — ergo, it obviously exists," tweeted Jacob Denhollander, a graduate of Southern Baptist Theological Seminary and husband to Rachel Denhollander, an attorney who spearheaded the effort to expose USA gymnastics doctor Larry Nassar and has made repeated calls for churches to do better with regard to handling sexual abuse allegations.
National Review writer and former Alliance Defending Freedom attorney David French, criticized Falwell.
"This tweet is a spectacular example of Trumpism infecting the church. 'Deep state regime' isn't a theological argument. It's a petty personal insult based not on faith but instead on a weird sort of Christianized populism — when nothing about Christianity is populist," he said in response to Falwell's "deep state" jab.
A Bonfire campaign intended to respond to Falwell's remark with humor was set up and is selling custom t-shirts with the words "SBC Deep State" printed on them.
Malcom Yarnell, a professor at SWBTS voiced support for Moore, in an apparent attempt to dispel the idea of a SBC deep state. He tweeted Monday that he wrote an essay in a collection of writings published in honor of Vines, and shared his passion for Scripture, and is privileged to serve with Greenway at the seminary.
"And I am blessed to serve @drmoore's @ERLC Research Council advocating biblical ethics," he said in defense of the ERLC leader.
The Christian Post reached out to Vines for comment on this article but received no response.
Likewise, no representative from the ERLC was available to respond, the group's staff told CP in a Wednesday email.
Moore is presently on vacation.
The phrase "deep state" has become more common on the American political right in recent years and is often spoken of in conspiratorial tones. "Deep state" has come to mean layers of corrupt government officials attempting to govern the nation as they see fit, undermining democratic processes and President Trump's actions in particular.