Sri Lanka bombing no longer 'single deadliest' ISIS attack after death toll lowered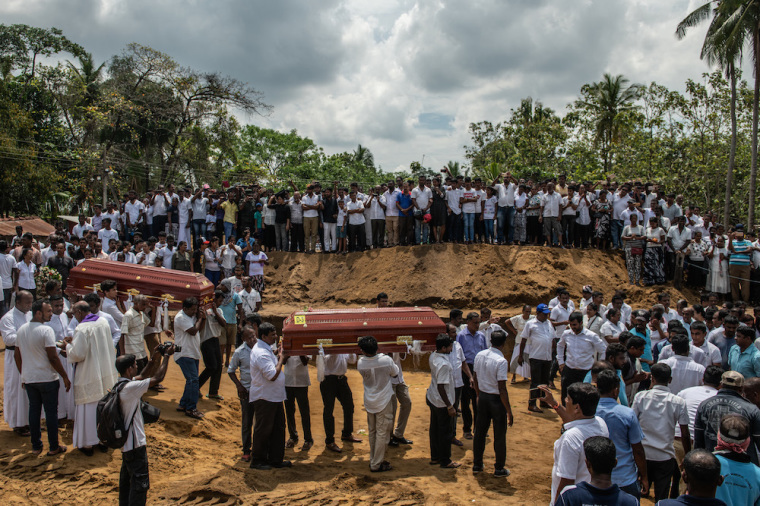 [UPDATE:Thursday, April 25, 2019, 8:56 p.m.]Officials on Thursday released an updated death toll, lowering the number of deaths to 253. A Colombo police spokesman had previously said that 359 lives were lost, which would have made the bombings the single deadliest attack claimed by the Islamic State. 
Deputy Defence Minister Ruwan Wijewardene told Reuters that morgues provided inaccurate figures and Anil Jasinghe, the director general of health services, said it was hard to provide accurate numbers due to there being so many body parts. Autopsies were completed on Thursday.
Original story below
Sunday's Easter bombings in Sri Lanka was the single deadliest overseas attack claimed by the Islamic State (also known as IS, ISIL or ISIS), which has released a video showing the bombers pledging their allegiance. 
Police spokesperson Ruwan Gunasekera said on Wednesday that at least 359 people were killed in the bombings that struck churches and hotels in Negombo, Batticaloa and Colombo.
At 359 deaths and over 500 injured, the Easter bombings represent the deadliest overseas operation claimed by ISIS since the group proclaimed its caliphate in 2014, AFP notes. 
"Oh heavens. Now the single deadliest attack by ISIS, anywhere," tweeted journalist Mindy Belz, who has extensively covered Christian persecution and is the senior editor of World Magazine and author of the book They Say We Are Infidels: On the Run from ISIS with Persecuted Christians in the Middle East.
A similar thought was issued by New York Times correspondent Rukmini Callimachi.
"Still researching this, but as far as I can tell with this new death toll, the Easter attack in Sri Lanka is now the single deadliest ISIS-linked attack both inside Iraq and Syria and beyond," Callimachi tweeted. "Karrada [Baghdad] attack in 2016 was 340 dead; Sufi mosque in Sinai was 311. Paris attack was 130."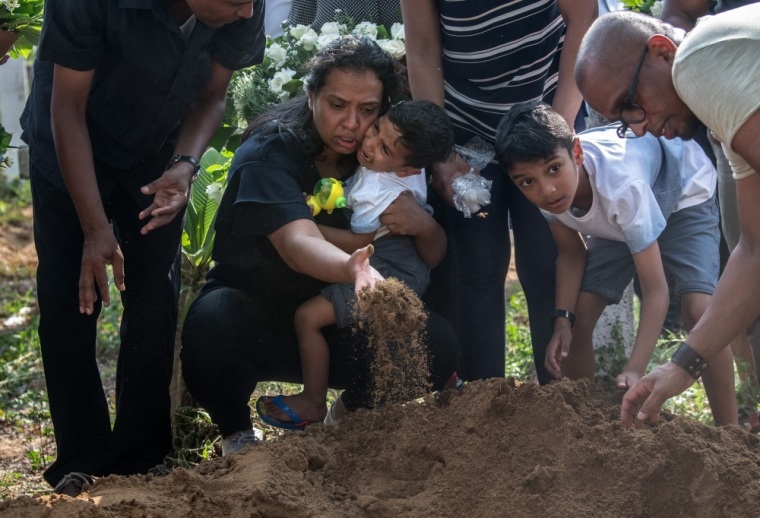 IS, a radical Sunni Islamic extremist outfit that once controlled large swaths of territory in Iraq and Syria and has affiliates in various countries, claimed responsibility for the attack on Tuesday.
Through its Amaq News Agency, IS released a video showing eight militants pledging allegiance to the jihadi death cult and its leader, the so-called caliph Abu Bakr al-Baghdadi.
"We pledge allegiance ... and to obey him on everything either in easy or difficult conditions," the militants are alleged to have said, according to Reuters. 
AFP reports that IS provided the aliases of the jihadis they claimed carried out the attack on Christians celebrating what the terrorists deemed a "blasphemous holiday."
All but one of the militants shown in the video had their faces covered. It is believed that the man who did not cover his face is National Tawheed Jamaath leader Moulvi Zahran Hashim (also known as Mohamed Zaharan).
Officials have suspected the little-known Sri Lankan Muslim militant group National Tawheed Jamaath (NTJ) for being behind the bombings but are investigating IS involvement in the bombings.
Three fighters reportedly called by the names Abu Obeidah, Abu Baraa and Abu Moukhtar were said to have carried out the bombings at the Shangri-La, Cinnamon Grand and Kingsbury hotels. 
Three others — Abu Hamza, Abu Khalil and Abu Mohammad — carried out attacks on churches in Colombo, Negombo, and Batticaloa. 
Sri Lankan and U.S. governments had both stated that the sophistication and scale of the bombings suggest the involvement of an external terror group like IS or Al-Qaeda, according to Reuters.
U.S. Secretary of State Mike Pompeo said Tuesday that the Sri Lanka attacks were likely inspired by IS. 
"Every indication is that this was, at the very least, inspired by ISIS," Pompeo told CBS News analyst and former CIA Acting Director Michael Morell in a podcast interview.
"And I think we'll have more information developed about whether there were any actual connections. The scale, the complexity of the attack certainly would be something a good analyst like yourself would stare at and say, 'We need to dig really hard. The capacity for a local group to pull off a relatively complex, simultaneous attack, it could happen.' But it's probably the case that there were others assisting them."  
Ten days before the attacks occurred, a police official sent out an advisory that the terror group was planning suicide attacks against churches. According to CNN, the information was gleaned from an IS suspect. 
However, that warning never made it to key officials. And now, President Maithripala Sirisena is demanding the resignation of the defense secretary and police chief.
According to a translation of the police memo, Zaharan has since 2016 preached to his followers that the "murder of nonbelievers is a most noble religious endeavor and that Islam should be spread through such acts."
IS has long called on like-minded extremists worldwide to kill "infidels" and has even offered advice on how to build bombs and carry out attacks against soft-target locations.
As The New York Times notes, Indian officials have been keeping an eye on Zaharan for over a year as a suspected online recruiter for IS.
Hilmy Ahamed, vice-president of the Muslim Council of Sri Lanka, told AFP that he had previously gone to local authorities to voice concerns about Zaharan over three years ago. Ahmed stated that Zaharan is around the age of 40 and from the east coast region of Batticaloa.
"This person was a loner and he had radicalized young people in the guise of conducting Koran classes," Ahmed said.
"Zahran belonged to an average Muslim middle-class family," Ahmed added.  "He was a drop-out."
At a press conference Wednesday, state minister of defense Ruwan Wijewardene explained that nine suicide bombers were a part of the attack and eight of them have been identified. The bombers were said to be "well educated" individuals. One of the bombers studied in the United Kingdom and Australia.
However, Wijewardene stated that they are trying to determine whether the attack was carried out by NTJ or a splinter organization.
"There has been a group that has split from the main body [of the NTJ]," Wijewardene said. "We believe that the leader of this group has also committed suicide in one of the attacks."
Wijewardene did not clarify if he was referring to Zaharan as the leader of the group.
Presidential advisor Shiral Lakthilaka was reported to have said Wednesday that he believes the mastermind of the attack was Inshan Seelavan, who he identified as having blown himself up at the Shangri-La Hotel in Colombo.
Two other suicide bombers in the attack have been identified as brothers belonging to one of the wealthiest Muslim families in Colombo, Imsath Ahmed Ibrahim and Ilham Ahmed Ibrahim. Their father is the founder of a company that bills itself as the "largest exporter of spices from Sri Lanka since 2006."
According to a source who spoke with AFP, Ibrahim's oldest sons have been identified as the bombers who blew themselves up at the Cinnamon Grand and Shangri-La hotels as guests lined up for Easter breakfast.
Another bomber has been identified as Abdul Lathief Jameel Mohamed, who a British security source identified as having studied in England from 2006 to 2007.
The Telegraph reports that Mohammed studied at Kingston University in Southwest London.
In 2015, Prime Minister David Cameron called out Kingston among four universities accused of hosting the most events featuring extremist speakers. At the time, the school claimed that it was unlikely that students were being radicalized.
The Islamic State has claimed responsibility for a number of high-profile attacks and bombings throughout the world in the last several years.
On July 3, 2016, IS militants carried out coordinated bombings in the Karrada district of Baghdad, Iraq that took the lives of over 325 people.
In 2015, IS claimed responsibility for bombing a flight from Egypt to Russia that killed 224 people.
Other attacks claimed by IS that gained international headlines include the Pulse nightclub shooting in Orlando, Florida in 2016; the 2015 shooting in San Bernardino, California; the cargo truck killings on Bastille Day 2016 in Nice, France; the 2016 bombing in Brussels, Belgium; the 2015 attacks in Paris, France; and the 2016 suicide bombings in Kabul, Afghanistan.
Thousands have been killed and enslaved by IS as it conquered territory in Iraq and Syria in 2014. Some were killed in lone attacks, while others were killed during IS' reign of terror in areas under its control.
In areas under the group's control, IS enforced a hardline Islamic way of life and often executed or harshly punished residents who the group claims broke its law. 
Additionally, IS aligned militants in places like Egypt and Libya are also responsible for many killings. IS affiliates in the Philippines tried to take over the city of Malawi in May 2017, which led to a battle with Philippine government forces that saw the death of over 1,000 militants and soldiers.