Starbucks CEO Kevin Johnson Takes Blame for Arrest of 2 Black Men at Philadelphia Store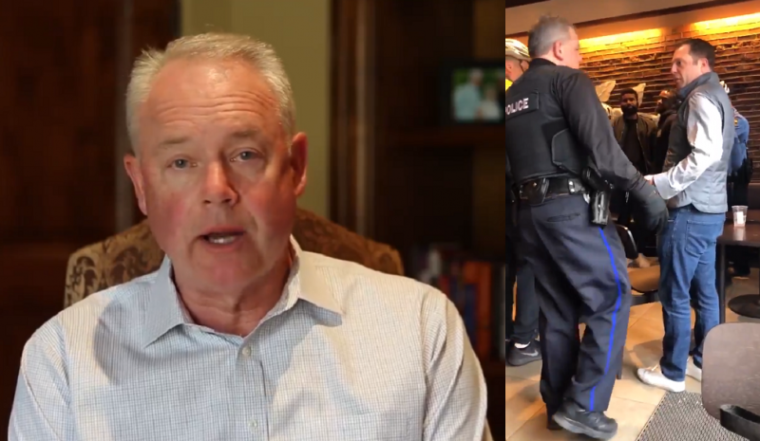 Starbucks CEO Kevin Johnson personally apologized and took the blame for a controversial arrest of two black men at a Philadelphia store, which occurred while they waited for a friend last Thursday, and asked the public not to blame the manager involved in the incident.
"There have been some calls for us to take action on the store manager, I believe that blame is misplaced. In fact, I think the focus of fixing this, I own it. This is a management issue and I am accountable to ensure we address the policy and the practice and the training that led to this outcome," Johnson said in a video posted to the company's Facebook page early Monday morning.
The controversy over the arrest of the men first erupted after author Melissa DePino shared on Twitter a partial video of the incident at the Starbucks store located on 18th and Spruce.
"@Starbucks The police were called because these men hadn't ordered anything. They were waiting for a friend to show up, who did as they were taken out in handcuffs for doing nothing. All the other white ppl are wondering why it's never happened to us when we do the same thing," DePino noted in her tweet to the company.
As of Monday morning, the video clip had been viewed about 10 million times and counting.
Lauren Wimmer, attorney for the two men who were not identified, told CBS Philly that her clients were at the Starbucks waiting for less than 15 minutes, for a third person to arrive for a business meeting over a real estate project. The police arrived, she said, at around the same time when their friend did.
"The video, in this case, essentially speaks for itself," Wimmer said. "These guys were doing what people do every day, they were having a meeting and they were undoubtedly singled out because of their race."
Other patrons inside the store at the time of the incident also came to the same conclusion.
"Six or seven of us went outside and were asking the police officers why are they doing this. They eventually took the two away," Kant Khatri, who witnessed the arrest, told CBS Philly.
Prior to Johnson's video response on Monday, he released a public apology condemning the incident as "reprehensible" but many felt it was inadequate.
"I am a very regular Starbucks patron, member of the rewards program, patron on several days per week EVERY week. I am also the mother of two 20 something African-American sons in our mixed race family. While I love me some caramel macchiato I love my sons more. This is inadequate for your company to give a 'that's bad, man, that's real bad' apology with no discussion on what you are going to do to rectify the situation including what you are going to do for the two gentlemen that were arrested for sitting while waiting for a friend before they order," Mary OZ noted in a response on Facebook that attracted more than 1,600 reactions.
These reactions prompted the additional video response from Johnson on Monday.
"I want to begin by offering a personal apology to the two gentlemen who were arrested in our store. What happened and the way that incident escalated and the outcome was nothing but reprehensible and I'm sorry. I want to apologize to the community in Philadelphia and to all my Starbucks partners. This is not who we are and it's not who we're gonna be," Johnson said. "We're gonna learn from this and we'll be better for it."
He further explained that asking people who are not customers to leave was a local policy that is now under review. Getting the police involved in the case, he said, was completely unjustified.
"There are some situations where the call to police is justified. Situations where there's violence or threats and disruption. In this case, none of that existed. These two gentlemen did not deserve what happened. And we are accountable. I am accountable. Now, going through this, I'm going to do everything I can to ensure it is fixed and never happens again. Whether that is changes to the policy and the practice, additional store manager training including training around unconscious bias and we will address this," Johnson said.