Stars of 'A Dog's Journey' impacted by movie's themes of redemption, unconditional love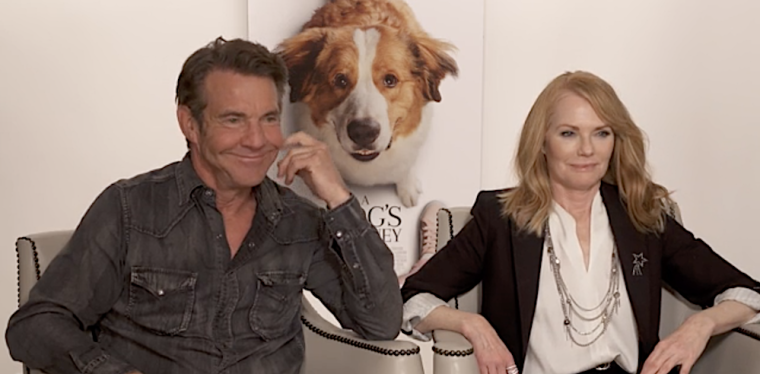 LOS ANGELES — "A Dog's Journey" hits theaters this week and the film's stars, Dennis Quaid, Marg Helgenberger and other cast members, talked of how the Christian-based themes of the film impacted them.
The sequel to the global hit "A Dog's Purpose" once again shares the journey of beloved dog Bailey who is given a new purpose for the second installment.
"It's real life, all the stages of life we go through," lead actor Dennis Quaid told The Christian Post of the topics explored in "A Dog's Journey." "Dogs they look at us in a very nonjudgmental way and they remind us of what life is really about."
"Bailey (voiced again by Josh Gad) is living the good life on the Michigan farm of his 'boy,' Ethan (Dennis Quaid) and Ethan's wife Hannah (Marg Helgenberger). He even has a new playmate: Ethan and Hannah's baby granddaughter, CJ. The problem is that CJ's mom, Gloria (Betty Gilpin), decides to take CJ away. As Bailey's soul prepares to leave this life for a new one, he makes a promise to Ethan to find CJ and protect her at any cost Thus begins Bailey's adventure through multiple lives filled with love, friendship and devotion as he, CJ (Kathryn Prescott), and CJ's best friend Trent (Henry Lau) experience joy and heartbreak, music and laughter, and few really good belly rubs," the film's synopsis reads.
The film explores the difficult relationships between family and friends but with hopeful ends which are commonly expressed in Christianity.
"Honestly, I think the theme of redemption and forgiveness really resonated with me because I think forgiveness has to happen for a relationship to maintain itself and for a person to actually evolve. If that doesn't happen, I think one can end their life with regrets. So that to me really resonated with me and I think most people," longtime actress Helgenberger told CP of what impacted her the most.
"We all have our love for our pets but we have love for our families and our children and our childhood friends and there's just so many things that people can relate to which is why I think it will have such an impact on on the viewers," she continued.
Helgenberger noted that the film resonates at a time when the country is experiencing division.
"We are living in a pretty divided time right now, a divided nation, divided world and I think that the universal messages that are presented in this film and that the faith and the compassion one can have for each other is something that makes people feel connected," she said.
British actress Kathryn Prescott, the lead actress of "A Dog's Journey" and a dog mom herself, believes the things explored in the film are great life lessons.
"I liked the idea that everybody needs unconditional love and it's very tough to survive and thrive in life without that. The other thing I liked was that every character, even those who seem to act badly or in not good ways, wasn't beyond redemption. Not every single one of them gets redemption in the movie, but most of them do get their redemption and I like that," Prescott told CP.
Her co-star, Lau, echoed Prescott and said "it's definitely unconditional love" that he believes people can learn from their furry friends.
Award-winning actor Quaid, who was also the star of the faith-based blockbuster hit "I Can Only Imagine" last year, said he appreciates films that are more than just entertainment.
"I myself, I don't go to movies to see movies, I go to feel movies. That's the reason we go to movies," he said. "With dogs, it's a great way to teach children about real life."
The actor said he brought his 11-year-old twins to screen "A Dog's Journey" and they loved it.
"A Dog's Journey" hits theaters March 17. Directed by Emmy winner Gail Mancuso ("Modern Family") and produced by Gavin Polone ("A Dog's Purpose"), the Universal Pictures movie was written by professing Christians W. Bruce Cameron and Cathryn Michon, along with Maya Forbes and Wally Wolodarsky. The movie is based on the best-selling novel by Cameron.