Statue of Jesus Deemed Too 'Catholic' for Baptist Church Finds New Home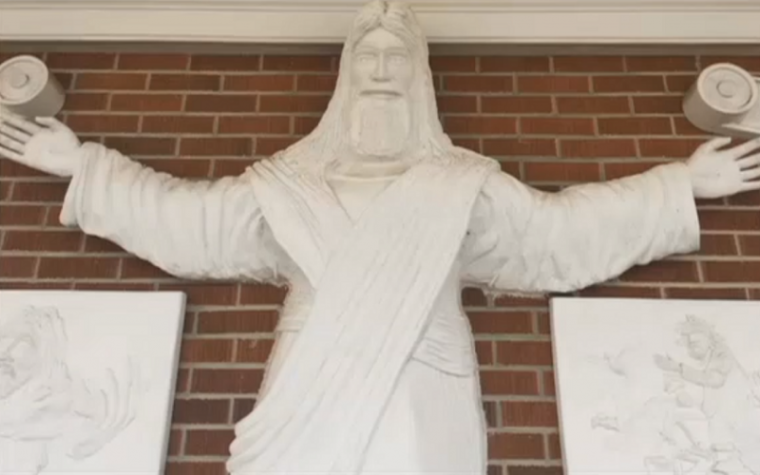 A statue of Jesus sitting on the façade of a South Carolina Baptist Church that members voted to remove earlier last month because it looked too "Catholic in nature," has found a new home with another congregation after the artist who created it was given until May 31 to remove it.
"We are working with a local church that wants to take it," Jeff Wright, senior pastor of Red Bank Baptist Church in Lexington, told The State on Thursday. "They will remove it when they decide to. But I don't know when that might be."
Members of Red Bank Baptist Church voted 131 to 40 to remove the Jesus statue, created by a former member, that has graced the front of their church for more than a decade because it was causing confusion about their theology among members of the church community.
Red Bank's decision to remove the statue from their church has sparked widespread outcry online, but Wright said the church will not back down from removing the questionable figure.
"This is not a social justice issue," Wright said. "It's a church governance issue. It has nothing to do with the community. We're not being unjust to anyone. ... We just want to be able to worship the way our doctrine asks and let others worship the way their doctrine asks."
Wright did not reveal the church that will be receiving the statue but it appears there was more than one church that was willing to take in the Jesus art.
"Yesterday we approached the Red Bank Baptist Church Lexington, S.C. to see if we could take the statue that they were replacing. The great news is that they are donating this art to another local church in their area!" Prince of Peace Catholic Church in Flowery Branch, Georgia, revealed in a statement on their Facebook page Friday.
Wright and Mike Dennis, the church's chairman of deacons, noted in a letter dated May 10 that former member and artist Bert Baker, who hand carved the statue for the church in 2007, had until May 31 to remove the statue.
"God has gifted you with a tremendous artistic ability and we are thankful that you shared it with our congregation and are using this talent to bring God glory," the church officials wrote Baker in the letter.
"Recently, it has been brought to our attention that the art is causing confusion in the community. We have discovered that there are people that view the art as Catholic in nature. We understand that this is not a Catholic icon, however, people perceive it in these terms," the letter continued. "... It is bringing into question the theology and core values of Red Bank Baptist Church."
The stunned artist noted that he found it odd that after 11 years, the statue was now causing confusion.
"I am stunned that your letter both insults the intelligence of the Red Bank Community (as not intelligent enough to know that Red Bank Baptist Church is a Baptist church despite having a large sign stating as much); and, more disturbing, singling out the Catholic church in such a manner as to suggest that their denomination is deficient in theology and lacking in Christian core values," Baker added.
In a statement posted on their Facebook page Friday afternoon, Red Bank revealed that despite the criticism they have receive for getting rid of the Jesus statue others have called to support them in their decision.
"Thank you to all who have called and shown your support of Red Bank Baptist Church and our staff this week. It has been real around here and we have seen strength, grace, unity and humility in our folks this week. We are so thankful that our people see and know truth. God's grace over his house this week has had us in awe. Looking forward to worshiping our King of King's and Lord of Lord's with you this Sunday. God really is doing a new work here and is IN THE HOUSE! All are welcome!" the Baptist church said.