Steph Curry Celebrates Championship With Pastor John Gray (Watch)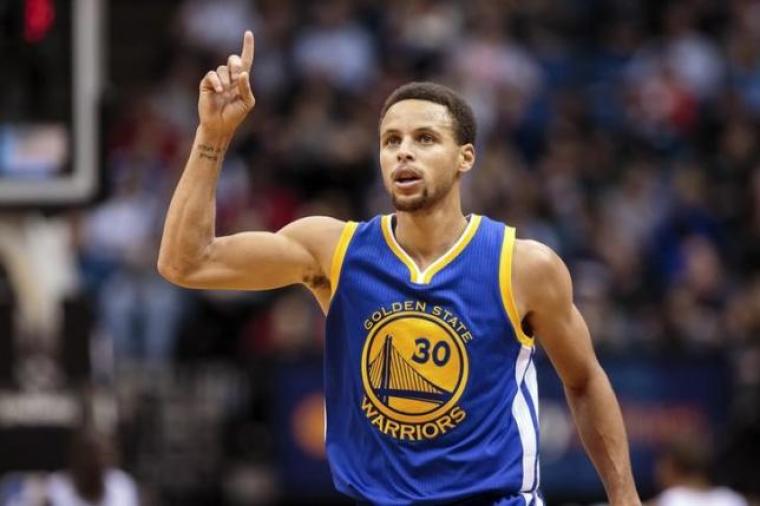 Steph Curry celebrated his Golden State Warriors' second championship win in three years with his Pastor John Gray Monday night.
The Warriors defeated the Cleveland Cavaliers in a nail biting 129–120 Game 5 victory to become the NBA's 2016–2017 season champions. Among the celebrations with family and friends, Warriors star point guard Curry celebrated with the associate pastor of Lakewood Church in Houston, Texas, John Gray.
The pair revealed how close their relationship is after Gray shared an Instagram video of Curry saying he wanted to include the pastor in the celebrations. When Gray asked Curry how he was feeling, the All-Star player responded by saying, "blessed."
Curry then described his friendship with Gray by saying the pastor is, "One of those great people in my life that keep me on the right path."
"I'm going to enjoy this experience with everybody, including my Pastor, John Gray," Curry added in the Inistgram video.
Gray said he calls Curry his little brother and gushed about the basketball star in his caption of the Instagram video.
"Very proud of the whole team and proud of the man @stephencurry30 is. Loves God, loves his wife and kids and fights for his teammates," he wrote. "@grayceeme and I salute this year's champs! Congrats fellas!"
The associate pastor of the church with the largest congregation in the United States revealed some behind the scenes footage just after the Warriors clinched their championship win. Gray followed along with players into the tunnel that leads from the basketball court to the locker rooms and is typically reserved for people who have exclusive access to the team.
In a telling Instagram post, he revealed that he and his wife, Aventer Gray, were helping multiple players on the team grow in Christ.
"[Aventer] and I have had the privilege to walk with a number of these men as they grow in Christ. Great basketball players, but I'm proud of them as men, as husbands and fathers," he wrote. "That's the legacy that will last."
While he didn't mention who he is spiritually walking with, Gray did drop some hints as he extended a special congratulations to players Curry, Kevin Durant, Andre Iguodala and James Mcadoo on social media. As for Curry, he made sure to glorify God with a humorous meme of his 4-year-old daughter Riley's face superimposed in a photo with two Vince Lombardi championship trophies.
"Glory to God," Curry simply captioned the photograph.