Steph Curry's Ankle Anointed With Oil During Former Coach Mark Jackson's Healing Prayer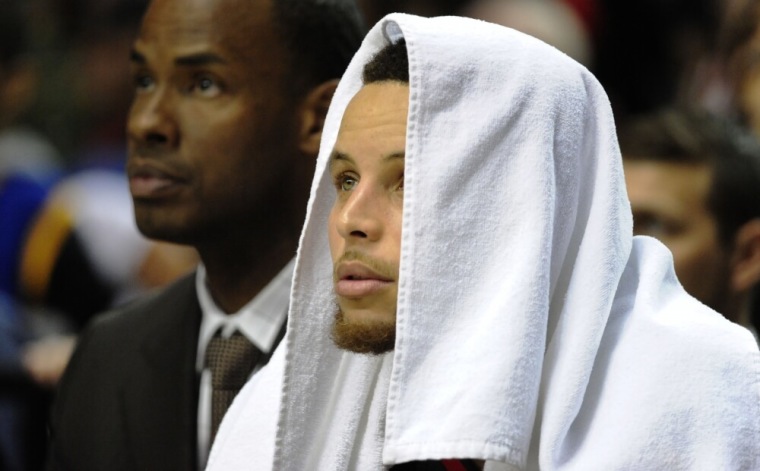 Steph Curry's ankle was healed by the power of prayer and anointing oil at his former coach Mark Jackson's church, according to a new book bringing the experience to light.
Curry, the 29-year-old Golden State Warriors point guard, had several ankle injuries during the 2011-2012 NBA season that kept him out for much of the season. At the beginning of the 2012-2013 season, Curry's then coach turned ESPN analyst Jackson invited the player to the True Love Worship Center International church that he pastors for prayer.
What happened next is outlined in the new book, Golden, written by Bay Area news group sports columnist Marcus Thompson. Sports Illustrated is featuring an excerpt of the book on its website which details the fateful day that Curry was annointed with oil at his former coach's church.
"Curry, two days removed from his latest sprain, found himself taking laps with Jackson and the other members filled with the spirit. Then after Jackson's sermon, his wife and co-pastor, Desiree, continued the worship with an impromptu sermon and benediction. She also called Curry to the altar," the excerpt of Thompson's book reveals. "They took off his shoes and socks, anointed his ankle with oil and prayed for healing. The parishioners lifted their voices in chants and amens, calling on God to bless one of His Christian ambassadors."
When Curry went to sit back down, Jackson's wife and co-pastor Desiree asked him where he was going.
"You don't get a blessing from the Lord and just walk off," she shouted. "Show us you believe in the power of God."
Before Curry became a two-time league MVP award winner and NBA champion, he had perfected a well-known shimmy on the court. He decided to show just how much his ankle had healed by celebrating in church with the signature dance move.
"Then the old Bible stories rushed to his mind like when Jesus healed the lame man at the Pool of Bethesda, that man had to pick up his mat and walk. If he believed he was healed, he needed to show it," the excerpt of the book reads. "So Curry started shimmying and hopping on his right foot, much to the delight of the congregation."
Curry has been vocal about his faith for some time, and spoke at the Liberty University convocation last month about making sure that his career reflects God.
"The Lord has blessed me with these talents to do something special. But it is not about me," the two-time reigning league MVP said, according to the Liberty University website. "That is something that I want my career and my life to be a reflection of — His love and His grace and mercy. Whether it is winning games, losing games, making shots, missing shots— it is all about giving glory to God."