Stephen Baldwin: Trump's Direction Will Be a Greater Blessing for All Americans (Interview)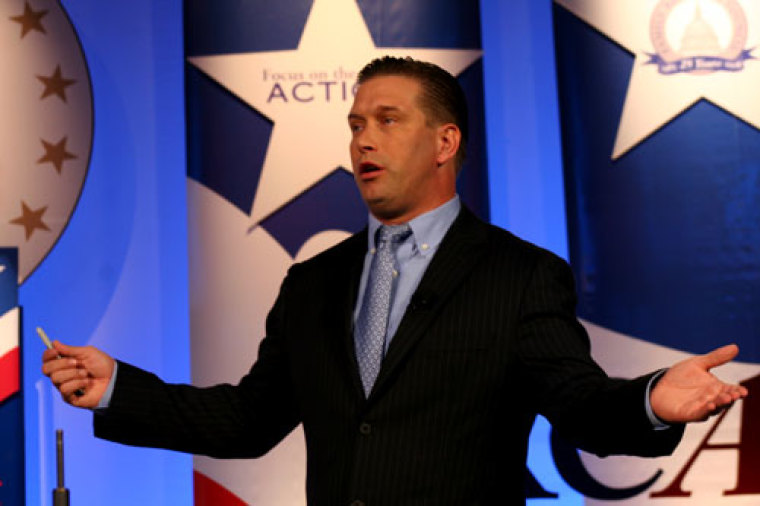 Actor Stephen Baldwin says that with President Donald Trump in office, he believes things will begin to move in a direction that is better off for all Americans.
"The truth is I've said a whole bunch of things about President Trump before he was elected and after. I just have always believed that he was the guy that God had in mind for this time," Baldwin told The Christian Post while promoting the release of his latest film, "Heaven, How I Got Here: A Night With the Thief on the Cross."
In the last three years, Baldwin, who is also a director, producer and author, has focused heavily on ministry, charitable good works and humanitarian works. According to his book, The Unusual Suspect, the famous Baldwin brother became a born-again Christian after the 9/11 attacks and has been doing ministry ever since. Admittedly not one to normally speak about politics, Baldwin wholeheartedly endorsed his former "Apprentice" boss from the beginning of Trump's campaign.
"It's ironic because when I was first stumping for Trump I was telling people, 'The first thing I hope he does is things to improve the economy. Then maybe help slow down abortion and some other things. Obviously, that's not my priority. But in a common sense, logical kind of way I just knew that with Mr. Trump, there was no question that things were going to start to move in a direction, in my opinion, that would be a greater blessing for all Americans," he said.
Trump recently signed an anti-abortion bill that allows states to withhold federal funds from any organization that provides abortions.
Baldwin acknowledged that the 45th president is just getting started and still has a long road ahead of him.
"When you think about things like healthcare, it's a long road. But I don't think that God has taken all of his people in this country and carried us this far to just drop us on our butts. I don't think He's going to do that," the 50-year-old actor maintained.
Baldwin said God's people should not worry about anything because "we have no control over any of it anyway." He advised prayer for grace and mercy but ultimately asked that people give Trump the benefit of the doubt.
"I think things are now moving in a better direction and we just gotta keep praying and give him (Trump) his fair chance to succeed," he commented.
After his powerful one-man play at The Orchard Evangelical Free Church in Arlington Heights, Illinois, gained popularity in 2015, Baldwin decided to film his performance as the thief on the cross.
The film, which is set 2,000 years after Jesus' death and "lays out the stark reality of the thief's salvation," is meant to spread hope to everyone in this day and age.
Offering practical advice for those worried about the the times we are living in and where the world is headed, Baldwin said, "As best you can each and every day, stay off your social media, stay off the Google and googling news and reading all the stuff that half of it we don't even know if it's accurate or real."
"I look at it this way — the more anxiety I potentially have about how things are going well or not going well in this world, well then the truth be told, that's just a lack of my trust in my Lord."
Baldwin said it's easier said than done but he urged people to do what he does, and shut off their phones for an hour or two every day.
"If you want to read a couple emails then ok [but] it's a discipline. It's a discipline to not open yourself up to all of this information that we are being bombarded with each and every day," he said.
"It's one thing if you want to know what's going on because you want to have something to pray about. It's another thing if you want to know what's going on because you're gonna let it upset you or cause any anxiety or distraction. I have learned to limit in my own personal time any kind of time that I spend on social media or even doing any kind of research of what's been happening in the news. I just keep it to a very minimum."
Baldwin will continue to work to provide positive content for the masses with his new production company LIGHTBEAMedia but he hopes others would also do their part. He shared one final statement for anyone focusing on all the negativity in the world.
"Get off your phone and you'll start feeling better real quick," he concluded.
For more information or to connect with Baldwin, visit his website.
Follow Jeannie Law on Twitter:
@jlawcp