Stephen Colbert Quotes Bible, Mocks Republicans Who Oppose Amnesty for Muslim Refugees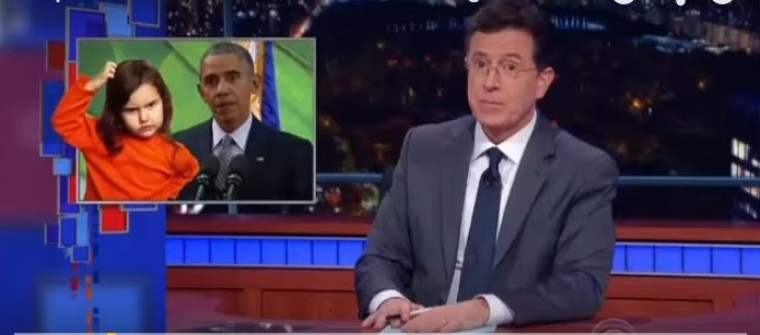 Late night comedian Stephen Colbert has mocked Republican presidential candidates who are calling on President Obama to give amnesty to Christian refugees over Muslims fleeing Syria amid fears that Islamic State terrorists might be among them.
Following the terror attacks in Paris, Texas Sen. Ted Cruz and former Florida Gov. Jeb Bush both suggested that only Christian Syrian refugees be taken in since IS-trained fighters could trickle in with Muslim migrants.
During a segment on "The Late Show" that aired last month, Colbert played a clip of Bush speaking to the press in which he assured them that Christian refugees could be identified.
Colbert then suggested a religious test, and citing the New Testament he quipped: 'If you want to know if somebody's a Christian, just ask them to complete this sentence: 'Jesus said I was hungry and you gave me something to eat. I was thirsty and you gave me something to drink. I was a stranger and you. ...' And if they don't say 'welcomed me in' then they are either a terrorist or they're running for president.'"
The comedian also poked fun at Cruz's statement that: "There is no meaningful risk of Christians committing acts of terror," by showing the audience a photo of klansmen burning a cross and joking, "I'm sure these guys are just campers roasting marshmallows ..."
The Christian Post reported on Nov. 22 that the U.S. has admitted only five Syrian Christians since Oct. 1, when the administration began to implement Obama's directive to accept 10,000 refugees.
Since January, 1,875 Syrians have arrived, and only 30 of them are Christian, the data shows. Of the total arrivals, 1,833 — or 97.8 percent — are Muslims, accoding to the Worldwide Refugee Admissions Processing Systems.
While Colbert doesn't impose his Catholic faith on guests during his late night show, he has been known to reference the Bible on more than one occassion.
During an interview with Oprah in October, the two went back and forth sharing their favorite Bible verses.
"So, what's their favorite verse?" Oprah asked.
He replied, "Mine's from Matthew. I like it 'cause Jesus says, 'So I say to you do not worry, for who among you by worrying could change a hair on his head, or add a cubit to the span of his life?' What I like about it is that it's a commandment to not worry, and I'll go with that."
Colbert, then sounding very pastoral, told the billionaire philanthropist that he views that passage as a commandment to not worry. "So if you worry, you're being disobedient," Colbert declared.
Oprah then shared her favorite verse. "Mine is Psalms 37:4. 'Delight thyself in the Lord. He will give you the desires of your heart.'"
A former Catholic school teacher, Colbert has openly admitted that he is Christian and is raising his children in the faith. According to the Daily Beast Colbert explained to Oprah why he has chosen to do so.
"I go to church and I am somewhat religious, and when I try to explain it to some people who aren't, or that I have a belief, is that I say, well, I was given this by my ancestors," Colbert shared.
"And I look at my children and I go, well, I love them and I wouldn't want to give them anything that I didn't think would help them, so I assume I was given this by my ancestors because they gave it to me to try to help me, and I open it like a box and I wonder what's inside, but I don't think I've gotten to the bottom at any point. I keep taking the gift out. But it's not the only gift you can get, I accept that."
"Boy, you're deep," she replied.