Stephen Colbert, Jimmy Fallon Sing 'Ivory and Ivory' Duet
Television talk show hosts Stephen Colbert and Jimmy Fallon recently joined forces to sing the 1980's classic "Ebony and Ivory" on NBC's "Late Night with Jimmy Fallon" on Thursday.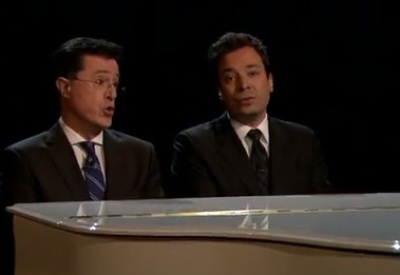 Except Colbert and Fallon performed their own rendition of the hit single by substituting in their own version of lyrics and re-titling the song "Ivory and Ivory."
With both comedians holding highly-watched late night comedy shows, the duo has long entertained the idea they have a faux feud with each other.
Both Colbert and Fallon also have ice cream flavors named after them by the creamery company Ben & Jerry's.
Additionally, as the Los Angeles Times points out, both Colbert and Fallon have publicly displayed their flair for all things musical, predominately guitar, and therefore a duet performance on the Thursday episode of "Late Night with Jimmy Fallon" proved fitting.
The duo sang their "Ivory and Ivory" song as part of a skit to show that they were "friendly" toward each other as television personalities.
The skit began with the two getting into a spat over holding conflicting parties for the upcoming Oscars awards show, and then joining each other at a piano to sing as a form of reconciliation.
"If Rihanna and Chris Brown can be friendly why can't we?" The two quipped as they sat at a white piano next to the "Late Night with Jimmy Falon" house band, who played along as the two comedians crooned to the song originally performed by Paul McCartney and Stevie Wonder.
The duo's version of the song took a series of humorous turns as the two delivered light-hearted jabs toward each other's comedic style and public image.
Fallon took to Twitter to express his reaction to the duet and his faux feud with Colbert, who hosts the Comedy Central show "The Colbert Report."
 "Last night, my former BBF for six months [Stephen Colbert] and I tried to work out our issues," Fallon tweeted, posting a link to his performance with Colbert.