Steve Harvey Shares Powerful Message on Prayer After Pastor Asks This Question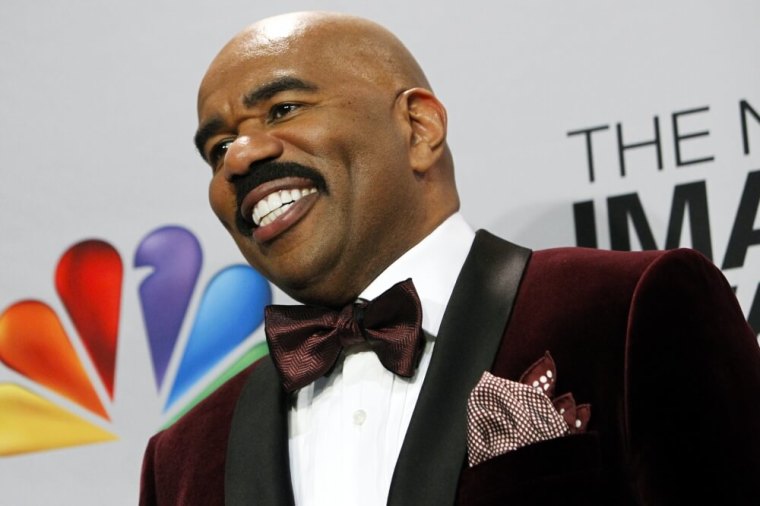 Steve Harvey is proving to be more than just an entertainer as the comedian has now evolved into a source of inspiration for pastors.
Harvey, 59, keeps the laughs coming as the host of "Family Feud," but got serious when he was asked by Pastor Cheryl Moore of Zion Temple in North Carolina what he does to "re-center himself" during difficult times in his life.
"@IAmSteveHarvey What do you do to re-center yourself whenever you are experiencing a difficult season in your life? #AskSteve," Moore asked Harvey during a Q&A session with the comedian on Twitter last week.
Harvey responded by speaking about prayer.
"One thing I've always been able to do when I get in those positions, I be still. You hear old people say it all the time, but you've got to go somewhere and get still," he said in a video response to Moore's question. "When I get still, I use prayer. Prayer is very calming for me."
Harvey went on to explain how much of an impact prayer can have.
"I don't want to sound hokey or anything like that to you, but I can think of no better way to center myself, to gather myself, than to be still and pray," he said. "Prayer does change things, it really does."
Instead of praying for easier circumstances, Harvey believes people should pray for God to help them learn to adapt.
"It hit me this morning — don't pray for it to be easy. Pray for YOU to be stronger. #morninginspiration," the producer and host of "The Steve Harvey Morning Show" tweeted to his more than 3 million fans on June 14.
Harvey has been sharing his testimony for many years, describing his experiences with homelessness and two failed marriages that eventually strengthened his faith in Jesus Christ.
"I've lost it all twice and had to start over. I had to struggle through two marriages before finding this one. … I didn't have nothing," an emotional Harvey told Alabama State University graduates earlier this year, according to the Montgomery Advertiser. "In every single moment of adversity in your life, two things are going to happen: There's going to be a lesson and there's going to be a blessing. If you let the adversity crumble you, you will lay there and wallow in the failure. But life is 10 percent what happened and 90 percent what you're going to do about it."
During his last stand-up comedy show in 2012, an emotional Harvey glorified God for his platform.
"Somebody tweeted me and said, 'Your career is what [you're] paid for, your calling is what you're made for.' God has positioned me just this way to be just like I am, to say what I say, how I say it," Harvey said in his final stand-up comedy show at the MGM Grand in Las Vegas. "I'm just a living witness that you can be an imperfect soldier and still be in the army fighting for God Almighty. Don't you think you got to be perfect, 'cause I ain't."