Steve Harvey Recalls What God Told Him While He Was Homeless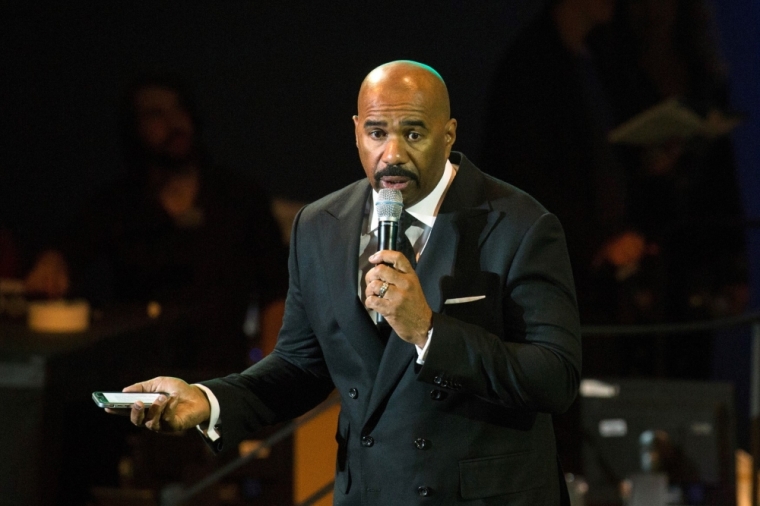 Steve Harvey can still recall God's message to him when he suffered from being homeless decades ago.
"I sat down and started crying, but a voice said, 'If you keep going, I'm going to take you places you've never been,'" he recalled as the cover story for People magazine. "It was like God said, 'Don't quit, you're almost there.'"
Now that the comedian, author, actor, philanthropist and TV host is a millionaire, he hasn't forgotten his tough times. Instead, he uses them as motivation.
"I'm running from homelessness. I can't ever be in that position again," he said. "If my show gets canceled, I've got three more. I don't have any free time, but I have 12 jobs."
Earlier this month, Harvey used his testimony of living in his car for three years to inspire college graduates.
The 59-year-old comedian turned talk show, radio show and talent show host was given an honorary doctorate degree from Alabama State University, where he also delivered a commencement speech. However before the accolades, Harvey had to overcome two failed marriages before marrying his current wife, Marjorie Harvey, in 2007, and poverty.
"I've lost it all twice and had to start over. I had to struggle through two marriages before finding this one. … I didn't have nothing," an emotional Harvey told Alabama State University graduates, according to the Montgomery Advertiser. "In every single moment of adversity in your life, two things are going to happen: There's going to be a lesson and there's going to be a blessing. If you let the adversity crumble you, you will lay there and wallow in the failure, but life is 10 percent what happened and 90 percent what you're going to do about it."
As an entertainer, Harvey knows the influence he has as a celebrity and has made it a point to use his platform responsibly. For that reason, sharing his testimony with young men is important to him.
" ... This is one of the most important works I do. I think God put me in the position to do all of those other things to do this," Harvey told The Dallas Weekly in 2013. "I have taken the fame He bestowed upon me and I use it in a way that would be beneficial to some young men who otherwise may not get opportunities to sit with some positive men who can show them what manhood is really about."