Steve Harvey Says Miss Universe Mistake Wasn't His Fault (Watch)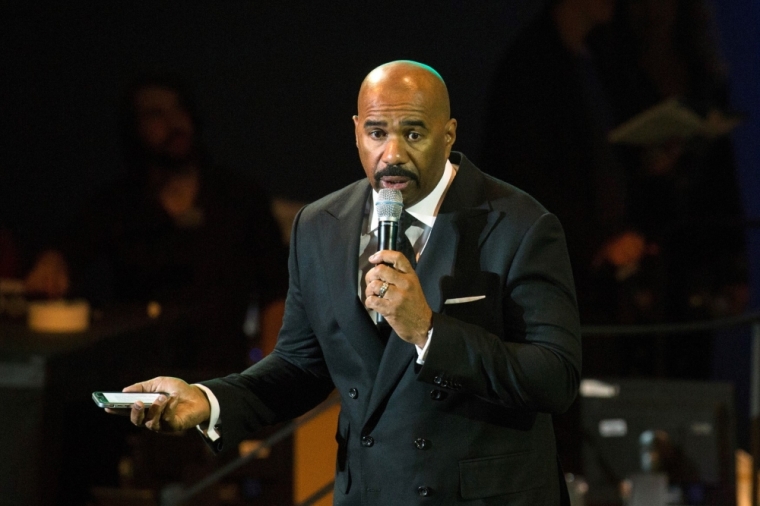 Comedian Steve Harvey says despite what people might think, last year's Miss Universe flub where he announced the wrong contestant as being the winner, wasn't his mistake. But due to his Christian upbringing and conscience, he says he had to make it right.
Harvey was a guest on "The View" Monday to promote his new book, Jump: Take A Leap of Faith to Achieve Your Life of Abundance," where he was asked about a chapter in his book in which he wrote about what really happened when he, as the host, mistakenly announced the wrong winner of the Miss Universe pageant in December 2015.
The TV talk show and radio host suffered the mishap in front of a live international audience when he announced Miss Colombia, Ariadna Gutiérrez Arévalo, as Miss Universe when she was supposed to be the runner up. After Miss Colombia was crowned, Harvey walked back out on stage, apologized, and told the world that Miss Philippines, Pia Alonzo Wurtzbach, was actually the winner.
"I did the whole show perfectly and then I get to the end and I blew it. I'm not an idiot. I read the teleprompter, I read the card in the order, and I had an IDF in my ear. I had people telling me what to say and when to say it. And I said it," he said on "The View."
He revealed that it was not an easy decision to go back out there and admit that what he said was wrong but he knew what he had to do.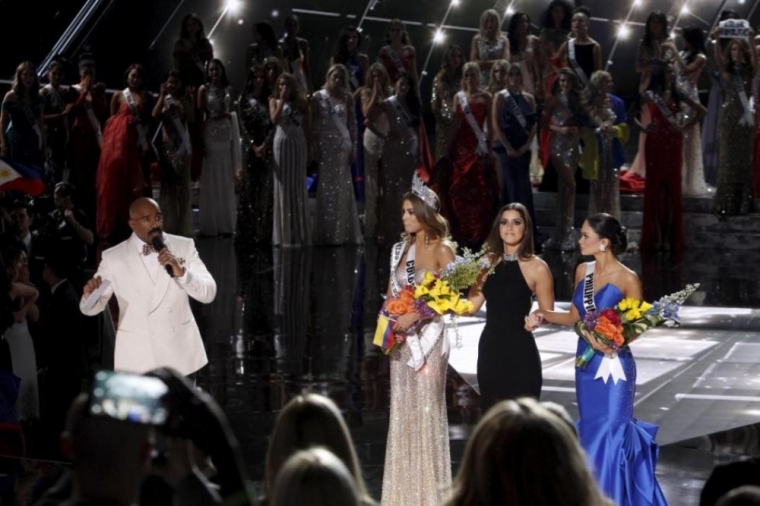 Four minutes after Miss Colombia had been declared the winner, Harvey walked back out onstage and did what he says he had to do, despite being told to leave it be because the organization would resolve it the next day by announcing the real winner in newspapers. 
"I made the decision to go out there. You know what the TV guy said to me? He said, 'We'll straighten it out tomorrow. I made the decision to go back out there because my father was in my ear," he said, adding that both of his parents are deceased. "That Sunday school teacher and that coal miner were in my ear, saying, 'Do what you are supposed to do. Stand up.' So, I went out there and took the bullet."
Harvey's mother, a Sunday school teacher, died over 18 years ago but the comedian often talks about the influence she had on him and his faith. In a past Mother's Day tribute on "The Steve Harvey Show," he revealed that she went to church almost every day of the week and instilled Godly principles in him and his siblings. That, coupled with his father's influence, led him to do the right thing at the Miss Universe pageant, he said. 
During the interview on the daytime talk show, Harvey also talked about the changes he made when he turned 50. He lost weight, shaved his head, and changed his colorful style of suits, all thanks to another woman in his life, his wife, Marjorie Bridges-Woods.
"My wife changed my suits. She said, 'I love you Steve, but I am actually tired of being married to a pimp,'" he gushed. His choice to always dress up was also his mother's doing, but when his wife suggested to tone the dress clothes down he jumped on board.
"My wife told me, 'Your life is going to change drastically. God is going to take you somewhere, so you gotta be prepared to look like you belong where He is taking you.'"
Now, one year after overcoming international criticism for the Miss Universe pageant mistake, Harvey has multiple successful shows on television, including his latest one "Showtime at the Apollo" which premiered on Dec. 5. He is also now capitalizing on the slip-up by selling "Merry Easter" sweaters.
For more information on the 59-year-old comedian and his holiday sweaters, visit his website.