Steven Curtis Chapman on new bluegrass, reimagined hymns album: God calls us to go deeper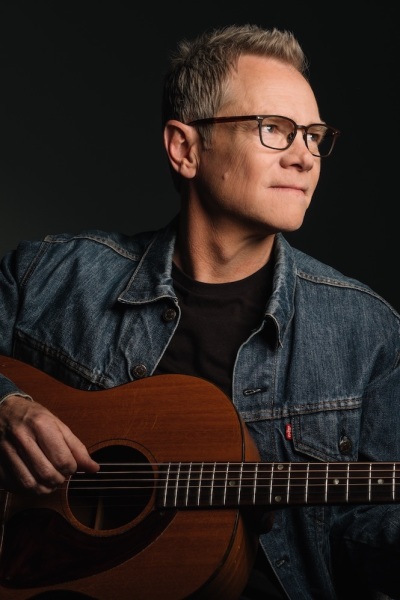 Five-time Grammy Award-winning singer Steven Curtis Chapman released his new album, Deeper Roots, last month and says he believes God is calling His followers to go deeper in their spiritual walks with Him.
Deeper Roots: Where The Bluegrass Grows is now available and follows Chapman's 2013 Billboard No. 1 album, Deep Roots. The new installment features Gary LeVox of Rascal Flatts and recent Bluegrass and Country Music Hall of Fame inductee Ricky Skaggs. Deeper Roots is an ode to Chapman's upbringing and features a number of reimagined hymns whose rich theology speaks of an immeasurable God.
Chapman is no stranger to affliction and loss. His youngest daughter, Maria died at five-years-old in an accident that happened in 2008. The popular Christian artist has been using his pain to connect with God on a greater level ever since.
Below is an edited transcript between Chapman and The Christian Post in which he explains the heart behind his new record and how tragedy helped further his intimacy with.  
Christian Post: What compelled you to release a bluegrass record?
Chapman: Bluegrass is the earliest influence I had musically, the first sound I remember and honestly I could probably say the first memories I have, as a little boy growing up in Kentucky. Music was playing all the time in my home, my dad would play music with his friends. My dad's a great guitar player, one best buddy he grew up with was a guy named Jack Curtis Martin, which is where I get my middle name Curtis from and he's a great dobro player. Then his other best buddy was a guy named Scotty who played the five-string banjo. I had those sounds ingrained in me as a little boy and I loved it. Those sounds for me, represented a lot of joy. I saw my dad happiest, playing music, and he loved it and there was the camaraderie of it in the friendship and all of that.
It all kind of started with the book that I wrote, that came out a couple of years ago called Between Heaven and the Real World, where I share my life story, my autobiography. Talking about my dad, and my earliest influences and music and learning to play the guitar from my dad and the music that he loved, which I learned to love as well.
And when I was seven, it's really, when my family and I, all over the course of a few weeks, few months, came to begin our faith journey to really start to follow Jesus as a family, which led to us singing together as a family. So we started singing in church together, and we learned old hymns and we would turn them into guitar songs. We'd take the old church hymns, like, "Great is Thy faithfulness" or "How Great Thou Art" or "Victory in Jesus" and we'd play them on guitar and we'd sing three or four-part harmonies around the kitchen table, my mom and dad and brother, so I learned to love the sound of those voices harmonizing together.
Telling all those stories night after night about how influential that music was while on tour, kind of gave me the idea that I'd love to record some music that feels like that and maybe even get my dad and my brother in the recording studio with me and make a record that sounds like that.
That's really what gave birth to this project, to kind of honor the music and the seeds of faith and the theology in those great old hymns. There's just so much great truth in those and those were the seeds that were planted in my heart when I was a little boy, and I really feel like those seeds have turned into the fruit of the songs I've written all these years and recorded, it all kind of began there. This was sort of a way to honor that.
CP: There's an American form of church and in keeping with the theme of going deeper, do you believe that there is deeper than what we see in cultural Christianity today? Also, how do you go further in your faith, being a man of faith for so many years?
Chapman: There's the reality that God is making all things new and even the Bible ends in Revelation with the one seated on the throne saying, "Behold I'm making all things new." He is constantly recreating in us and restoring and refreshing and even making new things and we are new creatures.
I think we are not only made new once, but God's plan is we keep being made new daily, every morning His mercies are new. So in that, yes, I think he's constantly calling us. There's a Scripture that talks about, "deep calls to deep," it's calling us to go deeper.
My song "Dive" is about going deeper in our faith, constantly. And even when it takes us into places that are uncomfortable and that God would take us that we didn't even want to go or expect to go and yet being willing to be obedient and follow where He's leading and taking us.
In my own experience, it's not something that I can even say I like or would have asked for but I think in asking God, "to know you more, I want to keep knowing you more," It's been in my own experience, through pain and loss and desperation, that God is taking me deeper.
It has been that for us as a family. Even our journey of the loss of our youngest daughter 11 years ago and deeper in pain than I would have ever imagined going, but out of that, a deeper dependence on God, on His word, and trust, a deeper trust that has come as a result of it.
CP: Your album features several hymns, what has changed in Christian music from the time of the great hymns until now?
Chapman: I think there's something about hymns. I have obviously been a part of writing a lot of new music, and even scripture talks about singing a new song. But there's also something really special about those hymns that have such history and have proven true over time, years and years of time.
These truths are still true and there's something so important about staying connected to the tradition of that, so it's both. We need new songs and new worship songs that communicate it, in a new fresh way. But I also think it's so important that we do keep connected too, and I think there's a tendency to be so enamored with the shiny new thing and sometimes, in the process of that, lose touch with or kind of let go of those really deepest roots, even musically.
But I think too, with this album, I'm thankful I had the opportunity to take those hymns and breathe new life into them. The lyrics, the theology, there's so much great truth.
"How Great Thou Art," while it's not necessarily an ancient hymn, it was written in the 40s or 50s. But I think of it as an old hymn that I grew up singing in church. The poetry of that is just beautiful. When you look at the lyrics of that, it talks about hearing God in nature and "When I think God, His Son, not sparing sent him to die, I scarcely can take it in and on the cross my burden bearing," there's such poetry in it, there's theology.
I think sometimes when you hear the organ start and you hear the way you heard it growing up, you can switch into almost neutral, your brain kind of goes, "Oh that's a church hymn." I don't really engage with it. It's just like a history lesson. The thing about God's word is, it's living and active. How do we make it so that, this is alive, this is as true right now, as it ever was when it was sung when I was an eight-year-old little boy? That's what I love doing and hopefully I was able to do it with this recording.
CP: Your sons are part of an inspiring band, Colony House, tell us the importance of leaving a legacy, such as your dad did with you and bluegrass?
Chapman: Well, it has been one of my greatest joys in my life. I got to tour with my sons for about five years, they were in my band, so they kind of got an apprenticeship on the road with me when they were in high school, and they were just incredible musicians. I thought it would be so awesome as a dad to actually have my sons on stage playing music.
And part of the story that God would write even with that, it was during that time that they were with me that we went through the tragic loss of their little sister and my daughter. For us to stand, three Chapman men, on stage together, kind of declaring, driving a stake in the ground, night after night, even with our hearts broken and tears in our eyes, and great pain, just saying that this is what we're believing, this is what we're trusting in and we're going to declare it and we're going to proclaim it. And I think as we were able to do that together as a family. I feel like the legacy, the music is wonderful. I'm so grateful and thankful and my sons are so talented, I'm so proud of them.
But the greatest legacy is that they're using their gifts to continue to speak truth. They do it live in a different way, they do in a different format, in a different kind of music, but it's still woven together with the threads of truth, of God's word, and of the hope of the Gospel. That's the faith they know is the only hope.
Having Caleb on this record was so sweet. And then to have my dad, and my brother and my daughter-in-law, Will's wife Jillian, sings on "How Great Thou Art" with me. It is definitely a family, locking arms saying this is what we believe. This is what's true.
CP: What are you hoping to accomplish with this album?
Chapman: If it can encourage people with the hope of God's love, to know that God is for us and with us. And if I can do that, I've done that for a lot of years with everything from guitar, electric guitars and drums and keyboards, and if I can do that with a banjo and mandolin too, then that's it. Ultimately, it's communicating that God is with us and for us and there's hope in Him, and peace in Him and the healing.
For more information of Chapman and his new release Deeper Roots visit his website.