Story of 'Jesus' Comes to Sight & Sound Theatres (Interview)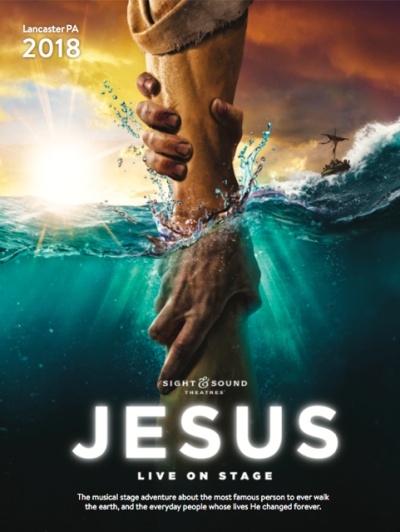 ORLANDO, Fla. — Sight & Sound Theatres has brought epic Bible stories to life with their productions over the past 40 years and now for the first time they will present the powerful story of "Jesus" at their Lancaster, Pennsylvania stage.
Sight & Sound Brand Manager Dean Sell spoke to The Christian Post at Proclaim 17, NRB's International Christian Media Convention last week where he exclusively revealed to The Christian Post that the show would be coming to Lancaster next year for the first time in the theatre company's history.
"The brand-new epic show coming to the Lancaster theatre in 2018 is going to be 'Jesus,'" he whispered, as the news hadn't yet been shared with anyone outside of the company.
"It's going to be a really unique take on the story, and the focus really is on it being a story of rescue and love that rescues," he said. "[It will highlight] learning to understand the character of who He was through getting to know the characters around Him — understanding who people were before they had an encounter with Him [Jesus] and who they became afterwards."
On Friday, Sight & Sound made the public announcement about their upcoming performance of "Jesus" during a  Facebook live broadcast, and invited author and Bible teacher Priscilla Shirer to their Lancaster theatre to help share their exciting news.
"Jesus" coming to Lancaster theatres in 2018 is not the only big news for Sight & Sound. On May 2, one of their popular musical dramas will be featured on the silver screen in movie theaters nationwide for a special one-night presentation of "JONAH: On Stage!"
"Jonah" will reach 604 screens from Honolulu, Hawaii, to New York and everywhere in between.
"As a creative company we're always looking for ways to continue to do what we're called to do, which is to bring stories to life," Sell told CP. "As we continue to grow and our theatre seats continue to be filled, we keep asking ourselves the question, 'How do we reach more people if our theatres are full?' We also recognize that there are a lot of people who love the Sight & Sound experience but can't always make it to Lancaster or Branson."
For more than four decades, Sight & Sound has provided biblically-based entertainment for over 22 million people at their Lancaster, Pennsylvania, and Branson, Missouri, performance theatres. In the past 10 years, the company started filming their live shows and making DVDs, but Sell believes God was preparing them for something more.
"God works in mysterious ways. As we look back, we see that he was preparing us for this next step in our journey. When the opportunity presented itself we felt, 'Man, this feels like a really natural next step for us,'" he said.
Sell wanted to assure people that the live experience of their productions and the theatrical premiere are two different experiences, both great in their own right.
"The Sight & Sound experience is really unique. Big Bible stories coming to life in a way that you can't experience anywhere else. It's on a panoramic stage that surrounds the audience on three sides and there's action happening. Not just on the stage but out onto the audience with live animals. So, when you're sitting in the theatre, there is nothing like it," he explained.
"However, when you are watching it on the screen it does really feel like you were there and it's a different kind of experience — you get the intimate experience of seeing the actors up close and you wouldn't be able to have that if you're sitting live in a theatre."
When asked what he wants people to take away from the theatrical experience of "Jonah," Sell said: "We hope that this will be a really nice night out for families. That they would have a shared experience through Bible stories. We believe that there is something for everyone in ["Jonah"] and our hope is that it would be a universally appealing. It's relevant, it's meaningful no matter your experience in the past or where you're at in your journey."
For tickets and more information, click here.