Street preacher claims Cash App closed his account for protesting drag shows, LGBT events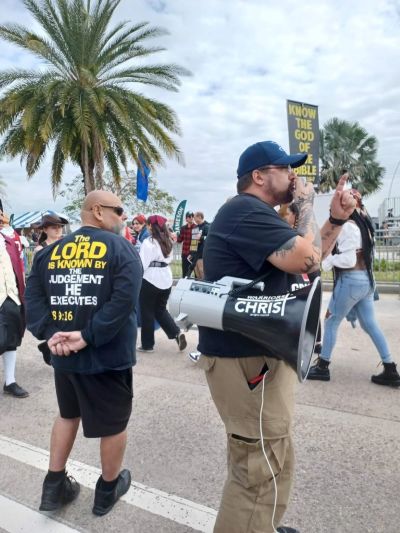 A prominent street preacher and online Christian activist claims he was locked out of his Cash App account because the mobile payment service does not approve of his protests against LGBT events.
 
Rich Penkoski, a prominent street preacher who founded the online organization Warriors for Christ and travels the country to protest drag queen and LGBT pride events, told The Christian Post that he lost access to his Cash App account last week. 

"I found out a few days ago, and I did an appeal," he told CP in a Friday interview. 

The Christian Post reached out to Cash App for comment on Friday. A response was not received by press time.

Penkoski said he had two different Cash App accounts, one for him and another for his wife.

"Mine got closed first, and then yesterday, we found out my wife's got closed," he said. After his wife's account was closed, he tried to call Cash App instead of "waiting for the appeal results."

"I called them, and I got a customer [service] rep on the phone, and I said … 'Why did you guys close my account?'" he said.

Penkoski told the representative that he had his account for "well over five or six years" and "never had an issue."

Penkoski claims the woman insisted his account closure was because of "a violation of the terms of service." Penkoski said he went through the terms of service "pretty meticulously" and could not figure out "where there was a violation." He stressed, "There was no fraud."

After the customer service representatives examined his account, Penkoski said he was told his account didn't violate the terms of service and that it was shut down because "they didn't like what I was using my Cash App for."

"And I said, 'What do you mean?' And it's because people would donate money, again not huge sums of money, but when we would travel and go preach … [at] a Drag Queen Story Hour, pride event or what have you … a lot of people would send Cash App for … gas money, things like that," Penkoski stated. 

Based on the call with the representative, Penkoski concluded that Cash App "didn't like that we were using [funds from CashApp] to preach against LGBT things."

"I said, 'Now you're going to cancel Christians' accounts because of what we're using the money that people send us for?'" he added.

The activist claimed the Cash App representative "got really nasty with me and ... said 'well, I'm canceling and closing out your appeal now,' and then hung up the phone on me."

Penkoski said he reached out to his attorneys about possibly taking legal action. 

While Penkoski does use Cash App to pay for expenses related to his travel across the country, he also uses funds from the mobile payment app to provide money to the less fortunate.

"People would contact our ministry if they had a need … we would give people money for groceries, we'd give people money to help pay an electric bill if they needed it."

He said being locked out of his Cash App account could "put a damper" on his efforts to minister to the less fortunate.

Penkoski said his wife was locked out of her Cash App account after he "switched the Cash App name to her account" on his video live stream. He encouraged people to donate to her account after his was closed.

"Within 24 hours, they kicked her off," he said. 

Penkoski assures his account was in "good standing," and the company even, at one point, offered him a line of credit.

"I never had a problem, never," he said. 

He questioned "how exactly they knew what they were doing" and speculated that an "LGBT person or supporter flagged my account" or that Cash App was "watching" him.

The street preacher doesn't think it's "coincidental" that his lockout from Cash App comes as many Americans celebrate LGBT pride month in June.

"We went to a Target store and filmed their pride event, and then we rebuked Target as we walked out and filmed it. So I don't know ... if that made a difference or not."

Penkoski is now using other mobile payment platforms to accept donations.