Students-athletes give their lives to Christ at event with Damar Hamlin, Buffalo Bills players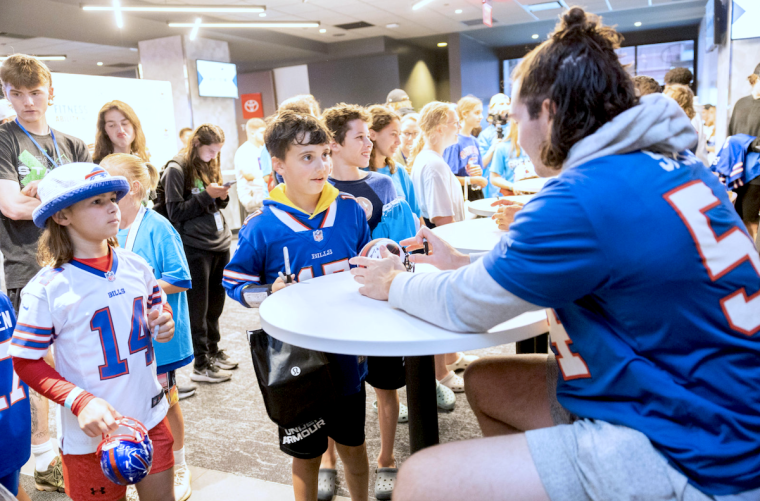 NFL player Damar Hamlin, along with other players and coaches from the Buffalo Bills, partnered with the Fellowship of Christian Athletes earlier this month to put on the Fields of Faith program, where hundreds of student-athletes had the opportunity to respond to the Gospel message of Jesus Christ.
The FCA chapter based in Buffalo gathered hundreds of student-athletes in middle school and high school together with popular players at Bill's Highmark Stadium in Orchard Park on June 13 to pray, engage in worship and hear the Gospel. 
The Fields of Faith program is a student-led event that encourages student-athletes to "invite, pray for, share with and challenge their peers to read the Bible and follow Jesus Christ." It serves as the culmination of a three-month-long student discipleship program called FCA Training Camp. A little over 250 high school and middle school athletes from the region participated in the program.
In total, 1,275 guests participated, along with tight end Dawson Knox, linebacker Von Miller, defensive back Hamlin and Bills head athletic trainer Nate Breske. 
In an interview with The Christian Post, FCA Buffalo Director Jake Hannon said the theme for this year's Fields of Faith event was centered around the idea found in John 3:30 that "He must become greater and I must become less." 
"At the Fields of Faith event, student-athletes get to hear practical lessons from NFL players, such as, what it takes to make it to that level, if that's their goal in life. And they also get to hear the NFL players share their Christian faith and it really helps these young Christian student-athletes feel like they're not alone," Hannon said. 
"I think as athletes, we're also all looking to win and to get glory. And there's nothing wrong with winning. But, at FCA, our hope is that the athletes put Jesus first in everything and realize that we're not taking any of this stuff with us to Heaven. And really only the fruit that He produces through us is what will remain for eternity." 
As the event came to a close, Hannon said seven student-athletes gave their lives to Christ for the first time while many other athletes rededicated their lives to Christ during an altar call. Those who gave their lives to Christ made public commitments to share their faith with their teammates this year. 
"We know there was a party in Heaven on June 13. There's no words. The Bible says: 'What is impossible with man is possible with God.' And we can just work really hard and put all the pieces together and try to be faithful to His voice and listen and be obedient," Hannon said.  
"But at the end of the day, you know, God is the one. Jesus is the one who is drawing people to Himself. And, you know, He knew about that night before the foundation of the world," he added. 
"We're just so excited that those seven athletes made a commitment to be with Jesus forever, and for the many, many more that were impacted and recommitted their lives to the Lord and to His service. I mean, that's why we do what we do. There was certainly a party in Heaven that night."
Hannon spearheaded an awards ceremony and graduation for the 252 student-athletes who completed the three-month discipleship program, where students could be recognized in front of their peers for their accomplishments in the program. 
The three-month program encouraged each participant to read 2,318 Scripture verses from 65 chapters of the Bible. 
Since 1954, FCA seeks to challenge "coaches and athletes on the professional, college, high school, junior high and youth levels to use the powerful medium of athletics to impact the world for Jesus Christ." 
One way FCA carries out its goal is to bring together professional athletes to inspire the next generation of student-athletes to put their faith in God first and find their identity in Christ rather than their athletic careers.
According to Hannon, many professional athletes in the United States today grew up with FCA in their hometowns across the country.  
"They know about FCA, and they've actually been ministered to in FCA and led groups in FCA," he said. "Now they're on the world stage and they're able to give back to the young kids that are coming up, that want to be like them."
Participation in FCA events also helps professional athletes remember where most of their athletic careers began.
"I think for those higher level elite athletes, we're giving them a platform to share their faith and to help for them to kind of stay grounded and remember, you know, what they're doing is all because of God and for His glory and because He got them there. And then to share that message with the kids and just for the kids. It's really getting them all in God's Word," Hannon said. 
"Getting the NFL players rooted in that foundation is so important for us just because you know the temptations are going to come. Just the swirling winds are going to come and the world of sports is all-consuming in their lives," he continued. 
"And for the student-athletes, If we can build that rhythm of being in God's word, and in His presence early on, it will only help them in their futures. Like who knows what's going to happen to them as things get even busier and busier as they get into the higher levels of sports."