Study Reveals Best Age to Get Married and Suggests Those Who Wait Until 30s Could Be Doomed to Fail
If you thought the longer you waited to get married the lower your chance of getting a divorce would be, you might want to take a look at the findings of a new study by Nicholas H. Wolfinger, professor of family and consumer studies and adjunct professor of sociology at the University of Utah, which says otherwise.
In his analysis of recent marriage data published on The Blog of the Institute for Family Studies Thursday, Wolfinger found that the age cohort of first marriage that correlates with the lowest risk of divorce is in the late 20s.
The median marriage age as of 2011, was 29 for men and 27 for women, the highest it's been in decades for men and the highest ever for women according to census data.
"Although teens still face an elevated divorce risk relative to older adults, my analysis of more recent data shows that those who tie the knot after their early thirties are now more likely to divorce than those who marry in their late twenties," notes Wolfinger.
"Scholars have long known that youthful marriage is a strong predictor of divorce. For instance, someone who marries at 25 is over 50 percent less likely to get divorced than is someone who weds at age 20. Most youthful couples simply do not have the maturity, coping skills, and social support it takes to make marriage work. In the face of routine marital problems, teens and young 20-somethings lack the wherewithal necessary for happy resolutions," adds Wolfinger.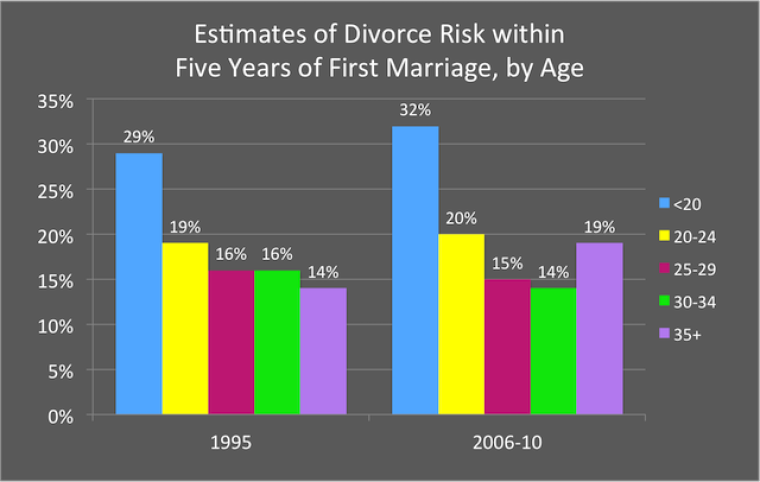 And if you choose to get married past your early thirties, says the study, the odds of divorce increase by 5 percent per year of age at marriage — but it's not clear why according to the data.
That, however, did not stop Wolfinger from suggesting a few theories.
"My money is on a selection effect: the kinds of people who wait till their thirties to get married may be the kinds of people who aren't predisposed toward doing well in their marriages. For instance, some people seem to be congenitally cantankerous," explains Wolfinger.
"Such people naturally have trouble with interpersonal relationships. Consequently they delay marriage, often because they can't find anyone willing to marry them. When they do tie the knot, their marriages are automatically at high risk for divorce. More generally, perhaps people who marry later face a pool of potential spouses that has been winnowed down to exclude the individuals most predisposed to succeed at matrimony," he adds.
Wolfinger also proposes other theories.
"It's also possible that some of the modern alternatives to marriage are too successful at siphoning people out of the marriage pool. Maybe some of the thirty-somethings who would have made good spouses now feel perfectly comfortable being single, or living with partners out of wedlock," he explains.
"Finally, we cannot definitively rule out causal arguments. With median marriage ages as high as they've ever been, perhaps some people who delay marriage get so used to single life that they make lousy spouses should they ever decide to give marriage a try," he further notes.
Wolfinger is the author of several books including Understanding the Divorce Cycle: The Children of Divorce in Their Own Marriages; Do Babies Matter? Gender and Family in the Ivory Tower (with Mary Ann Mason and Marc Goulden); and Fragile Families and the Marriage Agenda (edited, with Lori Kowaleski-Jones). His next book Soul Mates: Religion, Sex, Children, and Marriage among African Americans and Latinos, coauthored with W. Bradford Wilcox, will be published by Oxford University Press at the beginning of 2016.