Suffering of Christians by ISIS Terrorists Is 'Unbelievable and Makes Me Cry,' Says Open Doors Field Worker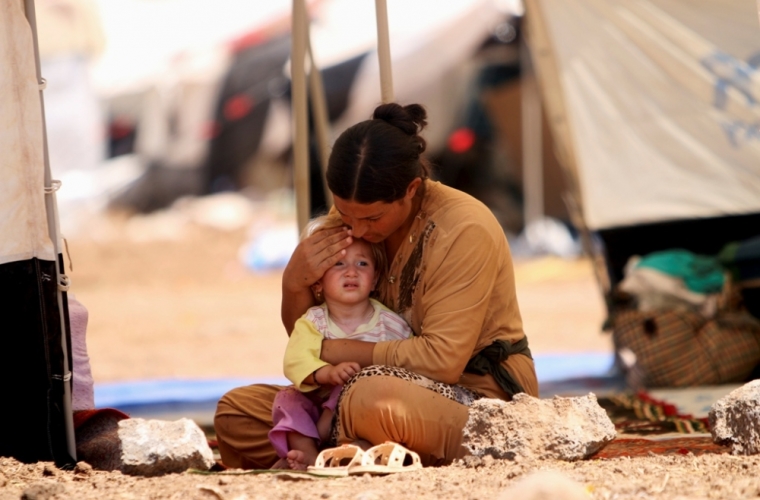 A field worker with persecution watchdog group Open Doors helping refugees in Iraq has spoken out about the "unbelievable" suffering going on in the country, which is under attack by the Islamic State terrorist group, which is better known as ISIS.
"The suffering we see is unbelievable and it makes me cry every time I see something, either by visiting families or by the horrible pictures we see," the field worker, who wasn't named, said in a news release Open Doors sent Tuesday.
The watchdog group reported that most of the displaced people who have found their way to Erbil, the capital of the Kurdistan Region of Iraq, have fled from Mosul, Qaraqosh and other towns and villages on the Nineveh plain.
Islamic State terrorists have forced thousands of Christians, Yezidis and other minority groups to flee their homes or face death.
Last week, the U.N. declared the highest level of humanitarian emergency in Iraq, and accused ISIS of carrying out "barbaric" acts of sexual violence against women and teenage boys and girls belonging to Iraqi minorities.
U.N. special representative Nickolay Mladenov said that the declaration by the UN of a "Level 3 Emergency" in Iraq would "facilitate mobilization of additional resources in goods, funds and assets to ensure a more effective response to the humanitarian needs of populations affected by forced displacements."
ISIS has captured significant territory in Iraq and Syria and declared the creation of an "Islamic State."
Open Doors and other humanitarian groups have been working in the region in partnership with churches and other Christian organizations, providing much needed help to refugees.
"Seeing what is necessary, at present we provide food parcels, containing basic non-perishable foods such as noodles, cooking oil, beans, canned fish and rice. Next to this we also distribute hygiene kits that contain toothbrushes and toothpaste, soap and disinfectants," the Open Doors field worker added.
The watchdog group, which lists Iraq as No. 4 in its 2014 list of countries where Christians face the most persecution, notes that the ISIS terrorists "have no mercy for those who have a different doctrine or ethnicity."
ISIS terrorists have given Shia Muslims, Yezidis, Shabaks, Turkmen, Christians and other groups a "convert, leave or die" ultimatum.
Churches in Erbil are running out of space to host people, as the number of internally displaced people fleeing ISIS keeps growing.
The field worker said: "When the church is full, the people go into other buildings or the halls of the church. If these are full, too, then the people flow over into the gardens or courtyard of the church. Also, several floors of buildings under construction are taken over by refugees as a place to stay. They are everywhere!"
The U.S. has launched airstrikes against ISIS targets in Iraq and supplied arms to the Kurdish government, helping in the successful retaking of the Mosul Dam from militant control earlier this week.
The terrorist group has been fighting back, however, and on Tuesday released a video that seemingly showed the beheading of American journalist James Foley, who had been captured in northwest Syria in November 2012.
In the video, the ISIS militants threaten another captured American journalist, believed to be Steven Sotloff, and call on President Barack Obama to stop military operations in Iraq.
"We have seen a video that purports to be the murder of U.S. citizen James Foley by (ISIS)," National Security Council spokeswoman Caitlin Hayden said. "The intelligence community is working as quickly as possible to determine its authenticity. If genuine, we are appalled by the brutal murder of an innocent American journalist and we express our deepest condolences to his family and friends. We will provide more information when it is available."