Super Bowl LII: Philadelphia Eagles Quarterbacks Hold Private Prayer After Game, Says Tony Dungy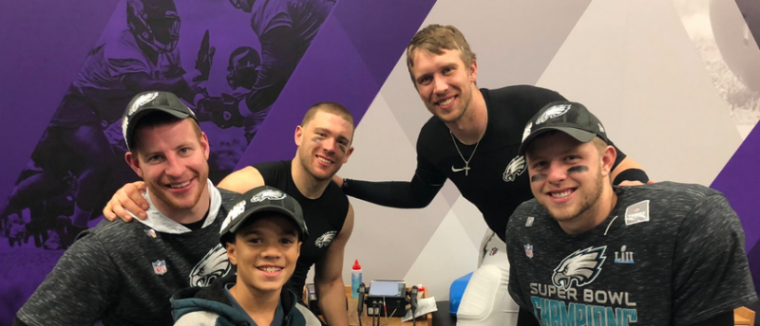 Philadelphia Eagles quarterbacks Nick Foles, Carson Wentz and Nate Sudfeld took time away from Super Bowl LII celebrations to pray with their tight end, Zach Ertz, after the big game Sunday night.
Hall of Fame coach Tony Dungy revealed the special moment on Twitter, after his 11-year-old son Justin was able to join the Super Bowl champions.
"After all the celebrations and confetti Justin caught up with the 3 Eagles QBs Nick Foles, Carson Wentz & Nate Sudfeld along with Zach Ertz who scored the winning TD," Dungy tweeted on Monday morning. "They were in a room by themselves—praying and thanking God. It was great for him to see that."
Dungy, an outspoken Christian who became the first black head coach to win the Super Bowl with his Indianapolis Colts in 2007, also tweeted about Foles being led by the Lord in the game.
"Congratulations to the Eagles," he wrote. "Nick Foles told me last week that he felt the Lord had him in Philadelphia for a special moment and he played like it tonight."
Right after the big game, the team gathered together for some celebratory words from Eagles head coach Doug Pederson.
"We said before an individual can make a difference but a team makes a miracle," Pederson told his team before leading the group to take a knee and recite the entire Lord's Prayer in a Twitter video posted by ESPN Eagles beat reporter Tim McManus.
The Eagles defeated defending champion New England Patriots 41-33 to win their first Super Bowl title.
A number of Eagles players have been vocal about their Christian faith throughout the 2017-2018 NFL season and even took part in a 15-day devotional on the YouVersion Bible app, called "Professional Football Players on Humility and Surrender." The devotional, created by Eagles QB Carson Wentz through his Audience of One (A01) nonprofit organization, features Eagles tight end Trey Burton, QB Foles, TE Zach Ertz and safety Chris Maragos.
"Carson Wentz's Audience of One (A01) and friends discuss scriptures about staying humble and walking in surrender to the Lordship of Jesus," a description of the devotional reads in part.