Syrian Blasts Kill 70, Government and Rebels Blame Each Other
The Syrian capital of Damascus was hit with two strong explosions Thursday morning that have killed at least 70 people and wounded another 372, but neither military officials nor anti-government forces have accepted responsibility for the blasts.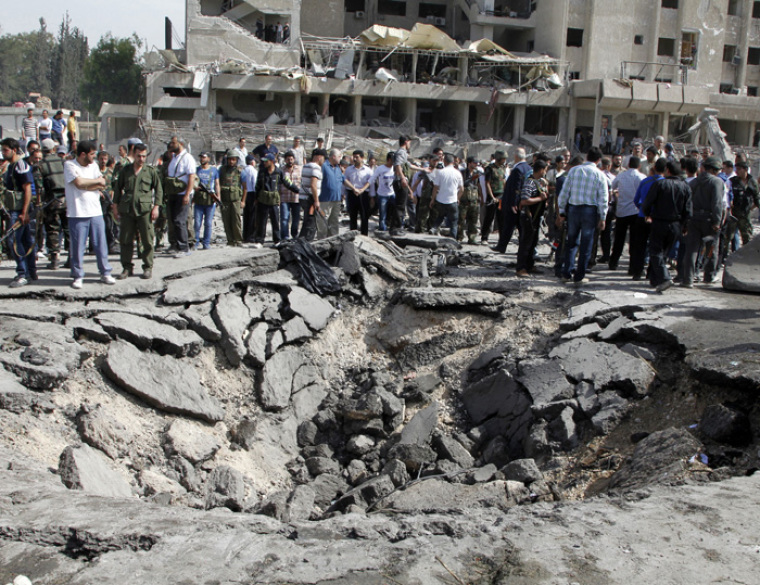 The explosions, which were carried out by two suicide car bombers, were well timed and happened one after the other – the first in front of a military intelligence building attracted many people going to work in the morning, but the second, a much bigger one, caused the real damage, destroying 40 cars and pickup trucks in the process.
As the government has begun dealing with the carnage on the streets, officials blamed "terrorists" for the bombings, accusing anti-regime protestors. The Syrian National Council, however, the group seeking to take down President Bashar Assad from power, have claimed that the government was behind the blasts, Al-Arabiya television reported.
"The explosions shook the house; it was frightening," shared Mohhamed Ali, a local resident, with CBS News. "I saw tens of bodies burned and dozens of wounded, mostly from the security (services)" he added. "I live a few hundred meters (yards) away but I saw some fingers in my neighborhood. The blast was huge."
The fatal attacks come at a time when the two sides are supposed to be following a United Nations-brokered peace agreement, the rules of which have hardly been abided by from either side. The UN and Arab League Special Envoy on Syria, Kofi Annan, defined the Damascus blasts as "abhorrent", BBC reported, but due to limitations to foreign media operating in the Arab nation, independent observers been able to determine who exactly carried out the blasts.
While the area of Damascus where the explosions hit is said to be largely loyal to President Assad and is fueling government claims that it was opposition forces who carried out the blasts, it was reported that the Syrian army has continued bombarding the city of Homs overnight, considered an opposition stronghold.
There are reportedly 70 UN peace monitors stationed around the country, but despite ongoing demands by the organization that Syrian combatants adhere to the peace plan, it has had little effect.
According to UN reports, more than 9,000 have lost their lives since the civil conflict began in March last year, while accounts by the Syrian government put the civilian death toll to as high as 3,838 people.