Syrian Christian Fighter Beheads ISIS Militant as Revenge, Reports Syrian Observatory for Human Rights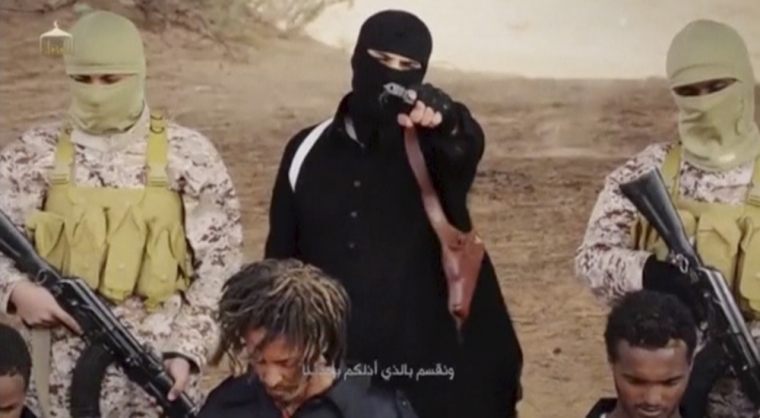 A Syrian Christian fighter from the Syriac Military Council beheaded a militant of Islamic State in northwest Syria as revenge for the terror group's violence against the region's minority Christians, according to the U.K.-based Syrian Observatory for Human Rights.
The Christian fighter from the minority Assyrian community, who was not identified, carried out the execution Thursday in the village of Tal Shamiram in Syria's Hasakeh province, where Islamic State, also known as ISIS or ISIL, holds large areas of the countryside, the Observatory reported.
"He took him prisoner and when he found out he was a member of IS, the Assyrian fighter beheaded him in revenge for abuses committed by the group in the region," Observatory chief Rami Abdel Rahman told Agence France Presse.
ISIS has executed 2,618 people, including 1,511 civilians, since last June, when it declared its "Caliphate," according to the Observatory, which documented at least 464 executions over the last two months alone.
The overall executions included those of 23 children and 32 women. The executions were carried out mostly by beheading, shooting or stoning. ISIS has also executed 139 of its own members for "exceeding the limits in religion and spying for foreign countries," mostly after they were trying to go back to their homes.
In February, ISIS released a video showing its militants in Libya beheading 21 Egyptian Copts, who had all been made to wear orange jumpsuits. The video showed the Copts whispering the name of Jesus as their heads were being hacked off their bodies.
ISIS is an offshoot of al-Qaeda and wants to establish a caliphate in the Levant region and beyond. It has gained control over large swathes of territories in Syria and Iraq.
Islamic State's main targets include religious minorities, including Christians.
The Sunni group is known for its brutality. In the recent past, it has released videos showing the beheading of at least five Western hostages – British hostages David Haines and Alan Henning, and U.S. citizens James Foley, Steven Sotloff and Abdul-Rahman Kassig – as well as two Japanese hostages Kenji Goto and Haruna Yukawa – among others.
In its English propaganda publication, ISIS earlier sought to justify its barbarity, saying it is "Islamic" to capture and forcibly make "infidel" women sexual slaves.
"Before Shaytan [Satan] reveals his doubts to the weak-minded and weak hearted, one should remember that enslaving the families of the kuffar [infidels] and taking their women as concubines is a firmly established aspect of the Shari'ah that if one were to deny or mock, he would be denying or mocking the verses of the Qur'an and the narration of the Prophet … and thereby apostatizing from Islam," stated the ISIS' propaganda magazine "Dabiq," named after a site in Muslim apocalypse mythology.