Syrians Trapped in 'Extremely Dire' Crisis, Forced to Eat Dogs, Cats, Grass to Survive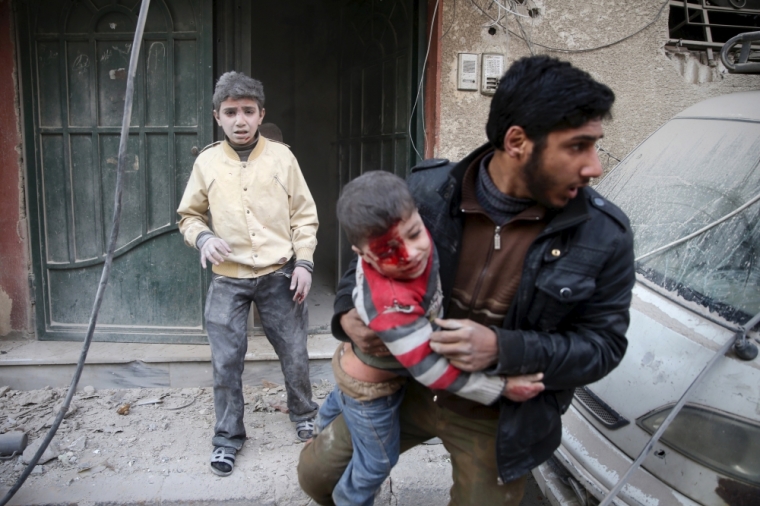 Besieged Syrians in three towns are facing an "extremely dire" humanitarian crisis, the International Committee of the Red Cross has warned, noting that starvation is forcing some to start eating dogs, cats, and grass.
"Citizens are dying. They're eating stuff off the ground. They're eating cats and dogs," an activist inside the rebel-controlled town of Madaya told BBC News.
The crisis has also gripped the government-held towns of Foah and Kefraya, with people resorting to eating grass to survive, reports added.
The Syrian civil war, which has waged on for almost five years now and has killed over 250,000 people, is being fought between the government of President Bashar Al-Assad and various Islamic rebel groups seeking to bring down his administration.
The Islamic State terror group, which began conquering towns and cities in 2014, is also warring against both sides, as the American-led coalition attempts to defeat the militants through airstrikes in the region.
The United Nations and other monitoring groups have accused all sides of committing mass human rights abuses in the war, with Syrians in besieged towns being caught in the crossfire.
ICRC warned that the humanitarian crisis in the three besieged towns has gotten worse, with civilians dying due to a lack of food and medicine.
Relief groups have had trouble reaching a number of cities in the country with the onset of winter.
ICRC spokesman Pawel Krzysiek said that he visited Madaya during the last successful aid delivery, and said that the situation was getting critical.
"People were living there without basic supplies. Now the situation is even more dire," he said.
"The winter obviously makes things worse, with people desperately trying to get what they can to power their stoves — including burning plastic, which results in respiratory problems."
There have been conflicting reports on the number of casualties and actual number of people trapped in the besieged cities, though the U.N. has said that as many as 400,000 people across Syria are living in towns that are under heavy crossfire.
UN Secretary-General Ban Ki-moon published a report in December 2015 that broke down the numbers:
"In September, some 7,800 people were reached with water, sanitation and hygiene assistance in one besieged location. In October, 10,500 people in besieged locations were provided with food, health and basic relief assistance and some 16,700 people were provided with water, sanitation and hygiene assistance," the report stated.
"In November, 1,077 children received textbooks and 50 children were provided with winter clothes."
The U.N. Human Rights Council's Commission of Inquiry on Syria said in July 2015 that many have died due to malnutrition and lack of access to medicines and electricity.
"Trapped without basic necessities and under constant fear of deadly snipers or bombardment, severe psychological trauma and desperation characterize the besieged communities," the inquiry said.
Some of the citizens trapped inside the towns have managed to get their stories out to the international community.
A 27-year-old man identified as Mohamed from Mohamed told AFP that many are losing hope.
"We've forgotten what bread tastes like," the man said. "The situation has become very tragic."
"There's nothing to eat anymore. Nothing but water has entered my mouth for two days," added 32-year-old Momina. "We just want someone to tell us if help is coming or not because we have nothing here."