Syrian Kids Hold Pokemon Go Photos to Plead With World to 'Come and Save Me'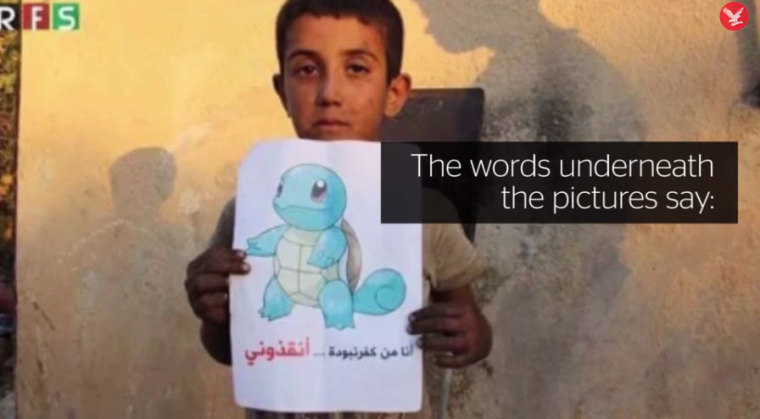 Syrian activists are posting photographs of children posing with drawings of Pokemon characters on social media to draw the world's attention to their plight as the conflict carries on for five years.
A series of such pictures, posted on Facebook, tell the town or village of the young children holding Pokemon drawings with the message, "Come and save me," according to U.K.-based Independent.
"I'm from Kafr Nabl in Idlib province. Come and save me," reads one of the pictures.
Tens of thousands of people have shared the pictures on Facebook.
Behind the use of the international Pokemon Go craze for the cause is the Revolutionary Forces of Syria Media Office, which works to spread the messages of Syrians against the regime of President Bashar al-Assad.
"We want to raise awareness and draw attention to the plight of Syrian children in besieged areas and the suffering of Syrian people who are attacked and killed by the Assad regime and its allies," a Turkey-based spokesperson of the RFA Media Office was quoted as saying. "Syrian children are victims of the war and the brutal and indiscriminate attacks that are carried out on a daily basis by regime and Russian jets. The Syrian children are paying the price for the international inaction to stop the Assad killing machine."
The initiative comes as the United Nations Children's Fund called for an end to violence against Syrian children. "The killing, abduction and arrest of students and teachers has become commonplace, as have arbitrary attacks on schools," it said.
Recently, 20 children died in the city of Manbij during air strikes, and a video showed the killing of a 12-year-old boy in Aleppo.
UNICEF estimates that around 35,000 children are trapped in the Manbij region.
About 4.5 million Syrians are trapped in the country with little to no essential supplies, including food and medicine, according to the United Nations.
Some Syrian artists who live outside the country are also using Pokemon to raise awareness about the suffering of civilians in the civil war, according to BBC.
Moustafa Jano, who now lives in Sweden, has posted a series of Facebook posts showing Pokemon on the journey made by refugees who have fled the war and risked their lives at sea to reach Europe.
"Grandpa, what did you do that summer of 2016, when the world was on fire? Oh, dear grandchildren, we were looking for Pokemon Characters in the phone!" Jano quotes Swedish novelist Jonas Gardell in one of the posts.
In Denmark, a Syrian graphic designer, Saif Tahhan, has used the game's distinctive player interface as his inspiration. Instead of searching for Pokemon, the quest is for security, education, medical supplies or some other essential resource in short supply for civilians caught up in the war.