Syrian Priest Decries 'Shameful' Church for Failing to 'Scream' as Hellish Civil War Enters 8th Year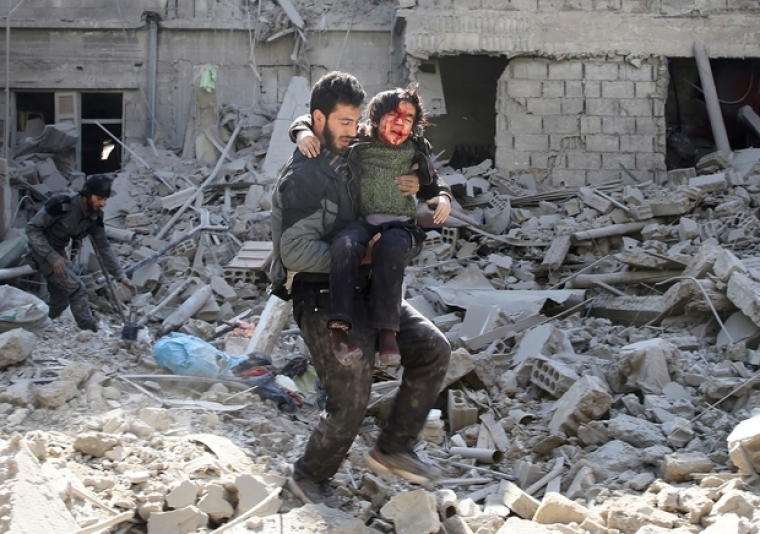 As Syria's civil war entered its eighth year Thursday, with millions still fleeing for their lives and the highest children's death toll so far, a priest has decried the global Church as "shameful" for failing to "shout and scream" for an end to the carnage.
"Unfortunately, I'm heartbroken to say ... the international community is not on the right way to tackle the problem in Syria. People don't want to talk about it any longer because they look and they see such a huge disaster — even the Church," the priest, Fr. Nadim Nassar, told Premier on Thursday.
"The Church is only helping in a humanitarian way but it's not enough. I challenge the leadership of the Church East and West ... where are we? Where are the leaders of the Church to stand up and shout and scream in the faces of the politicians and say 'enough, stop the blood and stop this senseless war,'" he asked.
"Unfortunately, the position of the Church is appalling, and it is shameful."
Nassar said that political powers have failed to find a solution to the war. Hostilities are being carried out both by the government of President Bashar al-Assad, who has been helped by Russia and Iran, and various Islamic rebel groups seeking to take down his administration, who have been provided U.S. and other Western assistance.
The seven-year conflict has been utterly devastating for the country and the entire region, with close to half a million people killed, and 6.1 million internally displaced.
The Syrian Network For Human Rights reported that 10,204 civilians were killed in 2017, including 2,298 children and 1,536 women.
United Nations' children's charity UNICEF said that in the first two months of 2018 alone, 1,000 children were reportedly killed or injured, with the conflict intensifying in some areas, such as the Eastern Ghouta region near the capital, Damascus. Last year was the deadliest for children in the war so far, it added.
"In conflict, children with disabilities are among the most vulnerable," warned Geert Cappelaere, UNICEF regional director for the Middle East and North Africa.
"They often require specialized treatment and services. As children, their needs differ from those of adults. Without access to services, schools and assistive products like wheelchairs, many children with disabilities face a very real risk of exclusion, neglect and stigmatization as the unrelenting conflict continues."
U.N. Secretary-General Antonio Guterres, who has called for a cease-fire from both sides with very limited success, has described the situation as "Hell on Earth." U.N. human rights chief Zeid Ra'ad al-Hussein also spoke out against the "seven years of failure to stop the violence, seven years of unremitting and frightful mass killing."
Charities, such as the Preemptive Love Coalition, which is raising money for aid efforts in Syria and the Middle East in partnership with Hillsong Church, have warned that the situation in Ghouta is especially critical.
Families caught in the crossfire have reportedly had to hide in basements and tunnels or walk for days risking sniper fire and rocket attacks.
"Over 1,000 Ghouta families have been forced to flee. Hundreds of thousands are still trapped inside — and they are running out of options," the group has warned, adding that it is operating on the front lines as close as possible trying to help the families.