Syria's First Lady Asma al-Assad Breaks Silence Amid Civilian Killings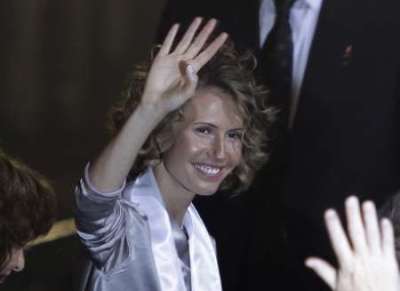 Syrian First Lady Asma al-Assad has broken her 11 months of silence drafting a letter of support for her husband's regime, which is reportedly responsible for the deaths of over 5,000 Syrians, including children.
In the email sent to British newspaper The Times earlier this week, Asma is said to have shown support for her husband's regime by insisting Assad "is the President of Syria, not a faction of Syrians, and the First Lady supports him in that role."
Additionally, the paper reported that Asma "appeared to offer full support to her husband and his security forces to crush the opposition" while "encouraging dialog and comforting the bereaved."
Asma was born in London to Syrian parents who originally came from Homs – the epicenter of Assad's violent crackdown.
A Syrian uprising began last March when civilians initiated protests against President Bashir al-Assad's regime, hoping to end five decades of Arab Socialist Ba'athist rule in the country.
However, the protests sparked a crackdown by the Assad regime. In fact, Asma's letter of support for her husband came as Syrian forces were bombarding the city of Homs, according to Syrian activists.
Having grown up in urban London and having worked in New York in investment banking, when Asma moved to Syria in 2000 to marry Assad, many Syrians hoped that her background would be a progressive force for their country.
Indeed, Asma has been significant in advancing Syria's public image, with many international media outlets having taken kindly to her beauty, sense of fashion, and charitable works. In the past, Asma pushed for the increased dialog and development of Syrian civil society saying she hoped for reforms. She also started several NGO's focused on childhood education, rural development, and women's empowerment.
However, her silence during the 11-month crackdown carried out by her husband's security forces in which thousands of men, women, and children have been indiscriminately killed has been troubling and media outlets are no longer referring to her as a "rose in the desert" but comparing her to a modern-day Marie-Antoinette.
"There has been a lot of pressure to show you where she stands and it shows you she's standing by her man," Andrew Tabler, a fellow at Washington Institute for Near East Policy, told The Daily Beast of the first lady's email.