Taiwan votes against legalizing gay marriage, goes against growing trend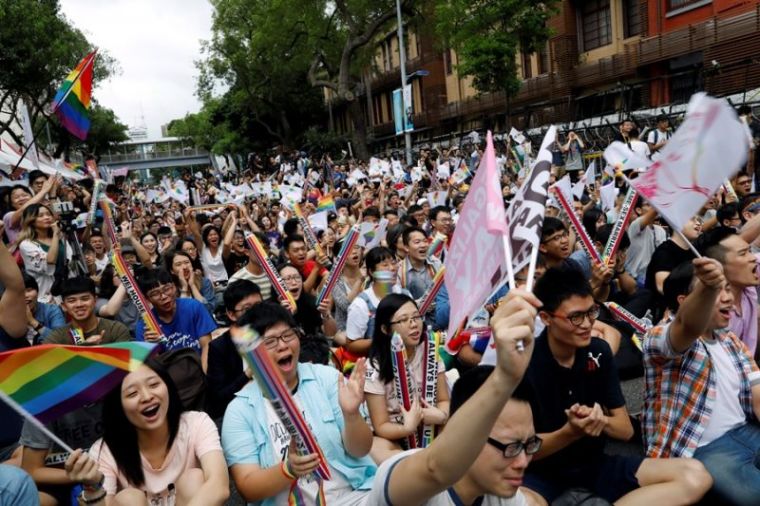 Voters in Taiwan chose to preserve the definition of marriage as between one man and one woman, going against the growing worldwide trend.
The results from Saturday's referendums are not legally binding but are likely to have a big effect on legislators who had discussed amending the definition of marriage in the territory.
There were as many as 10 referendums on the ballot, with one, backed by a number of conservative Christian groups, calling for the preservation of the current definition of marriage. It gained seven million votes.
Another proposal suggesting that same-sex unions be regulated under a separate law garnered six million votes. A third option suggested giving same-sex couples equal marriage rights, but it received only three million votes.
The Coalition for the Happiness of our Next Generation, one of the main pro-family groups that had argued in favor of preserving marriage between one man and one woman, said that the win was a "victory of all people who treasure family values."
Meanwhile, Amnesty International's Taiwan-based acting director, Annie Huang, who is in favor of gay marriage, called the results a "bitter blow and a step backwards for human rights in Taiwan." 
The vote follows a May 2017 constitutional court ruling in favor of same-sex couples, which had been the subject of national debate.
Chen Ke, a Catholic pastor in Taiwan in support of traditional marriage, noted that many legislators will stand for re-election in 2020.
"The legislature has lots of choices on how to make this court order take effect," the priest noted.
A count by ABC News in June found that there are 27 countries in the world that have chosen to legalize gay marriage, including by popular vote. Ireland voted in a 2015 referendum in favor of legalizing it.
The vast majority of those with pro-gay marriage laws are in the Western world, though a number of Latin American countries, including Brazil and Argentina, have also legalized the practice despite their Catholic-majority cultures.
Germany was the latest country to legalize gay marriage in 2017 following overwhelming public support, with a bill passing Parliament by a 393-226 vote.
Cuba has emerged as another big battleground for the debate, with a proposed amendment to legalize gay marriage receiving strong opposition from evangelicals. 
Alida Leon Baez, president of the Cuban Evangelical League Church, warned in October that if the country's definition of marriage changes, then "our nation is going to total destruction."
Pastor Lester Fernandez of the Methodist Church in Havana stressed that "the Bible condemns" proposals to change the marriage definition.