Take Up Your Cross: A Reflection on Unanswered Prayer, Shared Burdens, and the Call to Surrender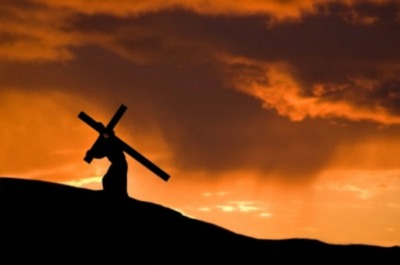 "How do you respond to people in your church who have an unanswered prayer and are bearing a burden God has chosen not to remove?"
This question was posed at a recent gathering of Christian leaders who had come together to hear insights on how to effectively engage modern culture and become agents of change in a hurting world.
The question itself was raised in the context of how churches should navigate the issue of same-sex attraction. "Every single gay Christian has an enormous unanswered prayer," the speaker suggested. "They prayed for God to change them, and God didn't answer their prayer. So my question for you is, what do you do for people in your church who have an unanswered prayer?"
In light of my interaction with believers who are searching for answers in difficult seasons of life, this question struck me as particularly significant.
Even in the past year I have encountered many who are struggling under the weight of immense difficulties and unexpected heartache. A single mother who yearns to be married yet faces a lonely and uncertain trajectory. A committed couple dealing with the pain of infertility and failed adoption after praying for years that God would grant them a child. Missionaries in Europe who have served faithfully for decades and still see not a single convert to Christianity. Church planters encountering persecution in the Middle East who are desperate for divine intervention in the face of unrelenting violence. And yes, a college student wrestling with sexual identity and same-sex attraction who has prayed for God to change his desires. They are all living with "unanswered" prayers. They are all bearing painful and complex burdens, obstacles that God has chosen not to remove at this time and temptations few of us will ever understand.
The problem of pain and suffering is not only the most common objection raised by atheists about the existence of God; it also poses significant challenges within the Church when seeking to answer people's deepest fears and doubts in the darkest moments of their lives. The question of unanswered prayer – often connected to the problem of pain – is a question all believers must be prepared to address as we seek to help our brothers and sisters navigate competing ideas about core identity, future hopes and dreams, and the calling to live a holy life amid difficult circumstances.
It is within this framework that I have been pondering the question of how we should respond to those along our path who have unanswered prayers. How can we demonstrate extravagant mercy while clinging to unchanging truth? What does it really look like to bear another's burdens and lighten the load of those we are called to love? What can we learn from those who are walking the path less traveled?
Throughout the scriptures, we see examples of men and women who bore incredible burdens and responded to unanswered prayers in their own lives. Some faithfully embraced the truth, even when the cost was extraordinarily high; others engaged in moral compromise, defying God's design; still others were blown and tossed by circumstances and lived in a restless state of ambiguity. Modern history is replete with examples as well.
In each instance, we witness the cost of compromise and the reward of faithful obedience.
While we all wrestle with unmet needs, unfulfilled desires, and unanswered prayers, I am keenly aware that I cannot personally identify with the struggles mentioned above. In recent months I have sought to learn from individuals who are bearing burdens God has allowed in their lives and facing pain few of us can fully comprehend.
One such individual is David Bennett, a young man I met on a recent visit to England (incidentally, we met at a lecture by Pastor Tim Keller at the Oxford Town Hall on Valentine's Day). A recent graduate of the University of Oxford where he studied theology, David describes himself as "a post-gay Christian." He still experiences profound same-sex attraction and lives bearing that burden, but does so as one who has found abiding joy in Christ. David is involved with a U.K.-based group called "Living Out," whose focus includes "helping Christians who experience same-sex attraction stay faithful to Biblical teaching on sexual ethics" and "helping the Christian Church understand how they can better help those who experience same-sex attraction to flourish."
"At the center of the question of unanswered prayer is a deeper question: 'Is it really fair or plausible for the church to expect people to live with such unfulfilled desires?'" David explained.
"My answer to this question is 'yes.' All the time in fact. God won't magically remove the pain and heartache from our lives but He does resurrect us from the pain, partially in this life and fully in the life to come. He wants us to trust Him through the storm and bring glory to Him in the midst of trials, while He brings healing to us that is much deeper and of greater worth."
David described his trajectory and told me of times in the past when God seemed silent or contradictory. "Before I became a Christian, I kept asking, 'God, if you're real, why would you give me these desires that are so integral to who I am, call them sinful, and expect me to give them up? Surely that is just absurd!' Though it felt like an unanswered prayer at the time, God was working to draw me to Himself, showing me what His true, costly, self-denying agape love looks like. I came to realize that a relationship with God required repentance and self-sacrifice," he shared.
I was struck by David's clarity in explaining the scriptures, moved by his courage to speak with boldness, and inspired by his passion to see others experience the freedom he has discovered in Christ, even as it is evident that he is on a long and challenging journey.
What my friend David and many others like him are teaching me and demonstrating to the world with beauty and authenticity is this:
God's Grace is Sufficient.
Most of us can easily quote 2 Corinthians 12:9, "My grace is sufficient for you, for my power is made perfect in weakness," but this verse takes on a deeper meaning when you see God's promise to the Apostle Paul played out in the life of someone you know.
"I was a young gay rights activist who encountered the grace of God six years ago," David recalls. "God lavished His love and provision on my situation and His power became evident to me, and He blessed me with a deep and abiding knowledge of the Holy Spirit. The struggles and temptations are very real, but God never said He would deliver us from our sin nature fully in this life. We must live in a 'now and not yet' tension and constantly pray 'not my will, but yours.' We all have constant sinful desires that will not go away, and this is why Jesus sent us the Holy Spirit to be our Helper. He is the solution until we become fully like Jesus and without sin."
Jesus is Sovereign.
At the heart of this discussion is the sovereignty and supremacy of Christ, and as children in His Kingdom we are called to serve him as our Master and Lord. As the Apostle Paul admonishes believers, "You are not your own; you were bought at a price" (1 Corinthians 6:19-20). We experience His redemptive power and we surrender to His design. If we trust Him with our eternal destiny, how much more should we be willing to trust Him with other areas of our lives here on earth?
"Jesus is our Lord. He laid down his life for me and He loved me with this astounding love that asked for all of me. I came to a point where I realized that if I wasn't willing to give Jesus my sexuality, I wasn't willing to give Him my life. Either He is Lord or not," David explained. "Jesus asks us to take up our cross and follow Him, no exceptions. My life is a testimony to the fact that it is a plausible, painful, beautiful, lonely, blessed and favored path that honors Christ as Lord, but so is the path of any true disciple of Christ. The question we each must answer in light of taking up our cross is, 'To who or what am I going to die or suffer?'"
The Church must function as the Body of Christ.
As believers we are commanded to "Bear one another's burdens, and so fulfill the law of Christ" (Galatians 6:2), yet sadly the Church has sometimes become a place where additional burdens are placed on those who are already weak and weary.
We all need community – a circle of support with those we trust, and a safe place where no question is off limits – and Christians such as David who often wrestle with doubt and loneliness need this even more. Yet we cannot carry each other's burdens if we are unwilling to acknowledge certain struggles exist or if our primary posture is one of condemnation and judgment rather than humility and friendship.
"When Jesus carried His cross on the way to Calvary not even He, both God and human, could bear the weight of the burden. God provided through Simon the Cyrene, who helped carry the cross," David reminded me. "This is a picture of what needs to happen in the Church. Pastors and spiritual communities are called to help carry the burden that Jesus will make light for any disciple, no matter their struggle." What a remarkable insight!
As I continue to reflect on these challenges, I am reminded of yet another example of one who faced a burden He prayed would be taken away but God chose not to remove – and that is our Savior Himself.
In the Garden of Gethsemane, Jesus experienced intense anguish, expressing grief and distress at the prospect of His pending crucifixion and separation from God the Father. Jesus repeatedly asked God to "take this cup" from Him, a prayer that seemingly went unanswered.
Yet in the hours before His crucifixion, in the face of agony from this "unanswered" prayer even as He was sweating drops of blood, Jesus demonstrated perfect obedience and total surrender to the plan of God. What if He had responded differently?
As we approach Good Friday and prepare to contemplate Christ's ultimate sacrifice on the cross, may we be filled with a renewed sense of wonder and gratitude for His transforming power in our lives. May we fully embrace the freedom found in the truth He embodied, even when it involves self-denial. May we not mistake God's apparent silence for His absence, and may our prayers be rooted in a desire to carry out His will rather than our own. May we cling to God's promise to walk with us every step of the way, living victoriously one day at a time even when this means learning to live with unanswered questions. May we also deepen our commitment to operate as the body of Christ, bearing one another's burdens however daunting the road ahead appears.
Most importantly, may we be reminded of Jesus Christ's invitation to "Take up your cross and follow Me," an invitation that requires absolute surrender and a continual dying to ourselves as God conforms each of us to His perfect image.
After all, it is only in death that we can truly experience life, on this earth and for eternity.
Ruth Malhotra works in Communications and Research and her areas of focus include religious liberty, family values, higher education, global missions, and grassroots politics. She is a contributor at the SixSeeds Faith & Family Channel on Patheos.com, where she frequently shares lessons on life, love, and leadership. A graduate of Georgia Tech where she studied international affairs and public policy, Ruth resides in Atlanta and is actively involved in her church and community. Follow Ruth on Twitter at @RuthMalhotra.