Tamar Braxton Glorifies God After Saying She Was Stabbed in Back on 'The Real' Talk Show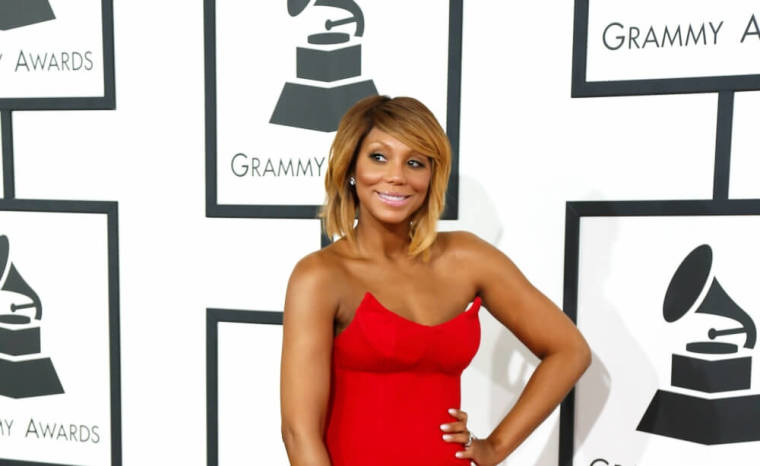 Even though Tamar Braxton is telling the world that she has been betrayed on "The Real" talk show, she is leaning on God during the challenging time.
"I love you all but I have been stabbed in the back by someone I stupidly trusted, (not my man or my sisters). I am not about to be tried and tested to snitch and it's not in good taste to tell you who ... but as #tamartians you are very smart and can figure things out on your own," the 39-year-old singer-songwriter wrote on Instagram.
"But know that every one who smiles in your face is not your friend and is not cheering for you and will lie and try and tear you down to try and dim your light. Thank God He holds my future and my hand!"
Braxton's departure from the talk show where she served as a co-host alongside the likes of Jeannie Mai, Tamera Mowry-Housely, Adrienne Bailon and Loni Love was officially announced in a joint statement from the talk show.
"'The Real' and Tamar Braxton have mutually decided that Tamar will not be continuing with the show for its upcoming third season. She will be leaving in order to concentrate on her solo career," a statement from the show reads. "Everyone associated with 'The Real' appreciates Tamar's efforts and the contributions she has made to the show's success, and we wish her all the best for the future."
While Tamar seemed to be upset with the news, she glorified God before letting her followers know that she would be taking a hiatus from social media.
"To God be the glory and I will be taking a short break from all social media. ... Until then love yourself and watch your back," she wrote.
Braxton had a tough second season on the Emmy nominated talk show. Last year she suffered from pulmonary embolisms that resulted in the removal of a rib.
She was forced to take a hiatus from the talk show for some time, with a number of women filling in for her upon her absence. Her co-hosts, however, supported her upon her return.
"It is honestly a miracle that she is even with us today, it really is," Bailon said on the show last year. "We all feel blessed that Tamar has come through this difficult time. It hasn't been the same without her here."
After Braxton's emotional Instagram post, a number of her fans speculated in the comment sections of her co-hosts. Bailon decided to write an emotional Instagram post of her own.
"My SISTER Forever. The greatest thing that has come from being on 'The Real' is that I have found my best friend. My vault," Bailon wrote in her message. "My comedian and therapist. I love you. Always and forever."
While preparing for the first season of the show, Bailon spoke with The Christian Post about her fellow cast members' shared faith contributing to the chemistry they had on the show.
"I love that all five of us are believers. Before we walked out on that set every single day, we prayed. I don't know what anybody else's rituals are on other shows but I said there's something so special and so crazy about that," Bailon told CP. "... We pray that God use us individually to touch somebody, to make somebody laugh, to make somebody say 'Oh my God, I'm not alone!' For a woman that's at home that maybe can't go out with her girlfriends on a daily or even a weekly basis ... she can kick back and watch the show and feel like we are her girlfriends and she can be a part of the show."