Tamar Braxton Grateful to Be Alive After Major Health Scare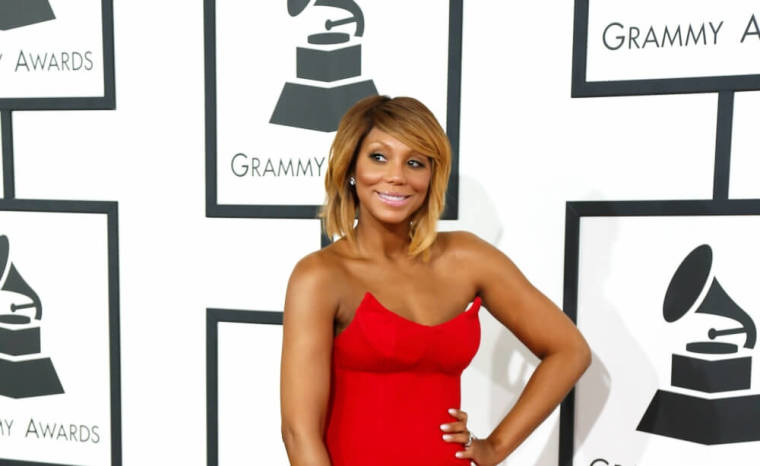 While Tamar Braxton was hoping to win her first Grammy Award Monday for her song "If I don't Have You," the singer is grateful to be alive after a series of blood clots almost cost her her life last year.
The 38-year-old "Calling All Lovers" singer and co-host of "The Real" talk show battled with multiple pulmonary embolisms last year that resulted in the removal of one of her ribs. When the doctor told Braxton about her surgery, she literally thought her life was over.
"I didn't even believe the doc when she told me I had multiple blood clots," Braxton told Yahoo! on Friday. "I was really thinking to myself, 'oh my God, I am gonna die.'"
While Braxton spoke about being in excruciating pain because of her condition, she spoke about gaining strength from her 2-year-old son, Logan, and husband, Vincent Herbert.
"I was in the hospital for maybe eight days I didn't see my son," she told Yahoo!. "Vince arranged for me to go downstairs for a few hours and play with him."
Even though her health is now stable following her surgery, Braxton admitted, "I am worried about my health because it makes you paranoid."
On her WEtv reality television show, "Tamar & Vince," Braxton let fans see the details of her health struggles. Still, the Christian singer exalted God in the process of it all.
"The moment when you think you in control, it's like God comes and slaps the control out your mouth," an emotional Braxton said on her show in an episode that aired last month. "'OK, God — I got the message.' ... So terrible."
Braxton's health scare began in November when she was rushed to the emergency room during a "Dancing With the Stars" dress rehearsal, and doctors thought she had pneumonia. While the R&B singer competing on the celebrity dance competition returned to the show against her doctors' wishes, she later had to report back to the ER where she learned that there were blood clots in her lungs known as pulmonary embolisms.
While doctors prescribed blood thinners for Braxton, they were concerned about her chest pains and shortness of breath. Through testing they discovered that Braxton had a condition called Thoracic Outlet Syndrome, which is a group of disorders that take place when blood vessels or nerves are compressed.
The strenuous activity due to Braxton's constant dance rehearsals, multiple reality television shows, music tour and talk show caused a strain on the muscles around her rib cage, which led to the removal of one of her ribs. The singer later invited her cardiologist, Dr. Mary Ann McLaughlin from Mount Sinai Hospital, and vascular surgeon Dr. Allan Tulloch to "The Real" in December to explain the healing she calls miraculous.
"Thoracic Outlet Syndrome for Tamar is essentially because she's an athlete. So athletes who use their upper extremeties a lot can develop the musle that attaches to the first rib," the vascular surgeon said on the show. "It can actually get pulled up and compress the vein. What happens is you get a blood clot and unfortunately you have a pulmonary embolism as a result. So even though she was treated for that pulmonary embolism, she really had to have that rib removed in order to remove the obstruction of her vein."