Target, Marriott, Barilla, Macy's and More Applaud Gay Marriage Ruling to Woo Consumers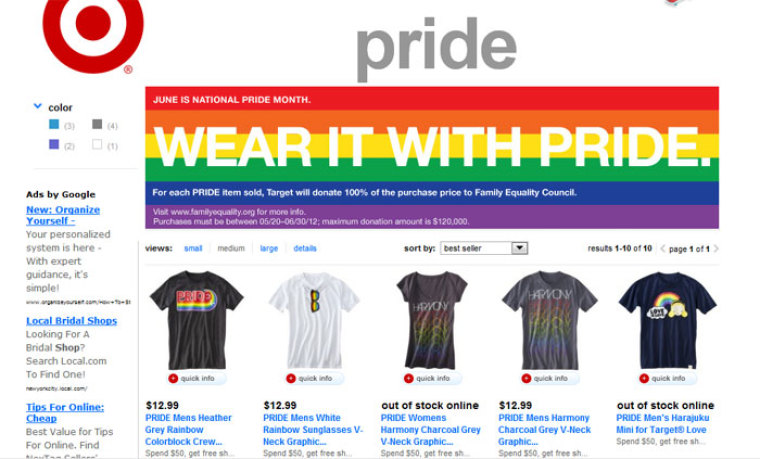 Many major companies are tweeting out their support of Friday's Supreme Court decision legalizing same-sex marriage across the country. The Italian pasta maker Barilla, which publicly favored traditional marriage until recently, has also reversed its stance on gay marriage.
"Labels are for Products. Not People," tweeted Procter & Gamble, making a rainbow with its many products.
Procter & Gamble is one of 379 employers who were part of an amicus brief filed in March urging the highest court to strike down same-sex marriage bans across the country, according to National Journal.
Many other companies followed suit by celebrating the verdict, in an apparent attempt to woo consumers.
"Today we join our employees and customers in celebration of marriage equality," tweeted Delta Airlines.
New York Life Insurance joined in, tweeting, "There's no better time than now to start planning your forever together."
Target also took to twitter to show support, writing, "Here's to having, holding and marrying who you love" with hashtags #takepride and #SCOTUSMarriage.
"LOVE wins!!!" read the tweet by Ben & Jerry's, with hashtags #LoveIsLove and #MarriageEquality.
"From this day forward…" tweeted Macy's, with the picture of a card saying, "Mr. and Mr."
Marriott International also posted a picture of a gay couple with hashtags #SCOTUSMarriage and #LoveTravels.
A 2014 study by Nielsen, a U.S.-based global information and measurement company, showed that 55 percent of global online consumers across 60 countries say they are willing to pay more for products and services provided by companies that are committed to what they see as "positive" social and environmental impact.
"Consumers around the world are saying loud and clear that a brand's social purpose is among the factors that influence purchase decisions," Amy Fenton of Nielsen said in the study. "This behavior is on the rise and it provides opportunities for meaningful impact in our communities, in addition to helping to grow share for brands."
Barilla, which had earlier said his company "likes the traditional family," has also reversed its official stance on homosexuality.
The company's president, Guido Barilla, told an Italian radio show in 2013 that they don't use any gays in Barilla's advertising, and if gays don't like it, "they can always go eat someone else's pasta." His comments led to calls for a boycot of the company's products.
But now, the company is recognized as having a gay-friendly employment policies. It has scored a top rating on the Human Rights Campaign's list of employers who are LGBT-friendly, according to CNN Money.
"I am proud to say that, as a result of these discussions, we have all learned a great deal about the true definition and meaning of family, and over the past year we have worked hard to reflect that throughout our organization," Barilla, the company president, said.
Facebook, Twitter and Google have also applauded the verdict.
Most Christians have opposed the verdict. Theologian John Piper wrote on his blog that the ruling approves and institutionalizes the sin of homosexual intercourse.