TD Jakes, AT&T CEO urge companies to hire formerly incarcerated people
TD Jakes, AT&T CEO urge companies to hire formerly incarcerated people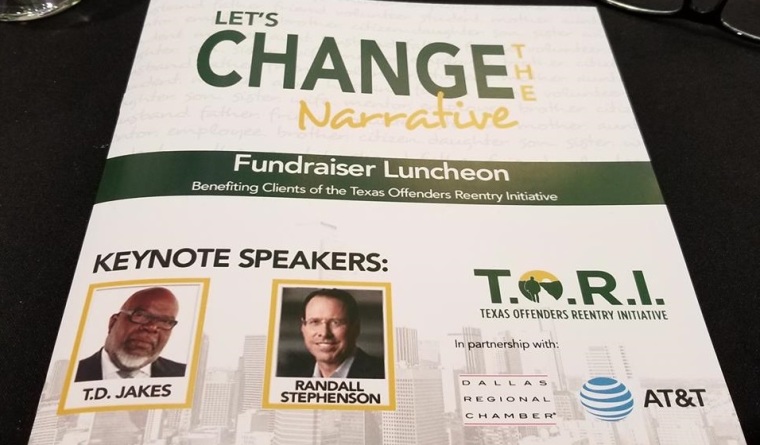 Prominent Dallas pastor and businessman T.D. Jakes joined forces with AT&T CEO Randall Stephenson last Wednesday to encourage business leaders to hire formerly incarcerated people.
"If a guy gets out of prison and he can't get a place to stay because every application locks him out of a rental, much less ownership, he can't get a loan and he can't get a job, where else can he go except back to prison?" Jakes said at a fundraiser for the Texas Offenders Reentry Initiative.
The 12-month T.O.R.I., founded by Jakes in 2005, gives returning citizens a second chance at life and provides them with solutions to the many barriers they face upon release from prison.
Statistics from the National Institute of Justice show that within three years of release, about 67.8 percent of released prisoners were rearrested. Within five years of release, the recidivism increases to 76.6 percent. Among rearrested persons, more than half were arrested by the end of their first year out of prison.
For most of the 23,000 graduates of Jake's T.O.R.I., however, the picture is much more promising with a recidivism rate of just 11 percent.
Speaking at the Potter's House in Dallas, Jakes and Stephenson sought to persuade a 900-person audience from North Texas businesses, government agencies and nonprofits to consider hiring formerly incarcerated people, The Dallas Morning News reported.
Stephenson said AT&T had hired about a dozen people who were formerly incarcerated to work at a Richardson call center as part of a pilot program he plans to expand to other cities. 
"If we truly are going to be a society who wants to ensure that we don't just have this revolving door to our prison system, then you've got to step up," he said. "You've got to be part of the solution."
Tina Naidoo, executive director of TORI, said about 70,000 people in Texas return home from prison annually.
Along with the stigma associated with a prison record, many face challenges such as the lack of an email address. Some don't know how to write a resume or cover letter. Even if they have strong skills or a degree, many companies immediately throw out their job applications. These factors have helped to keep the unemployment rate among the formerly incarcerated at a staggering 27 percent.
Naidoo said TORI has worked with about 80 employers, including AT&T and Mint Dentistry, to help her clients get jobs but she wants to convince more companies to join the movement to help her clients become productive citizens again. But Naidoo said it can be tough to convince some corporations to take a chance on the job applicants.
Corey Anthony, vice president of human resources and chief diversity officer said the company has made their hiring process more flexible to consider formerly incarcerate individuals on a case-by-case basis.
"Just because a person has spent some time incarcerated doesn't mean they don't have talent," he said. "And at AT&T, we are always looking for talent."